Our goal is to create a balanced training experience that will prepare our six fellows for a successful career in neonatology.
Throughout the three-year program, fellows benefit from:
Committed faculty that includes pediatric medical and surgical subspecialists
A large and diverse clinical service
A rich curriculum of multidisciplinary conferences, seminars and workshops
Strong scholarly mentorship
Our curriculum and clinical service emphasize normal development and pathology during the prenatal, intrapartum and neonatal periods.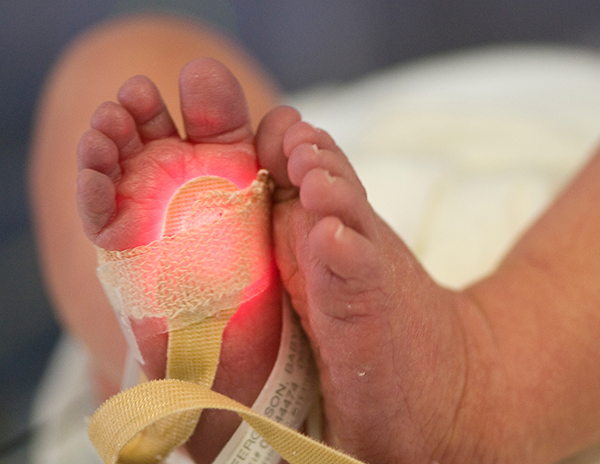 Our high-volume clinical service provides fellows with experience in the management of clinical problems, from routine newborn care to the most intensive critical care, including extracorporeal membrane oxygenation (ECMO) and cardiothoracic surgery. The number and variety of high-risk obstetrical patients ensure that fellows become knowledgeable in identifying high-risk pregnancies and evaluating fetal well-being and maturation.
Our training program is closely aligned with the Maternal-Fetal Medicine and Obstetrical Residency programs at Wake Forest School of Medicine. Our division also includes a variety of research opportunities and an active neonatal follow-up program, which provides both diagnostic and referral services to infants after discharge.
Orientation
Fellowship training begins with a one-month orientation. The orientation helps fellows become familiar with each unit and the hospital systems, to learn the daily routines and responsibilities of team members and to begin to develop relationships with members of the health care team, including:
Nurse practitioners
Dieticians
Pharmacists
Nurses
Social workers
Respiratory, occupational/physical and speech therapists
Ethics and palliative care experts
The month encompasses a hospital orientation, meetings with division leadership, shadowing of the on-service fellows and overnight call teams, as well as orientation to our transport team, palliative and prenatal consult service, follow-up clinics, and unit respiratory equipment.
After orientation, fellows start clinical service and begin to take overnight call. Alternating with patient responsibilities, research blocks will be spent reading and developing an idea for a scholarly fellowship project. With guidance from the directors and other faculty, first-year fellows identify an area of interest for research, select a mentor and form their Scholarship Oversight Committee by March of the first academic year..
Clinical Rotations
Clinical training rotation takes place at Brenner Children's Hospital, a facility of Wake Forest Baptist Medical Center. Although Brenner has a longstanding history of serving its community as a Level IV NICU, the hospital recently opened a new unit of single-family rooms. Our 65 beds are primarily located there, with the remainder of patients staying in an intermediate nursery still located within the Children's Hospital. Patients at Brenner NICU can receive high-frequency ventilation, inhaled nitric oxide, therapeutic hypothermia, pre-operative management of complex congenital heart disease, and complex surgical pre- and post-operative management. While extracorporeal membrane oxygenation (ECMO) is performed in the Pediatric Intensive Care Unit (PICU), NICU faculty and fellows participate in their care when they are less than one month of age. We serve The Birth Center, which has more than 2,000 deliveries a year, in addition to 20 counties in Northwest North Carolina and some portions of the surrounding states
Patients are divided among four teams, with the fourth functioning as a lower census delivery team. Fellows do one-to-two week rotations supervising a service of 15-20 patients on the "A" and "B" teams. During their "A Service", in addition to neonatal care, fellows also perform consults, perform and supervise procedures, serve as medical command for transports, and attend high-risk deliveries. On "B Service", fellows focus on medical management as well as the medical education and supervision of residents. Service time is largely split evenly between these two rotations and amongst the three years of fellowship, with a total of 12 months (50 weeks) over the course of three years.
The unit is staffed by faculty, fellows, residents, advanced practice providers (APPs), and APP and medical students during the day. Nights, however, are covered by APPs with one in-house fellow and an attending on home call. Fellows are on-call, on average, one every six nights.
The first two years of fellowship focus on medical decision making, procedural proficiency, supervisory capacity, and communication skills with medical professionals and families. As fellows progress in their confidence and competency, they are awarded more autonomy with the goal of emphasizing leadership and advanced decision making by their third year. At the end of third year, our fellows have developed the skills necessary to practice as an independent neonatologist at the highest level of intensive care.
Other Inpatient Experiences
Neonatal-Perinatal Fellows are required by the ABP to complete two weeks of a rotation on Maternal-Fetal Medicine. Wake Forest also offers opportunities for electives with Pediatric Cardiology and Neonatal Palliative Care. If you have a particular clinical passion, our faculty would be thrilled to discuss customized time in your area of interest.