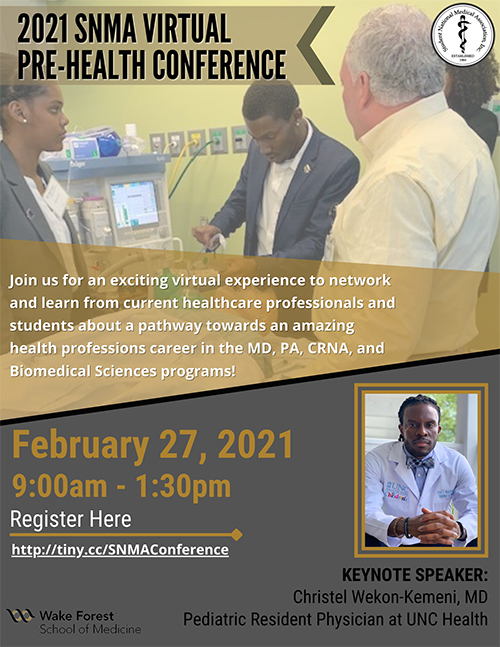 The Student National Medical Association (SNMA) of Wake Forest School of Medicine and the Office of Student Inclusion and Diversity are hosting the 13th Annual Pre-Health Student Conference on Saturday, February 27, to expose underrepresented and disadvantaged pre-health college students from diverse backgrounds to careers in the health field. Attendees will have the opportunity to network, interact with and learn from current professionals in various health care fields and learn about the journey in the Doctor of Medicine (MD), Physician Assistant Program (PA), Academic Nursing (CRNA/DNP) and Biomedical Sciences PhD/Masters programs.
The Pre-Health Conference is designed to recruit, educate and prepare underrepresented African-American, Hispanic/Latino and disadvantaged students for careers in medicine.
"Be the Change You Want to See". In 2020, we experienced the pandemics of racism, injustice and the coronavirus. None of these are new issues, though. There have been pandemic diseases before, and racism has been around for centuries, including within the medical field. Now in 2021, we need to unite and make a comeback. For those who have been disappointed by the medical field and by society, BE the change that you want to see. Contribute to increasing diversity and inclusion within the medical field. Hold your colleagues accountable and motivate each other to be better individually and collectively. Let's make real change in the field and in the world together starting now!
Please share the attached flyer with your students, colleagues and premedical student groups. Registration for the conference is open and will close on February 25th.
We look forward to hosting your future doctors and health care professionals!
---
The Wake Forest School of Medicine's Student National Medical Association (SNMA) Chapter is committed to supporting current and future underrepresented minority medical students, addressing the needs of underserved communities, and increasing the number of clinically excellent, culturally competent, and socially conscious physicians.
By reaching out to disadvantaged and underrepresented premedical students in undergraduate institutions across North Carolina, the Wake Forest School of Medicine chapter of the SNMA strives to encourage academic excellence, cultivate professional skills and provide mentorship and guidance.
Student National Medical Association (SNMA) is the nation's oldest and largest independent, student-run organization focused on the needs and concerns of medical students of color. Membership includes over 6,000 medical students, premedical students, residents and physicians.
Established in 1964 by medical students from Howard University School of Medicine and Meharry Medical College, SNMA boasts more than 50 years of service to underserved communities and medical students. SNMA is dedicated both to ensuring culturally sensitive medical education and services, as well as increasing the number of African-American, Latino and other students of color entering and completing medical school.
Meet the Student National Medical Association (SNMA) E-Board
Jimshad Farooque-Wooden
President, MS2024

Danielle Black
Vice President, MS2024

Chiagoziem Ogbonna
Community Service Chair, MS2024

Maria Onatunde
Admission Liaison, MS2022

Lauren West-Livingston, PhD
Twin Cities Liaison, MS2022

Brian Robusto
MAPS Liaison, MS2024

Natasha Shah
Secretary, MS2024

Morgan Yapundich
Treasurer, MS2024
Faculty Advisors
SNMA Events
Art For A Cure
Medical Excellence Banquet
Minorities in Medicine
Pre-Health Conference
Sickle Cell Toy Drive
SNMA Second Look Diner
Twin City Mentorship Mixer
Welcome Back Mixer