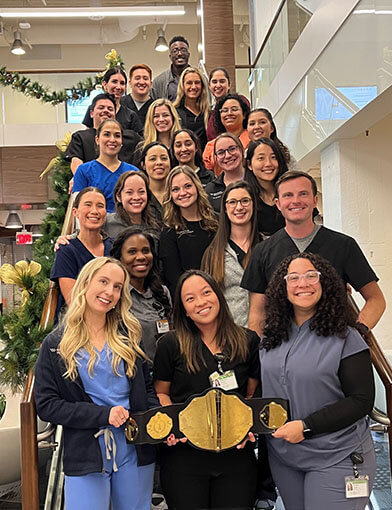 Speaking to students at the Career Center high school in Winston-Salem, Arianna Nassar realized how life can sometimes come full circle.
Nassar graduated from that school's Allied Health Program. Ten years later, as a first-year PA student at Wake Forest, she had the opportunity to inspire a new generation of students. "As a minority person who's going to be a minority provider, I want to be that inspiration to someone who doesn't have the resources or background they think they need to pursue the profession," she said.
Nassar was one of several Wake Forest PA students who participated in Project Access. Part of PA Week, Project Access is an initiative created by the Physician Assistant Education Association (PAEA) to inspire PA students around the country to raise awareness of the profession.
"It's a really cool way to talk about the PA profession to students who may not know about the profession," said Christina Santosa, a first-year student who participated in the Wake Forest Project Access entry.
Project Access is also a competition, open to PA schools across the country to submit their plans for promoting the PA profession. Of the 32 schools that submitted entries, Wake Forest's was chosen as the winning project.
Improving Representation
One of the key goals of Project Access is to promote the PA profession to minority students in high school and even middle school, ultimately attracting more people of color to PA schools.
"We have very little representation of students of color in our profession," said Andrea McKinnond, PA-C '15, assistant professor and director of clinical education at the Wake Forest PA program. "We understand from research that this poor representation is one aspect that leads to the health disparities we see today."
Project Access, she added, is helping to address that problem. "There are many different reasons why we have little representation," said McKinnond, who served as the faculty champion for the Wake Forest Project Access entry. "One of the variables is that a lot of students of color don't know we exist."
Another issue facing minority students is just getting into PA schools. "There are a lot of barriers to applying to PA school and becoming a PA," said Ari Elfenbein, a first-year student at Wake Forest who participated in the Project Access program. "Even the application process can cost thousands of dollars."
With those goals in mind, the Wake Forest team put their entry together and submitted it to the competition. Then they executed it.
One Entry, Two Campuses
The team actually submitted two entries, one for the Winston-Salem campus, and one for the Boone campus.
At the Boone campus, PA students spoke to middle school students whose parents drove them from as far as 30 miles to hear the presentation. The interactive event gave students the opportunity to ask questions about the PA program. They learned how to take a patient's vitals.
Boone PA students also presented to undergraduate students at Appalachian State University's Pre-PA Club. The team led a workshop on the PA program application process, barriers to being admitted to the program, and ways around them.
In Winston-Salem, the team used inquiry-based learning to engage with the interested students at the Career Center high school. The program included a mock IBL case in which the students got to act as the PA treating a patient. A question-and-answer period followed, allowing students to learn more about the PA profession.
Wake Forest Brought It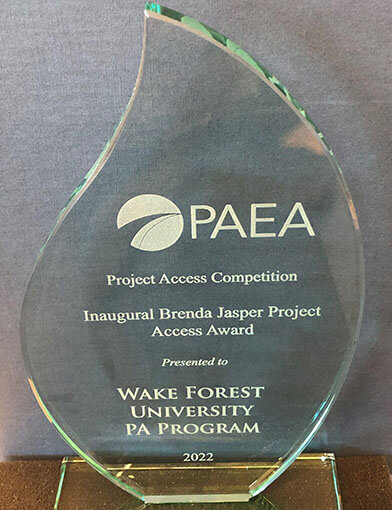 McKinnond had a feeling the Wake Forest team was going to win the competition, and her feelings were soon confirmed. "I got the call saying our students had won," she recalled. "They said 'your students brought it.' I was very, very proud."
Unsurprisingly, the team was even more excited. "We were freaking out," said Santosa.
But entering the Project Access competition was about more than winning. "We were genuinely excited to be able to give these presentations along with so many of our classmates," said Elfenbein. "Winning was the cherry on top."
Most importantly, the Wake Forest PA team was able to make an impact on young people, potentially leading to more people from minority backgrounds entering the profession. "Seeing that spark light up in students' eyes when they realize this is a profession that's possible for them was really satisfying," said Santosa.
Although the 2022 Project Access competition is over, reaching out to young people and promoting the profession will be a year-round endeavor at Wake Forest. "It allowed the students to be innovative and creative," said McKinnond. "And it shows they can make an impact, even before they graduate."