Design
COMPASS Study was a cluster-randomized pragmatic trial. Participating hospitals were randomized (stratified by stroke volume and primary stroke center status) to receive the COMPASS intervention or usual care for the first year of the study (Phase I). In Phase 2, hospitals that were randomized to usual care were invited to give the COMPASS intervention.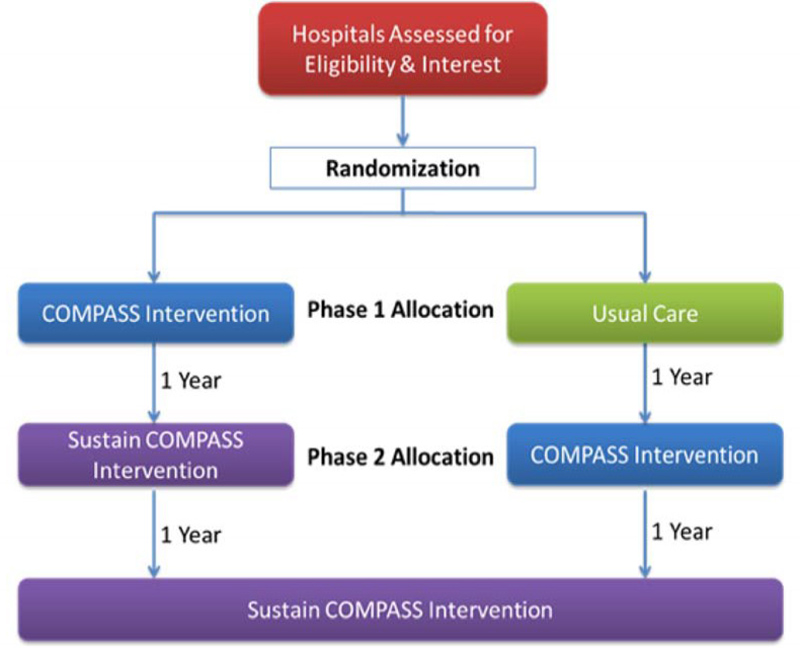 Phase I began in July 2016 and completed in March 2018. Phase 2 began in November 2017 and completed in March 2019. The Phase 1 intervention hospitals sustained the COMPASS intervention during Phase 2 with limited involvement and support from our study team. In this design, all hospitals had an opportunity to provide the COMPASS Intervention.
Eligibility
Patients admitted to a COMPASS hospital
Age 18 years or greater
Diagnosis of ischemic stroke, transient ischemic attack (TIA), or Hemorrhagic stroke (excluding subarachnoid and aneurismal hemorrhage)
Discharged home
COMPASS Intervention
The COMPASS Intervention incorporated elements of Transitional Care (TC) and early supported discharge and was designed to be consistent with Centers for Medicare and Medicaid (CMS) reimbursement for Transitional Care Management (TCM).
The COMPASS Intervention was provided by a team consisting of a post-acute coordinator (PAC; registered nurse or licensed practical nurse) and an advanced practice provider (APP; nurse practitioner or physician assistant) or physician.
The intervention included:
A telephone follow-up call within 2 days of discharge for medical reconciliation; assessment for new symptoms, falls, blood pressure, receipt of primary care and outpatient therapy; and to reinforce stroke education.
Clinic visit within 14 days of discharge, during which the care team conducted standardized assessments and provided a tailored electronic Care (eCare) Plan,
At this 14-day clinic visit, the care team used the eCare Plan to coordinated individualized follow-up care, referrals to rehabilitation and community resources, and coached patients on strategies across the four domains of care. If needed, it also provided support to caregivers.
Telephone follow-up at 30-days and 60-days to evaluate adherence to the care plan
Finally, our study team also developed and shared performance measures, to monitor quality improvement of post-acute stroke care.

Outcomes
We assessed 90-day and 1-year health outcomes.
At 90 days after hospital discharge, telephone surveyors, blinded to the patient's group assignment, called participating stroke survivors and asked information to determine the patient's status and recovery.
The primary outcome was a patient-reported functional status (measured with the Stroke Impact Scale-16).
Secondary outcomes at 90 days include caregiver stress. We also assessed self-rated general health, medication adherence, self-monitoring of blood pressure, global disability, physical activity, depression, cognition, falls, fatigue, and satisfaction with care at 90 days. Using claims data, we looked at unadjusted 30 day, 90 day, and 1-year all-cause hospital readmissions, mortality, visits to the emergency department, skilled nursing facility or inpatient rehabilitation facility, and use of the Transitional Care Management (TCM) billing code.
In exploratory analyses, we conducted a number of analyses to explore our Phase 2 data to better understand sustainability of the COMPASS intervention for patients and hospitals.
Engagement
Our Patient and Stakeholder Engagement Committee have worked with our community resource networks to advise and support the implementation of COMPASS, provide feedback to the researchers, and recommend ways to continue COMPASS in the future.
Additional Information
ClinicalTrials.gov: NCT02588664
---
Funding from the Patient-Centered Outcomes Research Institute (PCORI) Award (PCS-1403-14532). All statements are solely those of the presenters and do not necessarily represent the views of PCORI or its Board of Governors or Methodology Committee.