The Ophthalmology Residency program at Wake Forest University School of Medicine is a high-volume clinical program known for its hands-on approach and excellent preparation for the real world, building on the foundations of the Ophthalmology residency program mission and aims.

Our program is an ACGME-accredited residency, with four residents at each level. We are now a four-year integrated ophthalmology training program, incorporating the PGY-1 internship year as mandated by the ACGME. This first year of training will include 9 months of internal medicine and 3 months of ophthalmology at Wake Forest Baptist Hospital, followed by 3 years of dedicated ophthalmology training.

The training program is based primarily at Wake Forest Baptist Medical Center in Winston-Salem. One-third of the clinical training also takes place at the Veterans Administration hospital in Salisbury, Kernersville and Charlotte, North Carolina.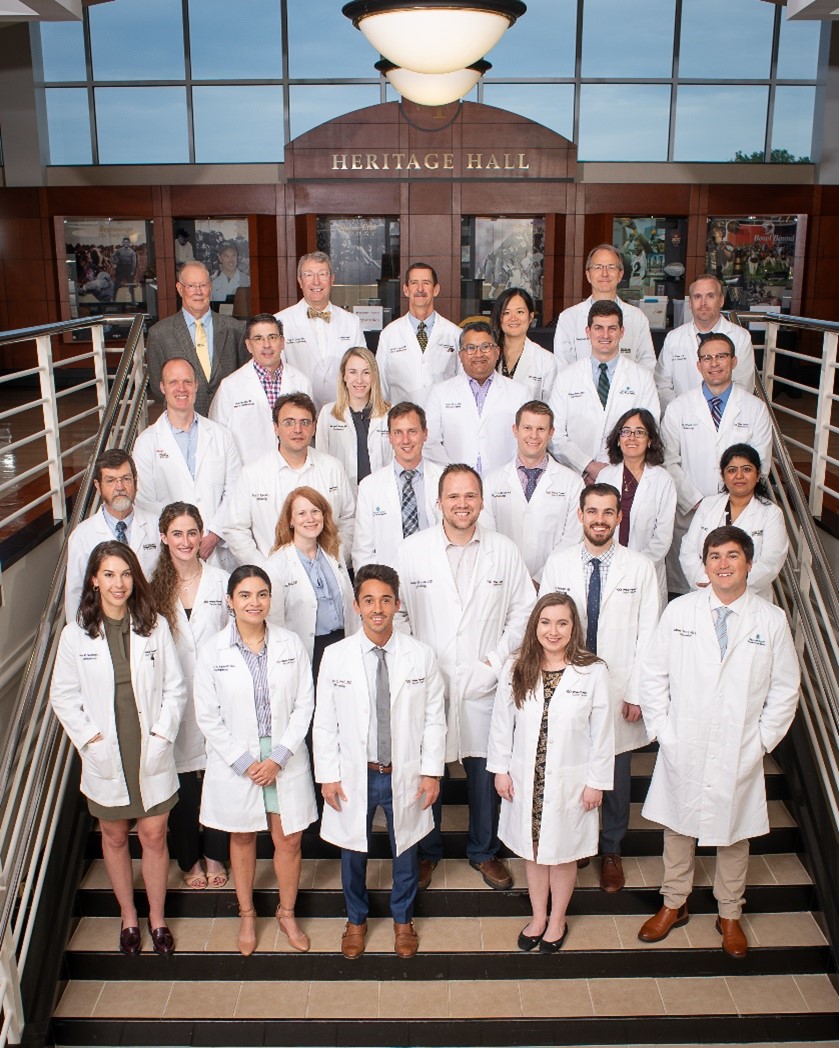 Why Train at Wake Forest?
With a total resident cadre of twelve, our residency is an exceptional program, highly competitive for the best resident applicants for a number of reasons:
The high full-time faculty-to-resident ratio
Faculty and residents work together in the same locations
A busy medical and surgical resident experience
Competitive resident benefits
The commitment of the faculty to resident education
Great faculty interaction and teaching
Your own comprehensive clinic, providing continuity of care for the same patients for 3 years
Ocular pathologist with recurring lectures and wet lab
Eyesi Simulator at the VA
32,000 major ocular surgeries are performed by faculty, residents and fellows each year
250 to 300+ cataract procedures as primary surgeon during training
Almost two-thirds of our graduates have gone on to pursue fellowship training at the most prestigious institutions in the nation
"I will admit to being biased, but there are just not that many teaching programs that combine the personalized attention and depth of experience found at the Wake Forest program."

- Timothy Martin, MD, Program Director.
"The comprehensive eye service (continuity clinic) and urgent clinic were the bedrock of my education here, and something that sets this program apart from any other program that I interviewed at. The ownership that residents are given over their patients provides a learning opportunity that can't be replicated by rotating through attending clinics. I will enter private practice feeling very well prepared to run a busy clinic due to this experience." – Levi Kauffman

"Hands down, I would match at Wake again. The core faculty are very dedicated to the program and to the development of the residents. The program is very strong clinically and surgically since we see so many patients and learn how to manage a clinic." – Kathy Tsamis

"Cataract surgery training is excellent. Faculty are very involved and invested in resident success". – Krishna Surapaneni
Wake Forest Baptist Medical Center is committed to embracing the diversity of our staff, faculty, trainees, students, patients and families and creating an environment of inclusion. The Medical Center is a participant in the American Hospital Association's #123 for Equity Campaign in which we pledge to take action to ensure that quality and equitable health care is delivered to all.
We have a number of initiatives and institutional programs providing professional and personal support, empowerment and inclusion, specifically for underrepresented minority residents and fellows. One such group is the
Kennedy-Hopkins Scholars
. Through the program, residents and fellows are able to self-select a faculty mentor at Wake Forest Baptist Health, attend a quarterly lecture series, and participate in community engagement events.