In the past, basic, clinical, and community-based researchers operated in separate domains, often creating barriers to the translation of scientific findings into widespread improvements in human health and implementing changes in the health system. The Translational and Health System Science (THSS) Master of Science program was created to provide medical professionals with scientific research training to address these translational gaps.
The THSS MS program is administered by the Graduate School at the School of Medicine. It draws primarily on faculty in the Division of Public Health Sciences, dedicated to providing focused education and research in the following areas:
---
Featured Alumnus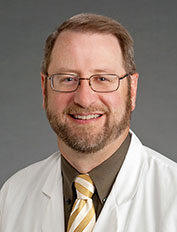 "It's no exaggeration to say that I owe any success I've had in my research career to participation in this master's degree program. Translational research is neither basic science, nor clinical research; it takes a broad understanding of the strengths and weaknesses of many research methods and study designs. But more importantly, in this era of team science, it takes tremendous colleagues to create an outstanding team. No one can be expert in every methodology or technique, but the ability to understand the needs of each member of the scientific team and communicate effectively is absolutely essential. The experiences and ties to faculty in other departments built during my degree pursuit allowed this to happen for me."

— Kevin P. High, MD, MS - Executive Vice President, Health System Affairs, Wake Forest Baptist Health; Professor of Medicine/Infectious Diseases, Wake Forest School of Medicine.