September 14, 2021
Transforming through Adversity
The Leadership Journey for Women in Medicine and Science
Our 3rd annual conference will provide an opportunity to grow, learn and share from our experiences as we explore communication, connection and the transforming power of adversity along our leadership journeys.
Sponsored by Faculty Affairs at Wake Forest School of Medicine
Partnering Sponsors: Surgical Care Affiliates
Audience
The Women's Leadership Conference is open to faculty and senior executives from regional academic medical centers in North Carolina and surrounding states.
#WLC2021
Featured Speakers
"Moving the Needle: Mentorship, Sponsorship, Allyship"
Nancy Spector, MD
Executive Director, Executive Leadership in Academic Medicine (ELAM) Program
Professor of Pediatrics and Associate Dean for Faculty Development
Drexel University College of Medicine


"Transforming Conflict and Stress into Positive Change: The Magic of Empathy and Compassionate Communication"
Sally Shumaker, PhD
Professor of Social Sciences and Health Policy in the Division of Public Health Sciences
Wake Forest School of Medicine

Geeta Swamy, MD
Professor of Obstetrics and Gynecology
Vice Chair for Research and Faculty Development
Duke University School of Medicine


Michelle Keating, DO
Assistant Professor of Family Medicine
Wake Forest Baptist Health

Nichole Taylor, DO
Clinical Associate Professor of Anesthesiology
Assistant Dean of Student Affairs
Wake Forest Baptist Health


Laura Veach, PhD, LCAS, LCMHC
Professor, Trauma Surgery
Wake Forest Baptist Health

Suzanne Danhauer, PhD
Professor and Vice Chair of Social Sciences and Health Policy in the Division of Public Health Sciences
Wake Forest School of Medicine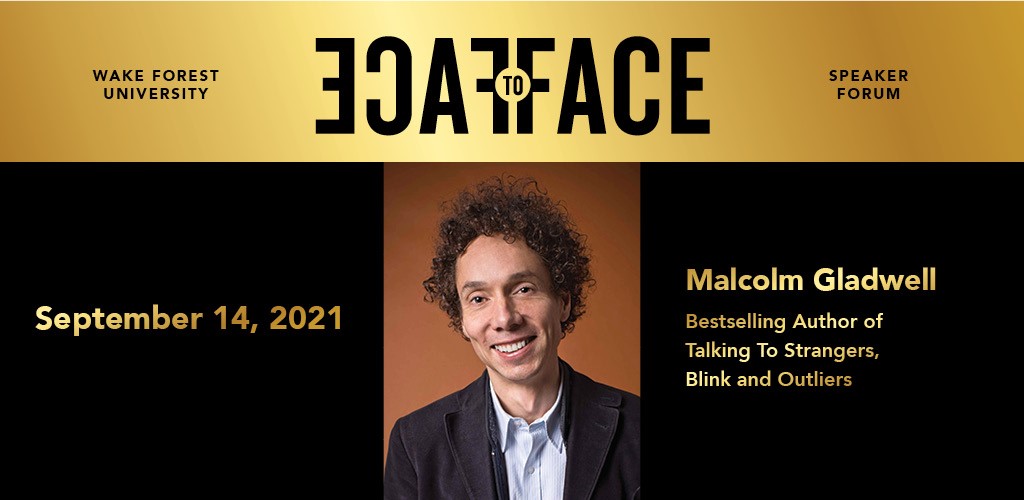 The Wake Forest University Face to Face Speaker Forum is excited to welcome attendees of the Women in Leadership Conference to their in-person keynote event with Malcolm Gladwell. The event will take place at Lawrence Joel Veteran's Memorial (LJVM) Coliseum at 7:30 p.m. EDT on September 14, 2021. This is an in-person event only.
Malcolm Gladwell is the author of five New York Times bestsellers — The Tipping Point, Blink, Outliers, What the Dog Saw, and David and Goliath: Underdogs, Misfits and the Art of Battling Giants. He has been named one of the 100 most influential people by TIME magazine and one of the Foreign Policy's Top Global Thinkers.
The Wake Forest University Speaker Forum staff has arranged for our Women's Leadership Conference attendees to purchase individual tickets for the Malcolm Gladwell event that are currently not on sale to the public.
Event and parking tickets are available to purchase using the link and promo code that will be provided in your Women's Leadership Conference registration confirmation.
For more information, email us or call 336-713-4230.