Research Projects
Under NIH grant GM48085 we are studying the role of spinal oxytocin receptor signaling on the transition from acute to chronic pain. Based on clinical observations that physical trauma during childbirth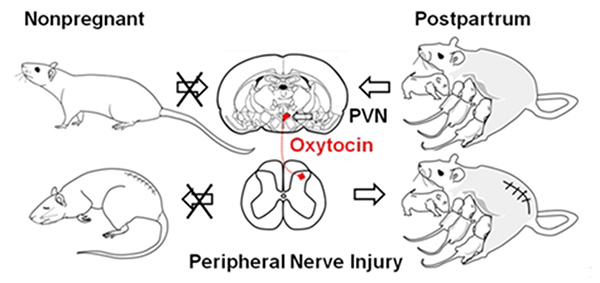 rarely leads to chronic pain, we examined the effect of pregnancy and delivery on the response to surgical injury (spinal nerve ligation, a model of neuropathic pain) in rats. We observed a protective effect during the postpartum period which could be acutely reversed by spinal injection of oxytocin receptor antagonists. Based on this work, we are examining the mechanisms by which central oxytocin receptors alter the neural and glial plasticity in the central nervous system which is thought to lead to chronic pain after physical trauma. Additionally, we have obtained an IND from the FDA and have begun clinical trials of intrathecal oxytocin in humans.
Under NIH grant NS57594 we are investigating the mechanisms and consequences of plasticity of spinalnoradrenergic systems after peripheral nerve injury. We have shown that surgical injury resulting in neuropathic pain is accompanied by sprouting of descending noradrenergic fibers in the spinal cord. This is paradoxical in that activation of this system reduces neuropathic pain behavior, and suggests that the capacity
for analgesia from activating this system may be enhanced in patients with neuropathic pain. We propose that glial activation in the spinal cord is a source for brain derived neurotrophic factor (BDNF), which stimulates trkB receptors on spinal noradrenergic terminals, leading to sprouting (1 in the figure above). We are further investigating the mechanisms by which stimulation of α2-adrenoceptors in the spinal cord activates rather than inhibits cholinergic interneurons after nerve injury (2 in the figure above). Finally, we are examining in animals and humans the utility of drug interactions based on this new understanding, activating noradrenergic systems with gabapentin and enhancing the resultant effect by inhibiting norepinephrine reuptake in the spinal cord by duloxetine and resultant acetylcholine release by donepezil (3 in the figure above).
Publications
Eisenach JC, Curry R, Aschenbrenner CA, Coghill RC, Houle TT. Pupil responses and pain ratings to heat stimuli: Reliability and effects of expectations and a conditioning pain stimulus. J Neurosci Methods. 2017 Mar 01; 279:52-59. PMID: 28089758.
Eisenach JC. In Reply. Anesthesiology. 2016 Nov; 125(5):1074-1075. PMID: 27755040.
Kimura M, Eisenach JC, Hayashida K. Gabapentin loses efficacy over time after nerve injury in rats: role of glutamate transporter-1 in the locus coeruleus. Pain. 2016 09; 157(9):2024-32. PMID: 27315512; PMCID: PMC4988915 [Available on 09/01/17].
Eisenach JC, Yaksh TL. Ethical Concerns Regarding Human Study. CNS Neurosci Ther. 2016 Oct; 22(10):866. PMID: 27577599.