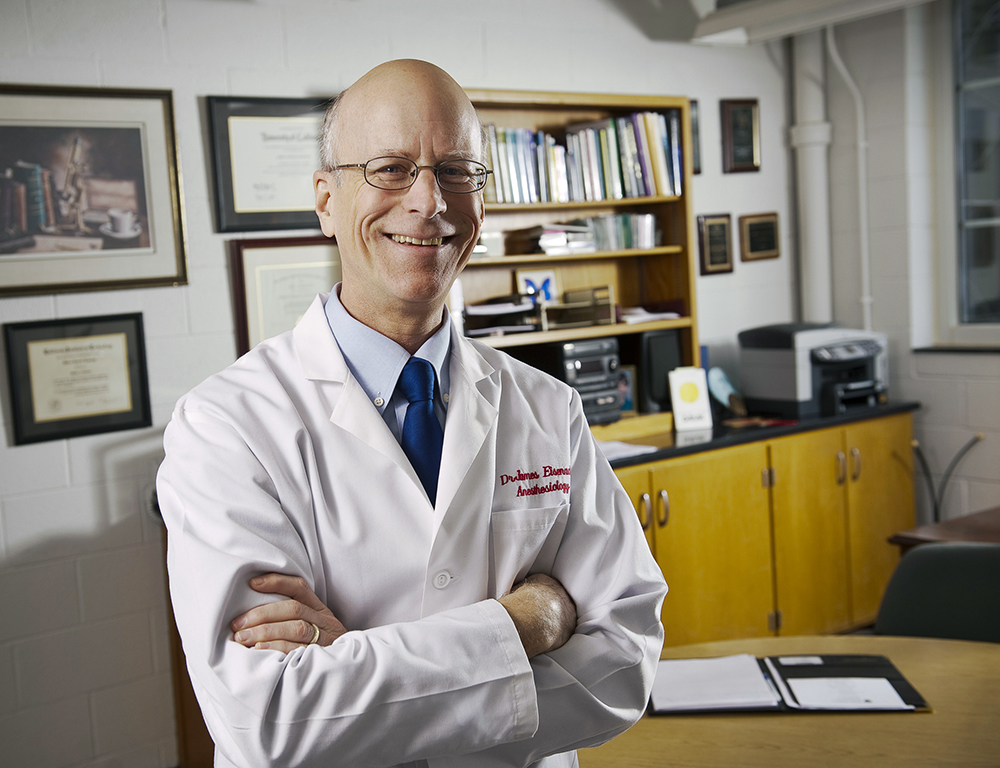 The Pain Mechanisms Lab began with a collaboration between Dr. James Eisenach and Tony Yaksh nearly 25 years ago, and has now grown to a vibrant group of investigators, post-doctoral fellows, students and technicians. Throughout that time the core values of the laboratory have remained the same—to be a place of education and excited learning as we explore the translational science of pain and its treatment. We learn together through regular meetings, both formal and informal.
Dr. Eisenach's role as director of the laboratory is to foster these interactions, understand the career goals of all individuals in the laboratory and assure that the experience of everyone here meets those goals. While graduate students, postdocs, and research fellows are mentored by a primary Principal Investigator, the approach to most programs is team-based.
This is a friendly place doing great science. We have brought five new non-opioid analgesic therapies from discovery to human clinical trials, including one that is Food and Drug Administration (FDA)-approved and the most commonly used non-narcotic spinal drug in the treatment of neuropathic pain. At nearly every meeting we discuss clinical needs and potential clinical application of our work, and most fellows interact with clinician investigators to test some aspects in humans of the work they perform in the lab.
1987-1999
1987-1989 Mario Castro, PhD
1988 Scott Brandt, MD
1989 David Limauro, MD
1989-1991 Chuanyao Tong, MD
1990-1991 Brenda Bucklin, MD
1991 Julie Williams, MD
1991-1992 Dawn Detweiler, MD
1991-1992 Young Yoon, MD
1992 Anand Lothe, MD
1992-1994 Carswell Jackson, MD
1992-1993 Ping Li, MD
1993 Cameron Hewitt, MD
1993-1994 Herve Bouaziz, MD
1994 Walter Klimscha, MD
1995 Gyongyi Horvath, MD
1996 George Rose, MD
Sergio Cerda, MD
Robert Leinbach, MD
1996-1997 Ho-Kyung Song, MD
1996-2000 Hai-Lin Pan, PhD
1997-1998 Astrid Chiari, MD
1997-1998 Patricia Lavand'homme, MD
1998 Josenilia Gomes, MD
1998-1999 Edward Cheng, MD
1998-1999 Xavier Paqueron, MD
1998-2000 Xinhui Li, PhD
1999 Stephanie Fidner
Neal Dongre
1999-2000 Zihong Zhao, PhD
Andreas Sandner-Liesling, MD
1999-2002 Carsten Bantel, MD
2000-2017
2000-2002 Frederic Duflo, MDMichelle Vincler, PhD
2000-2005 Xiaying Zhu, PhD (WFSM Outstanding Doctoral Student)
2001-2002
Carlo Pancaro, MD
Sang-Wook Shu, MD
Yoo-Jin Kang, MD
2001-2003 Carine Dalle, PhD
2002-2004 Yong Zhang, PhD
Hideaki Obata, MD
2003 Corbin Meachum (Undergraduate)
Emily Brown (Undergraduate)
2003-2005
Alfonso Romero, PhD
2004-2006 Baogang Liu, PhD
Ken-ichiro Hayashida, DVM, PhD
2004-2008 Douglas Rice, MD
2006-2008
Russell Schwarte, PhD
Samuel Franklin, PhD
2008-2011
Christopher Peters, PhD
2009-2011
Mario Danilo Boada, PhD
2010-2012 Silvia Gutierrez, PhD
Shotaro Hobo, MD
2011-2012 Marcia Redua, DVM, PhD
2011-2016 Amie Severino, PhD
2012-2014 Takashi Suto, MD, PhD
2012-2014 Steven Lombardo, MS (Fulbright Fellow)
2014-2015
Michael Henry Harris, MD
2014-2015
Carlos Eduardo Morado Urbina
2014-2016 Masafumi Kimura, MD, PhD
2014-Present
Vipin Arora, PhD
Sabbatical Visitors Trained
2000 Patricia Lavand'homme, M.D., Universite Catholique de Louvain
2002 Phil Malan, M.D., University of Arizona
2007 Sibel Gurun, M.D. (Fulbright Fellow), University of Bursa, Turkey
For specific inquiries regarding research fellowships, technical lab positions, and studentships please contact directly Dr. James Eisenach at
jimeisenach@gmail.com
or by phone at
336-716-4182
. Alternatively, for specific
projects
which interest you, please click on the faculty in charge.
Senior Post-doctoral Fellow/Research Associate Position (job code 17495)
Postdoctoral Research Fellowships
Lab Technician
Graduate Studentship
Undergraduate Project