After a childhood spent on her family ranch in northeastern Montana, Miranda E. Orr, PhD, discovered her passion for Alzheimer's disease research which eventually brought her to Winston-Salem, NC. The climate and biomedical research community represent a perfect blend of Montana and Texas where she previously lived and trained as a translational neuroscientist.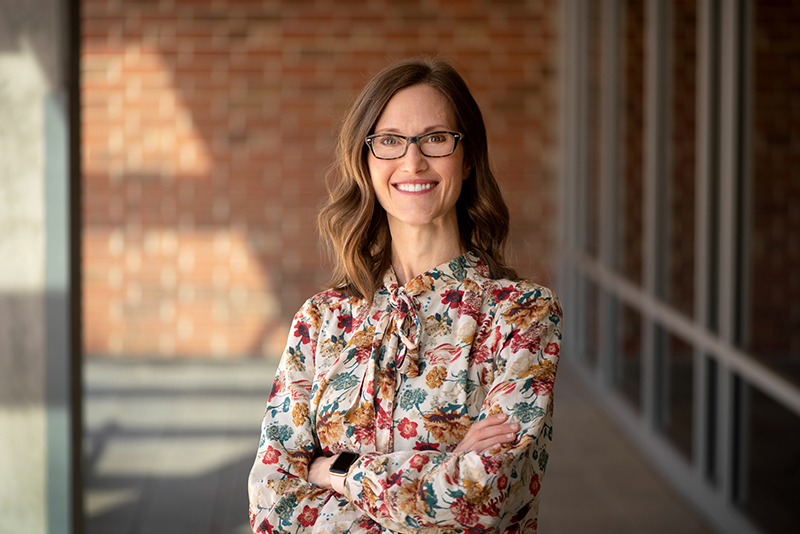 Orr is now an assistant professor in Internal Medicine, Division on Gerontology and Geriatric Medicine at Wake Forest School of Medicine and a research health scientist at the Salisbury VA Medical Center. Her personal passion for finding a cure for Alzheimer's disease was ignited when her grandmother passed away with the disease the year that Orr graduated from college. The feeling of helplessness she and her family experienced throughout her grandmother's illness motivated her to better understand its causes and discover treatments.
"I strive to improve the quality of life of all older adults by finding effective strategies that delay, prevent or treat Alzheimer's disease and related dementias," said Orr. "While 'cures' are not discovered on a daily basis in the lab, we do make progress toward this goal."
Orr graduated from Montana State University Billings with a degree in Biology and recently received their Chancellor's Excellence Alumni Award. She went on to receive her PhD in Neuroscience from Montana State University where she performed her dissertation research at the McLaughlin Research Institute for Biomedical Sciences that specializes in developing preclinical models to study brain diseases. Her postdoctoral research training at the University of Texas Health in San Antonio, Texas, focused on the biology of aging and translational research. As an independent investigator at Wake Forest School of Medicine, her research program focuses on changes that occur with aging and how they influence the risk of developing Alzheimer's disease.
Orr is thankful that her personal and professional interests collide every day. Her research activities align well with the goals and one of the research foci of Wake Forest Baptist—translational research in aging and Alzheimer's disease. Here she is able to connect her interests in research at the bench and in clinical trials, as well as teaching with the ultimate goal to make discoveries that positively impact healthy brain aging while training the next generation of scientists.
As a faculty member, most of her time is devoted to conducting research in her laboratory and in clinical trials. Her team uses data and observations derived from patients to generate new ideas, and then use tools in the lab to test their hypotheses. For example, they recently discovered that cellular senescence, a hallmark of cellular aging, was elevated in brain tissue from patients with Alzheimer's disease. Using a randomized test group and a placebo group, they were able to test medications for their ability to improve brain function. The results from the study indicated that the drugs cleared senescent cells and improved brain structure and function as observed with magnetic resonance brain imaging and memory testing. They are now planning clinical testing of these drugs in older adults with mild cognitive impairment or early Alzheimer's disease.
In addition to research, she is passionate about education, and spends a significant amount of time mentoring trainees. Her lab members vary in background experiences, career trajectories and future goals. While the lab is united on a common research theme, experience and expertise spans high school students through postdoctoral fellows and from particle physics to plant biology. The diversity promotes innovate and exciting collaborations within the lab. Orr also spends time developing curriculum and facilitating educational opportunities for faculty colleagues and students.
"I am lucky that my career is devoted to fulfilling a personal interest—curing Alzheimer's disease," said Orr.
In addition to improving health, Orr embraces opportunities for community engagement and outreach, as well as disseminating research findings to the general public. She believes each step toward improving outcomes provides the hope she was looking for while struggling with her grandmother's illness. She stays focused on her goals by being determined and detail-oriented, and celebrating research progress, even small steps forward. To unwind, she enjoys outdoor activities with her husband and dogs, traveling, painting and playing the piano.