At Wake Forest we offer a comprehensive training program with a balanced experience in anatomic and clinical pathology in an extremely collegial environment. We offer a wide variety of experiences with graduated responsibility that prepares our residents for competitive fellowships and successful careers. More broadly, Wake Forest is part of large health system that includes a free-standing children's hospital and a NCI-designated comprehensive cancer center, and is located in a very affordable and fun city, Winston-Salem.


Why Wake Forest
On surgical pathology rotations, residents follow their cases from frozen section to gross examination to sign-out. Our pathology residents examine all types of specimens under the supervision of faculty members who have expertise in all subspecialties of pathology. As residents progress through the program, they preview slides and write reports for increased numbers and complexity of cases.
Residents gain experience in fine-needle aspiration biopsy on our busy cytology service, and then preview and sign-out cases with our cytology faculty. Our autopsy training is supervised by forensic pathologists and residents have ample opportunity to perform both hospital and medical examiner autopsies.

Clinical Pathology training includes rotations in areas including laboratory hematology, hematopathology, transfusion medicine, clinical chemistry, clinical microbiology, molecular pathology, cytogenetics, tissue typing, and laboratory management.
These rotations include interactions with clinicians on a variety of services.
---
Letter from our Chief Residents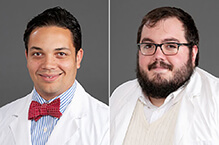 For prospective resident applicants, please read a letter from our Chief Residents, Tawfeq Naal, MD and Elena Fenu, MD.
---
Read Winston-Salem's 2020 Visitor and Relocation Guide for more information about the city and living here.