The Obstetric Anesthesiology Fellowship program at Wake Forest University School of Medicine allows fellows to gain clinical expertise in the care of high-risk obstetric patients. They develop proficiency in teaching residents and medical students while simultaneously honing their research skills.
Our fellowship curriculum focuses on clinical rotations and patient care. We provide obstetric anesthesia services for approximately 3,500 women in our state of the art, newly designed Birth Center on the main campus of the Wake Forest Baptist Hospital. Patients are cared for by the high-risk service of Wake Forest Obstetrics and Maternal-Fetal Medicine which serves as a tertiary obstetric referral center for the western half of North Carolina.
Why Train at Wake Forest?
Our tertiary care, multidisciplinary-based obstetric service manages a diverse, high-risk patient population with a cesarean delivery rate of approximately 25-30 percent and our obstetric anesthesia fellows gain a graduated level of responsibility for triaging and maintenance of anesthetic care for all obstetric patients.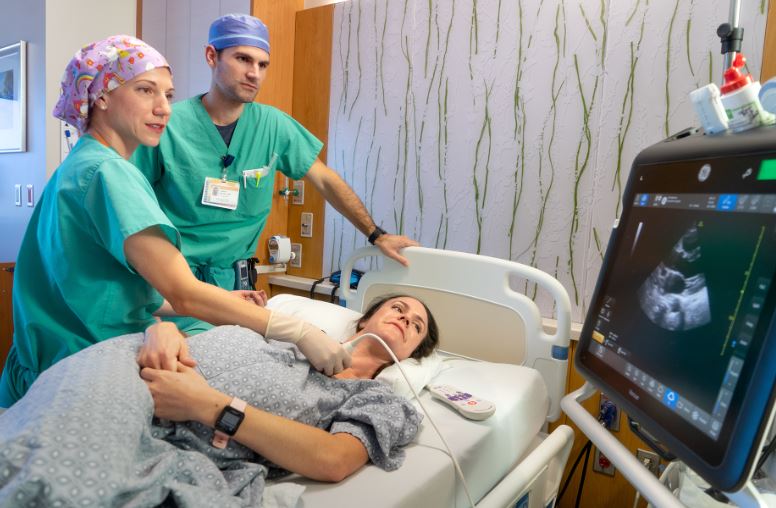 Fellows gain graduated responsibility for triaging and maintenance of anesthetic care for all labor and delivery patients.
Fellows lead a weekly review of high-risk patient lists focusing on systems-oriented problems and management, emphasizing the importance of interdisciplinary discussions with MFM.
Fellows work with faculty on individual patient safety and/or QI projects.
Fellows partner with faculty on clinical research areas of their interest.
Fellows are actively incorporated into the teaching model for simulation-based education of residents and medical students- designing and leading case simulations for students and residents.
Fellows moderate two to three journal club discussions or case-based presentations during the academic year.
Fellows' clinical and teaching expertise is enhanced by our daily didactic curriculum.
Our goal is to prepare physicians for a career in academics or clinical practice as experts in the field of Obstetric Anesthesiology.
Fellows are exposed to an academic experience that allows them to gain clinical expertise in the care of high-risk obstetric patients in a high volume level I referral center.
Fellows develop a graduating level of autonomy in orienting, teaching and supervising more junior trainees, medical students and student nurse anesthetists through didactic forums as well as hands-on supervision in the clinical setting.
Fellows are mentored in every aspect of clinical research including the conception of research protocols, writing IRB proposals and consents, collecting and recording data, analyzing data, writing abstracts for presentation, preparing presentation slides and lectures, and submitting manuscripts for publication. Most fellows complete at least one original clinical protocol during their fellowship.
Fellows can also elect to become involved with Kybele, which is a non-profit organization founded by one of our faculty, Dr. Medge Owen. Kybele is a global leader in health-system strengthening that is internationally recognized for improving the quality and safety of healthcare during childbirth in low- and middle-income countries.