Wake Forest School of Medicine has established the Center for Experiential and Applied Learning, a major new initiative to enhance patient care and safety through immersive hands-on learning. The center uses advanced instructional technologies to increase the clinical capacities and skills of health care providers.
The center combines faculty expertise from across clinical disciplines and brings together innovative resources for clinical education from a host of diverse training facilities, including a fully functional Surgical Skills Lab and Mock Operating Room (Mock OR).
Our Mission:
To promote patient safety and to improve the quality of care through simulation and education in a safe and appointed environment.
Resources include:
High-fidelity patient simulation laboratories
A surgery academy
An anatomical training center
A program in medical ultrasound
Standardized patient assessment examination rooms
The experiences are designed to:
Improve cognitive skills
Develop technical skills
Improve communication
Provide a unique service to the community
Assess care providers' proficiency in crisis management and routine patient care
Incorporate new technologies
Surgical Skills Lab
The Surgical Skills Lab is designed as part of the National Referral Center for Continuing Education and serves as an Fundamentals of Laparoscopic Surgery (FLS) Testing Center, as well as a Fundamentals of Endoscopic Surgery (FES). It supports six video-assist trainers for laparoscopic, thoracoscopic and endoscopic surgery. The monitors, instruments and cameras are identical to the equipment used in the operating rooms at Wake Forest Baptist Medical Center.
The lab experience also includes regularly scheduled sessions and experience in crew resource management in a multidisciplinary environment.
Mock OR
The Mock OR is outfitted with a human patient simulator, which has been specifically modified for surgical training, and instrumentation and equipment used in our operating rooms.
One of our surgical faculty members teaches crisis resource management courses on a weekly basis. Each course meets Residency Review Committee requirements.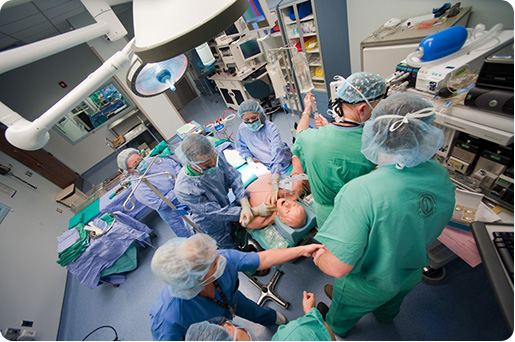 Patient Simulation Lab
The Patient Simulation Lab has been an integral part of the Center for Applied and Experiential Learning since 1998. It is a multi-disciplinary versatile training center for residents, faculty and medical students designed to reproduce any medical environment.
Rotation Goals and Objectives