Congratulations to our very own Professor McKinnond and Professor Jackson! Professor Andrea McKinnond, PA-C '15, has been voted as the new NCAPA President Elect and Professor Professor Toni Jackson, PA-C '08, has been selected as the NCAPA Director at Large.
| | |
| --- | --- |
| | Congratulations to Professor Chris Gillette, PhD, for being selected as a recipient of the 2022 Wake Forest University School of Medicine Research Educator Award! Professor Gillette has made significant contributions to the research environment of Atrium Health and Wake Forest University School of Medicine. The award will be presented at the Research Awards Day Ceremony in November. |
| | Congratulations to Professor Alisha DeTroye, PA-C '04, MMS, DFAAPA, on receiving the APAO 2021 Lifetime Achievement award! Additionally, DeTroye has been promoted to the role of Atrium Health Wake Forest Baptist Regional Director of Advanced Practice. In this role, she will provide leadership and strategic vision for the approximately 1,000 APPs (CNMs, CRNAs, NPs, and PAs) in the North Central and Western North Carolina Region. |
| | | | |
| --- | --- | --- | --- |
| | Professors Caroline Sisson, PA-C '13, MMS, Chris Gillette, Robert Wooten, PA-C '81, and Sarah Garvick, MS, MPAS, PA-C, traveled to Europe for the Association for Medical Education in Europe (AMEE) conference in Lyon, France. | | Professor Toni Jackson and Professor Courtney Perry, PharmD, completed the Early Career Development Program for Women (ECDPW)! |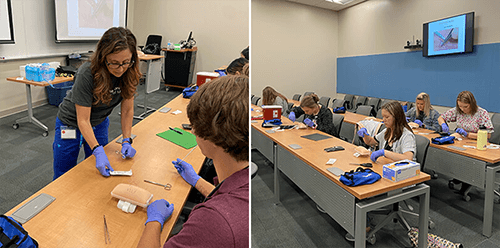 Professor Andrea McKinnond
and
Professor Sarah Garvick
taught Camp Med students about the PA profession earlier this summer.
| | |
| --- | --- |
| | Professor Nathan Bates, PA-C '19, received the Top Scoring Abstract Award at the HPEI Conference for Curricular Innovation on "Using Tabletop Simulation and Gamification to Enhance Understanding of Systems-Based Practice in Medical Education". |
| | Professor Sonia Crandall, MS, PhD, received the SGEA Career Educator Award for dedicating a significant amount of time and contributions to medical education and the SGEA (Southern Group on Educational Affairs). |

Program Director and Wake PA alum Brian Peacock PA-C '10, MMS, along with several other faculty (Robert Wooten, Alisha DeTroye, and Andrea McKinnond) and numerous program alumni, gathered at the Alumni Luncheon at the NCAPA Conference.