Olivia Jones sat with the Wake Forest PA Class of 2019 in the Biotech Place atrium, overflowing with mixed emotions too numerous to count, and too profound to comprehend.
"I never felt more proud of anything I had done," remembered Jones, who, along with 83 classmates, took part in the Hooding and Awards Ceremony that marked their graduation from the Wake Forest PA program.
Like her classmates, Jones had every reason to feel proud. Her path was circuitous, starting with a liberal arts degree, continuing to active-duty military service, and concluding with spending years to complete the prerequisite science coursework and clinical experience.
"I was working toward this for seven years," she said, reflecting on how far she had come.
Still, after all that hard work, it didn't quite feel real. "I still felt like I was a student and I was going to come back next week," Jones continued.
That was, until reality finally sunk in that Jones was about to enter the next phase of her life. "I'm done, and it's time to get to work," she said.
Celebration
It's only natural that Jones and her peers felt that range of emotions. The Hooding and Awards Ceremony itself is several different events wrapped into one.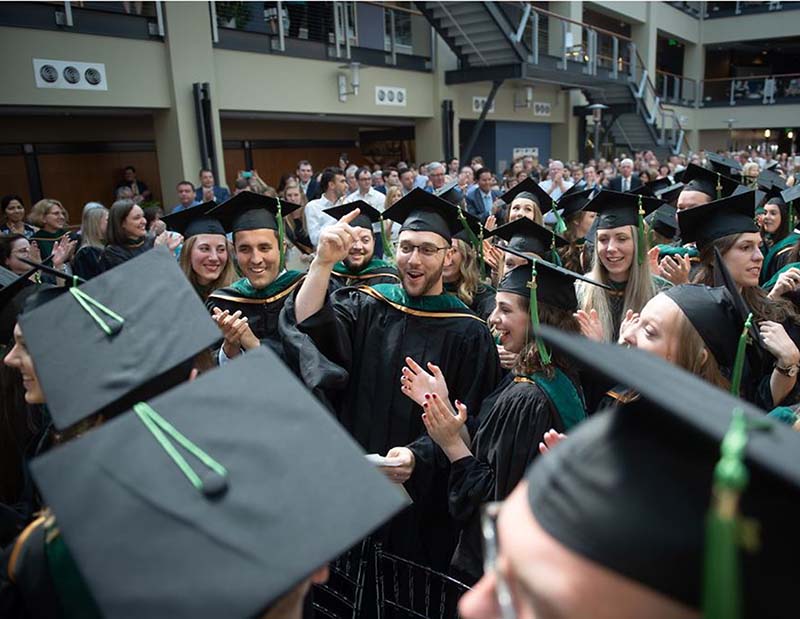 "It's kind of like our PA graduation," said Sue Reich, MPAS, PA-C, program director for the Wake Forest PA program. The official graduation takes place separately at the Wake Forest University main campus, but Reich said it's important to recognize the PA students separately.
"This is our way of celebrating them and recognizing them each individually," she added.
While the Hooding Ceremony has many themes associated with it, the prevailing feeling in the room is one of excitement. "You can feel that excitement in the room," Reich continued. "They're seeing their families, their classmates. You hear a lot of 'We did it!' It's a very happy, joyous atmosphere."
That excitement is only natural, given what the students had been through together. "They had two years of extremely rigorous study," said Reich.
To mark that occasion, each student was able to walk across the stage to receive their master's degree hoods. During the faculty awards portion of the ceremony, students who exhibited excellence in academics, scholarship, leadership, and service to others were also recognized.
Students then took their turn to give awards to faculty, staff, and preceptors whom they wanted to recognize.
"Everyone worked so hard. It's so arduous," said Jones. "It felt like the culmination of a lot of hard work. It was special."
'This isn't happening'
Each year, the Hooding and Awards Ceremony has a specific moment that everyone will remember. This year, it happened when the students were receiving their hoods.
As is the custom in most graduation ceremonies, the students were invited to come up to the stage, one by one, in alphabetical order. When each student got to the stage, a member of the faculty placed their hoods on them.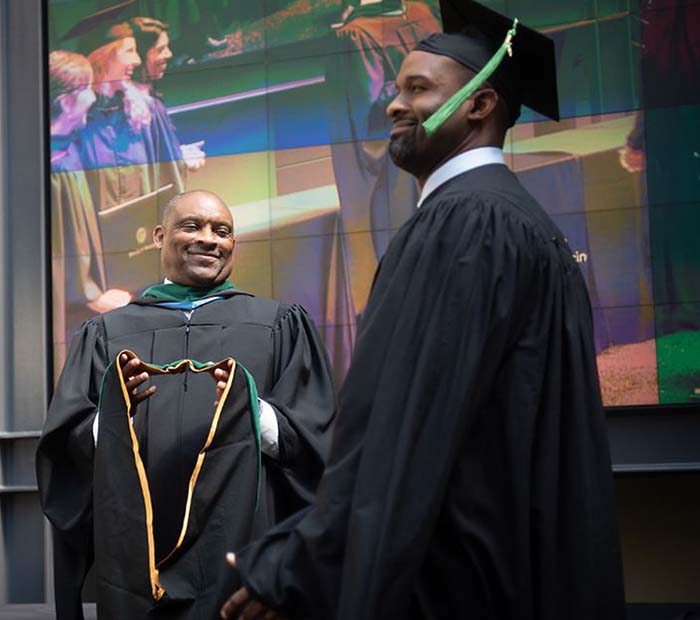 Gradually, as the proceedings reached the end of the alphabet, the students started buzzing and talking amongst themselves. They could all see what was going to happen.
Class of 2019 member Aaron Wooten was going to be hooded by his dad. Robert Wooten ('81), MS, PA-C, is a member of the Wake Forest PA program faculty.
As he approached the stage, the realization that his dad was going to hood him slowly dawned on him. "One of my classmates behind me, said 'Aaron, I think your dad's going to hood you," Aaron recalled. "I was like, 'No, this isn't happening.'"
But it did. Robert Wooten had made sure that it would. "I just thought it would be a great honor," he said.
The elder Wooten was proud to see his son follow in his footsteps. "As a father, you want your son or daughter to be successful," he said. "When he decided to be a PA…it just gives you a feeling of joy."
Aaron grew up in awe of his father, and credits him for not only his career, but also for shaping his character. "I learned how to become a better person, how to treat others," he said. "All the things he taught me growing up are starting to pay off, I guess."
When the moment came, Robert Wooten said he struggled to keep his emotions in check. "I had to keep them in control; otherwise I probably would have broken down crying," he said. "To put the hood on him, and then to give him a big hug, it was a special moment."
Aaron, too, could hardly believe it when it happened. "It was somewhat surreal," he recalled. "I couldn't have imagined my dad being the one who hoods me."
He said it was a special moment between him and his dad that he'll remember forever. "It was such a privilege for me," he said, thinking about how his father's distinguished career inspired him. "I hope he feels I'm one of his biggest accomplishments."
A PA's Responsibility
Celebratory though the event was, a more serious tone was provided by the keynote speaker, Dr. Peggy Valentine, dean of the School of Health Sciences at Winston-Salem State University. She implored the graduates to remember that their role is to serve others, and that they should be aware of people who need their help the most.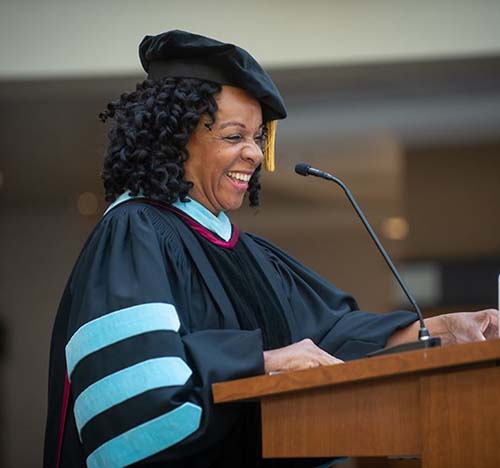 "Don't forget the people in those communities where people feel left behind," she said, recalling her speech. "I wanted to remind them that the PA profession came about to extend healthcare, especially in impoverished areas."
The PA's role, she continued, is central to helping people in those areas. "As PAs, it's important to be aware of what's happening to the people in your communities," she said. "And do something about the challenges that face them."
Speaking as a representative of her university as well as a representative of Eastern Winston-Salem, Dr. Valentine reminded the students that many people in her community are suffering. "We have some of the worst health disparities in the country. We have people who have challenges. Hunger, poverty, transportation.
"These things limit their access to healthcare." PAs, she continued, can and should be an important part of the solution. "Sometimes, people simply don't know what's available," Dr. Valentine stated. She added that PAs can serve as the bridge between the people who need help, and the resources that are available to them.
"It's important to know what resources are available, and to connect the community to those resources to improve the quality of life," she said.
Dr. Valentine's address was a reflection of the mission of the Wake Forest PA program – to serve the underserved. "My goal was to remind them, as they get ready to embark on an exciting profession, that they have a responsibility to carry out that mission."