Global Health initiatives happen everywhere. We have established strong partnerships and collaborations with universities, hospitals and non-governmental and corporate organizations in many countries. Global health sites are categorized as affiliate sites and collaborative sites.
Affiliate Sites
Affiliate sites have a signed Memorandum of Agreement (MOA) between the School of Medicine and partnering international academic university or tertiary hospital systems. This agreement typically supports student/faculty exchanges between the two institutions for long-term, interdisciplinary educational/service and research opportunities. Activities from affiliate sites are coordinated by the Office of Global Health. Current affiliate sites are located in Ghana, Kenya, Costa Rica, Spain, Japan and China.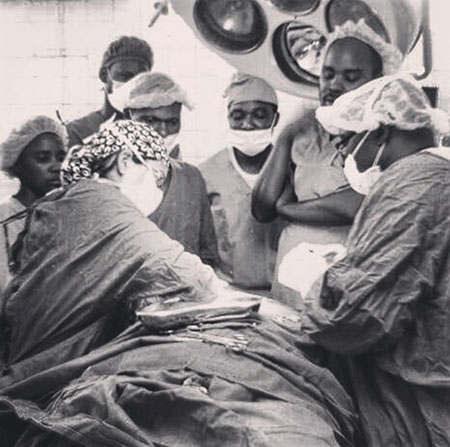 Affiliate sites are chosen based on several factors, including:
existing faculty expertise in priority specialty/program areas (e.g., pediatric global health, infectious diseases and tropical medicine, maternal and newborn health, etc.)
strong leadership and governance at the international site
safety
potential for long-term sustainability, creativity and interdisciplinary scholarship
Immigrant/Refugee Health
In addition to global sites, the School of Medicine also offers electives for 4th year medical students interested in immigrant/refugee health and service to other underserved populations in the U.S. The two affiliate sites dedicated to local public health activities are located in Tuba City, Ariz., (Navajo Indian Reservation site) and Winston-Salem (Forsyth County Health Department, Downtown Health Plaza, DEAC clinic, United Health Center).
Collaborative Sites
Collaborative sites are often partnerships with non-governmental organizations, hospitals or corporate agencies and usually nested in individual departments. They're led by School of Medicine faculty who have established research, educational and service programs at an international site.
In general, student exchanges do not occur at these collaborative sites (with rare exceptions), although there are ongoing faculty and staff exchanges.
Some collaborative sites may evolve into affiliate sites depending on the potential for medical student/trainee exchanges, safety of the international site, scholarship, local governance and other logistical issues.
Current collaborative sites are located in many countries, including but not limited to
| | |
| --- | --- |
| Dominican Republic (ENT) | Honduras (Ophthalmology, Family Medicine) |
| Nicaragua (Internal Medicine-Cardiology) | Haiti (Pediatrics) |
| Tanzania (General Surgery, Emergency Medicine) | Peru (Internal Medicine) |
| Ghana (Anesthesia and Internal Medicine - Infectious Disease) | South Africa (Emergency Medicine) |
| Uganda, Maldova and Bolivia (Plastics and Reconstructive Surgery) | Romania, Guatemala and Hungary (Public Health Sciences) |
| India (Pediatrics and Urology) | China and Serbia (Family Medicine) |
View our collaborative site locations on our interactive map