The Office of Global Health (OGH) at Wake Forest School of Medicine provides an abundance of education and training opportunities. These opportunities are not only available to students – we encourage our faculty, staff and residents to participate and get involved as well.
From our Global Health Certificate Program, to global electives, to lectures and symposiums, we're committed to providing the School of Medicine community with learning and training to further their global health interests.
Global Health Certificate Program
The Global Health Certificate program is open to all School of Medicine students, residents, fellows, faculty and staff. The curriculum emphasizes biomedical, sociopolitical, economic and geographic factors, all of which have an impact on health in low- and middle-income countries, and addresses health of underserved populations in our own community.
This 20-month longitudinal program builds a foundational understanding of global health to both enhance career goals and promote experiential learning through activities in academic and professional settings, both locally and globally.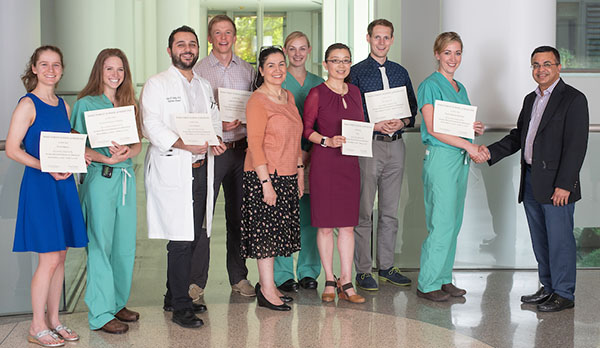 All participants complete a culminating capstone project. This is a service or research project that integrates aspects of global health that impact underserved populations in low- and middle-income countries and the U.S., including our local community. Participants present their capstone projects at the annual WFSM Global Health Symposium. Submission to the Consortium of Universities for Global Health (CUGH) Annual Conference or other national global health conferences is also encouraged.
Global Health Infectious Diseases Certificate
Starting in 2017-2018, a Global Health certificate program focused on Infectious Diseases (ID) became available for ID Fellows. The longitudinal curriculum emphasizes epidemiology of HIV, TB, Malaria, Emerging Infectious Diseases, Vaccine-preventable diseases, and Antimicrobial resistance.
All participants complete a culminating capstone project. This is a service or research project focused on infectious diseases of major global health importance. Participants present their capstone projects, including an electronic poster that's displayed at the annual Global Health Symposium. Submission to the American Academy of Pediatrics, American Academy of Family Medicine, Infectious Disease Society of America or American Society of Tropical Medicine & Hygiene and other major national meetings in a particular specialty is also encouraged.
Global Health Electives
Global health electives are available to medical students, physician assistant students, and nursing students.
Electives for final year medical students provide training in advocacy, humility, equity and health systems. Fourth-year medical student global health elective information is available on eWake. The OGH can also help identify and approve elective locations, sites and potential scholarship opportunities for students, residents and fellows.
We're committed to educating our CRNA students to appreciate the global role that they play in health care, and we've been involved with organizations and groups in North and South America, Africa, and Asia. Each year, many of our students gain clinical experience administering anesthesia in another country. These trips provide life-long memories and a sense of global impact. Students not only have the opportunity to learn unusual clinical techniques, but also to learn about alternate health systems and how to overcome system challenges in those environments. Additionally, the Global Health Mission Fund financially supports nursing students to participate in medical mission trips.
PA students may participate in clinical electives aimed at reaching underserved populations, whether in rural North Carolina, or locations outside the state and even in sites outside the U.S. The skills learned in those electives transfer easily to global initiatives. Within the PA Studies curriculum, these experiences are administered by the PA Studies Director of Clinical Education. All scheduling must be coordinated in the context of students' clinical year rotation assignments.
International Students
Due to the impact of the health care precautions related to COVID-19 on the opportunity to provide clinical electives, the administration of Wake Forest Baptist Health, Wake Forest School of Medicine and our affiliated graduate/training programs suspended the participation in electives by visiting final year medical students, who are enrolled in programs outside of the United States, through June 30, 2022.
Final-year students enrolled in medical schools outside of the United States who are interested in completing an educational opportunity at Wake Forest School of Medicine should complete an application and submit it to the OGH at least 90 days before the beginning date of the desired rotation. Applications will be reviewed each academic year. No more than five final year medical students in good standing at their home medical school will be selected to complete one four-week rotation. To request application directions, contact Sheila Rutledge at srutledg@wakehealth.edu.
Global Health Pathways for Residents and Fellows
Structured clinical pathways have been developed for residents in Emergency Medicine, Pediatrics and Dermatology; and for fellows in Infectious Diseases. Funding is also available for residents and fellows who'd like to participate in approved elective rotations in global health through OGH.
Annual Global Health Symposium
The Annual Global Health Symposium is held on the medical center campus in the month of April. It includes a keynote speaker and other plenary speakers who discuss a variety of global health challenges and serves as a forum for showcasing the education, service and research accomplishments of School of Medicine students, faculty and staff.
Global Health Snapshots
Global Health Snapshots is a series of lectures highlighting visiting scholars from OGH affiliate sites, visiting global health experts, and School of Medicine global health affiliate faculty. These global health snapshots occur three to four times a year. Prior to the events, the OGH widely shares the information with students and faculty.
Global Health Service Outreach (WAKE WORKS)
The innovative global health service outreach program (WAKE WORKS) is coordinated by the OGH and led by School of Medicine faculty and staff from various departments in collaboration with non-governmental and corporate organizations (e.g. Sozo Children in Uganda, WFSM – Hanesbrands collaboration in the Dominican Republic and Honduras). Programs generally occur once or twice each year. Participation information is shared with faculty, staff and students in the Weekly Faculty Links.