The Kennedy Hopkins Scholars Mentor Program, named for Dr. Charlie Kennedy and Dr. Larry Hopkins, was founded in 2018 at Wake Forest Baptist Health as a mechanism of professional and personal support, empowerment and inclusion of our underrepresented minority residents and fellows. Through the program, residents and fellows are able to self-select a faculty mentor at Wake Forest Baptist Health, attend a quarterly lecture series, and participate in community engagement events.
Through the program, any underrepresented resident or fellow may be matched with a faculty member at Wake Forest Baptist Health. Currently, trainees who participate in the program are asked to meet quarterly with their mentor. Participants (mentors and mentees) are asked to attend the quarterly Kennedy Hopkins Scholars Mentor Program meetings which are held on campus.
How to Apply
Interested residents or fellows should:
Contact Dr. Artina Dawkins about their interest in being matched with a faculty mentor.
Complete the data sheet.
A faculty member or program director may initiate contact on behalf of a resident or fellow as well.
Upcoming Quarterly Meetings
June 26, 2020 – 5 pm
WFBH Resources Available to Underrepresented Minority Residents and Fellows
Panelists
Please RSVP by June 22 and submit questions that you would like for the panel to address. We will cover as many questions as possible.
2020-2021 Kennedy Hopkins Scholars Meeting Dates: TBA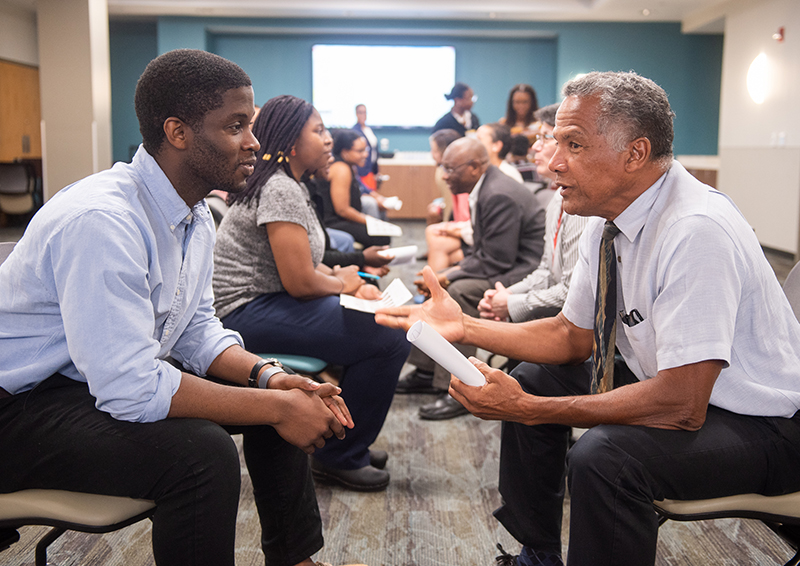 Past Quarterly Meetings
March 19, 2020 – Second Anniversary
* Second anniversary lectures were cancelled due to the impact of COVID-19. *
January 29, 2020
Maximizing Mentorship: Strategies to More Effective Personal & Career Development
Guest speaker: Allison McWilliams, PhD, Assistant Vice President, Mentoring and Alumni Personal and Career Development, Wake Forest University
September 25, 2019 – Panel discussion
Strategies for Success: Avoiding Pitfalls During Residency
Panelists:
Brittany Anderson, MD, Anesthesiology
Cynthia Emory, MD, MBA, Associate Professor and Vice Chair, Orthopaedic Surgery
Jimmy Ruiz, MD, Associate Professor, Internal Medicine, Hematology-Oncology
Rashad Sullivan, MD, Orthopaedic Surgery
June 26, 2019 – Panel discussion
Resources Available to You as a Resident at Wake Forest Baptist
Panelists:
Goldie Byrd, PhD, Professor and Director, Maya Angelou Center for Health Equity
Jerry Irby, MBA, Vice President, People Team
Dave McIntosh, PhD, Vice President and Chief Inclusion and Diversity Officer
Wayne Meredith, MD, Professor and Chair, Department of Surgery, Chief of Clinical Chairs
Mitch Sokolosky, MD, DIO and Associate Chief Medical Officer, Associate Professor of Emergency Medicine.
March 27, 2019 – 1st Anniversary
Building a Strategy for Success: A Necessity for 21st Century Physicians
Speaker: Bonnie Simpson-Mason, MD, Founder and Executive Director, Nth Dimensions.
January 9, 2019
A Local Perspective on NC Health & Quality of Life Initiatives
Speakers:
Maurice 'Mo' Green, JD, Executive Director, Z Smith Reynolds Foundation
Laura Gerald, MD, President, Kate B Reynolds Foundation
December 5, 2018
Health Equity in Context
Speaker: Cornell Wright, MPA, Executive Director, NC Office of Minority Health and Health Disparities.
June 27, 2018
The Value of Mentorship
Speaker: Michael Clements, Former director of the Downtown Health Plaza.