The RIIPL lab is devoted to the application of novel image analysis methods (e.g. diffeomorphic registration, machine learning, graph theory, ASL) to research studies, as well as to robust clinical translation of these techniques. These methods have been applied to various studies on the brain (including Diabetes, Dyslexia, Caffeine, Aging, Music, Alzheimer's disease, Brain Tumors, Traumatic Brain Injury, and Neonatal Development). The RIIPL lab also maintains a fully automated functional and structural image processing pipeline supporting the image storage and analysis needs of a variety of scientists and imaging studies at Wake Forest.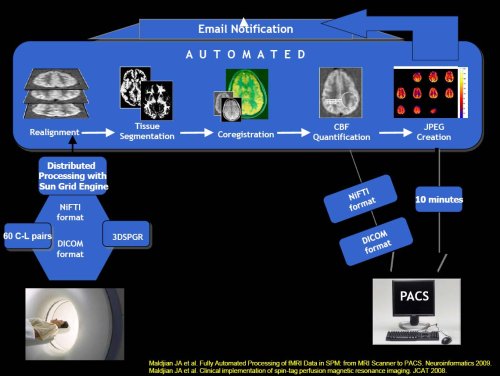 ASL - Arterial Spin Label MRI is a noninvasive method for measuring perfusion. Unlike traditional contrast-based methods, the method is completely non-invasive, it is repeatable, and provides quantitative measures of blood flow. The RIIPL lab is actively involved in technique development for ASL research and clinical applications.
DTI - Diffusion Tensor Imaging uses MRI to measure the microscopic movement of water molecules. It provides measures of white matter axonal integrity and can be used in research studies of diseased and normal states, as well as for visualization of white matter tracts for clinical neurosurgical guidance.
FMRI - Functional MRI uses changes in local blood oxygen content to identify areas in the brain involved in performance of specific tasks. Resting state fMRI can be used to identify underlying brain networks, as well as changes related to disease or state-based modification of brain connectivity.
Structural MRI - Structural MRI analysis methods use high-resolution volumetric MRI data to identify differences in brain structure (e.g., grey matter, cortical thickness) between individuals or groups of subjects.
MEG - Magnetoencephalography (MEG) is a non-invasive imaging technique that measures the magnetic fields produced by the electrical currents associated with neuronal function. It provides extremely high temporal resolution, and is complementary to structural and functional MRI methods. The RIIPL lab has developed a high-throughput fully automated MEG analysis pipeline for high density source-space analysis of resting state MEG data, incorporating a variety of head models, forward models, beamformers, and connectivity metrics.
Machine Learning - Machine learning has emerged as a powerful method of performing spatial pattern analysis and data classification. The multivariate nature of these approaches allows them to take into consideration correlations present in the data, overcoming limitations of standard analytical approaches. The prediction capabilities of machine learning methods are ideal for many clinical applications.
Network Analysis - Graph Theory based analysis of brain imaging data models the brain as a complex network represented as a collection of nodes and connecting edges. Nodes are typically defined as voxels (or regions of interest) in imaging space, and the edges are identified based on some connectivity measure between nodes (e.g. correlation coefficient). This framework allows the application of a variety of graph-theory based metrics to brain imaging data in order to identify and understand differences in brain connectivity between groups. While this has typically been applied to resting state fMRI data, graph theoretic methods can also be used with structural imaging data (e.g. DTI, as well as T1-weighted MRI).
2017
Craft S, Claxton A, Baker LD, Hanson AJ, Cholerton B, Trittschuh EH, Dahl D, Caulder E, Neth B, Montine TJ, Jung Y, Maldjian JA, Whitlow CT, Friedman S.
Effects of Regular and Long-Acting Insulin on Cognition and Alzheimer's Disease Biomarkers: A Pilot Clinical Trial.
J Alzheimers Dis. 2017 Mar 29. doi: 10.3233/JAD-161256.
2016
Bahrami N, Sharma D, Rosenthal S, Davenport EM, Urban JE, Wagner B, Jung Y, Vaughan CG, Gioia GA, Stitzel JD, Whitlow CT, Maldjian JA.
Subconcussive Head Impact Exposure and White Matter Tract Changes over a Single Season of Youth Football.
Radiology. 2016 Dec;281(3):919-926. Epub 2016 Oct 24.
Palmer Allred ND, Raffield LM, Hardy JC, Hsu FC, Divers J, Xu J, Smith SC, Hugenschmidt CE, Wagner BC, Whitlow CT, Sink KM, Maldjian JA, Williamson JD, Bowden DW, Freedman BI.
APOE Genotypes Associate With Cognitive Performance but Not Cerebral Structure: Diabetes Heart Study MIND.
Diabetes Care. 2016 Dec;39(12):2225-2231. Epub 2016 Oct 4.
Freedman BI, Gadegbeku CA, Bryan RN, Palmer ND, Hicks PJ, Ma L, Rocco MV, Smith SC, Xu J, Whitlow CT, Wagner BC, Langefeld CD, Hawfield AT, Bates JT, Lerner AJ, Raj DS, Sadaghiani MS, Toto RD, Wright JT Jr, Bowden DW, Williamson JD, Sink KM, Maldjian JA, Pajewski NM, Divers J
APOL1 renal-risk variants associate with reduced cerebral white matter lesion volume and increased gray matter volume.
Kidney Int. 2016 Aug;90(2):440-9. doi: 10.1016/j.kint.2016.04.027. Epub 2016 Jun 22.
Davenport EM, Apkarian K, Whitlow CT, Urban JE, Jensen JH, Szuch E, Espeland MA, Jung Y, Rosenbaum DA, Gioia GA, Powers AK, Stitzel JD, Maldjian JA
Abnormalities in Diffusional Kurtosis Metrics Related to Head Impact Exposure in a Season of High School Varsity Football.
J Neurotrauma. 2016 Dec 1;33(23):2133-2146. Epub 2016 May 18.
Download past RIPL Laboratory publications (pdf)