Dedicated. Loyal. Mindful.
These are the attributes Clifford "Cliff" Gonzales, PhD, CRNA, associate director of clinical education of Academic Nursing, uses to describe himself. Gonzales' primary responsibility is the clinical education of our SRNAs (Student Registered Nurse Anesthetists). A part of Wake Forest School of Medicine's Department of Academic Nursing, the CRNA training program has been ranked among the top 10 programs in the country by US News & World Report for more than a decade.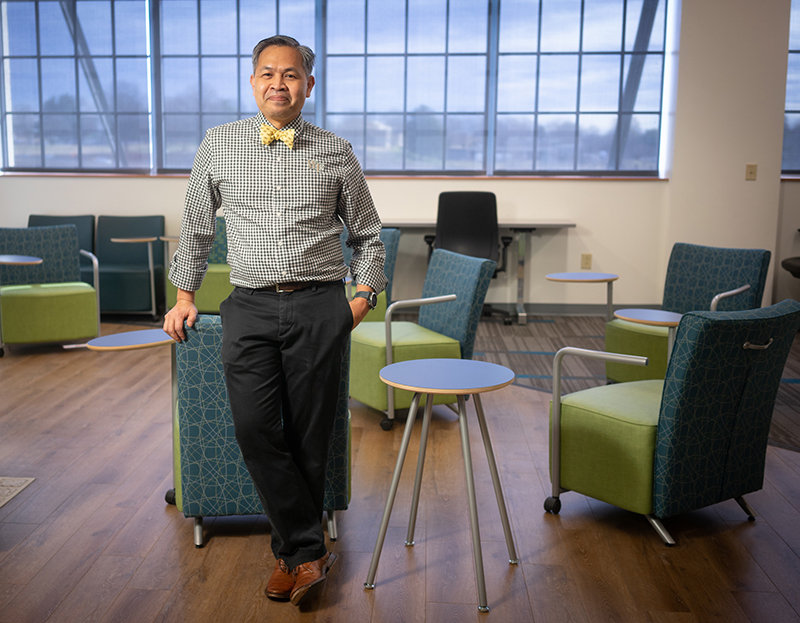 As a clinical educator, Cliff spends the majority of his time planning clinical practicums across 28 sites, guiding students through the process and preparing weekly lectures, simulations and other learning opportunities. According to Courtney Brown, PhD, CRNA, CHSE, interim program director of Academic Nursing, Cliff wears a few extra hats around the office.
She gave us the inside scoop: "Cliff has and continues to go above and beyond to plan, contingency plan and communicate to all of our students during this pandemic. He is also a great colleague and is a master-class photographer. Most of the photos in our hallways were carefully selected and printed by Cliff. He is also dubbed the department foodie. He knows the best restaurant and menu item in every city we've traveled to together."
Cliff's "extra-curriculars" demonstrate his loyalty to his job and colleagues, and he has equal dedication to his family (wife + kids + four dogs) and the hobbies that help him stay mindful. As a novice photographer and a road bike enthusiast, the elements of nature he encounters during these activities keep him grounded.
But don't take our word for it. Get to know Cliff, in his own words.
What are some of your hobbies or interests outside of work?
I love macro and landscape photography and riding my road bike. Photography allows me to appreciate the blessings of my Lord. It reminds me of the importance of light and that most of the beautiful things in life are really free. As I watch the beautiful colors brought by the light, it teaches me that life is not permanent; therefore, why not focus on things that are important? Riding my bike allows me to feel and perceive freedom, understand various trajectories in life, the value of having personal objectives and adapting to whatever the environment throws at you.
What's your professional experience and how did you get into the field?
I obtained my Bachelor of Science in Nursing in the Philippines. Between my time there and in the U.S., I spent most of my clinical care experience in critical and emergency nursing, where I could dedicate care to one or two patients at a time. Because of this, I received immediate feedback from my patients on my interventions and had close communication with the health care providers. I felt a strong connection to my role as an advocate for the patients' health and well-being. Anesthesia was the perfect avenue to channel my passion for patient advocacy, which lead me to advancing my career and becoming a CRNA.
The University of North Carolina at Greensboro graciously guided my graduate studies, and I received my certification in anesthesia practice from Wake Forest Baptist Medical Center (now Wake Forest Baptist Health). At the time Wake Forest affiliated with University of North Carolina at Greensboro for its master's degree in nursing, so it's exciting to now be part of the MS in Nurse Anesthesia degree that was started at Wake Forest School of Medicine in 2015 and will soon evolve into a doctor of nursing practice (DNP). Leadership and education entail experience and lots of guidance. My main source of learning as an educator is from our students. If you listen to them, they can tell you a lot about how they want to be educated. They are the end product of your educational activities. Why not listen to them?
Tell us a bit more about your experience coming from the Philippines.
The Philippines is a progressive country and is rich in culture that cultivates resilience, courage and kindness. After I received my degree, I became a clinical educator in a surgical suite. The surgical sites exposed me to the field of anesthesia. A nursing opportunity in North Carolina allowed me to move to the U.S. when I was 24 years old. My first job in N.C. was not an ideal fit, but I learned patience and time management. When I fulfilled my promise to the nursing facility, I jumped to a job opportunity at Wake Forest Baptist Health where I grew my exposure to critical and emergency care. These experiences, starting with my time in the Philippines, gave me the tools to start my journey to becoming a nurse anesthetist.
What inspires or motivates you?
My mother was a science and math teacher in the Philippines. When I was in my preschool years, she would bring me to her classroom. I was amazed at how her students eagerly raised their hands to share their answers. I thought then that educators have special powers to get other people eager about something. I still believe it today.
What made you want to teach future health care providers?
Nothing is permanent in this world except the truth of loving kindness. Taking care of vulnerable individuals such as our patients extends that loving kindness. The safety of our patients while they are in our care is of the utmost priority. For me, anesthesia administration safeguards the heart and soul of the patients during surgical procedures. I believe it is very important we effectively share expertise and knowledge with future CRNAs to ensure safe patient care. Shifting my career into teaching seemed like the best way to accomplish this goal.
Why do you enjoy teaching?
I enjoy seeing students reach their learning objectives and the smiles on their faces when they reach their educational endeavors during the graduation exercises.
If you had to describe yourself in five adjectives or less, what would you pick?
I am dedicated, loyal and mindful. Every day, I dedicate my time to making sure the educational activities I plan, create and develop focus on the learners. Outside work, I dedicate my time to my wife, kids and four mischievous dogs. I am thankful for all the resources Wake Forest School of Medicine provides for its employees to help them with their professional growth—that's why my loyalty resides with our institution. I'm continuously learning the art of mindfulness. Being mindful allows me to listen to others and appreciate the kindness they give me, such as the support and understanding I receive from my department and colleagues.
----
Cliff is being modest. These three attributes, along with his work ethic, resulted in a great honor this past year. He was recognized as one of the Great 100 NC Nurses in 2020, which is an honor given by The Great 100, an organization dedicated to supporting nursing excellence in North Carolina, to nurses that are role models, leaders, community servants, compassionate caregivers and significant contributors to the nursing profession.