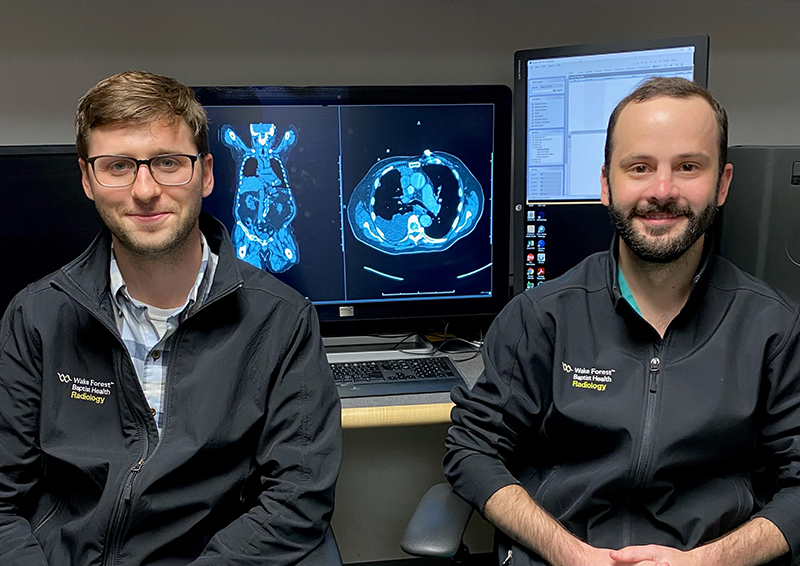 As the chief residents for the 2021-2022 academic year, we want to thank you for your interest in our program, and we are excited to share with you the reasons we think the Wake Forest Radiology Residency Program is one of the best residency programs in the country.
One of the distinguishing characteristics of our program is an emphasis on excellent clinical training. Each year the program successfully prepares first year residents to begin supervised call after only six months of training and independent call at the start of the second year. This ability to quickly prepare first year residents relies on a daily commitment to resident education and a thoughtful structure to the training pathway. First year rotations are focused on preparing for Tier I call, in which residents interpret plain film and neuroradiology CT studies. Focusing on this subset of modalities allows residents and faculty to concentrate on creating a solid foundational knowledge base in the first year. Numerous practice cases with sample preliminary dictations are provided by Casestacks, a website created by two previous Wake residents to help their co-residents prepare for call. Residents also gain confidence in responding to contrast reaction events in our state-of-the-art simulation lab, which is supported with funds from the Meschan Society, an organization of alumni whose generous donations continuously improve resident education.
Although it seems like a monumental task, you will be successfully reading complex studies on call after your first six months of training here. Your area of expertise then expands as you progress through the additional tiers of call. By the time you reach fourth year, you will be comfortable independently interpreting all forms of diagnostic radiology. You will be familiar with the expansive range of pathology seen at a tertiary care medical center with a level 1 trauma center, nationally recognized cancer center, and dedicated pediatric hospital. In short, you will be a rock star. This focus on clinical competence and independence is what makes our residents so successful when applying for fellowship and obtaining both private practice and academic positions after training.
While we are proud of the exceptional clinical training at Wake Forest, we really treasure the camaraderie between the residents and between the residents and faculty. Our co-residents are easily the best part of the program, and Winston-Salem provides a wide range of activities to do outside of work in the evenings and on weekends. Former tobacco warehouses and factories throughout the city have been revitalized into breweries, restaurants, lofts, and centers for performing and visual art. A short drive outside the city brings you to wineries and state parks. Many residents come to Wake not knowing much about Winston-Salem and then decide to remain in the area after residency due to the quality of life they find here.
In conclusion, thank you again for your interest in our program and we welcome you to be part of the Wake Family. If you want to learn more about our experience, we hope you will reach out to either of us.