In April, 2021, Frederick W. Kremkau, PhD, FACR, FAIMBE, FAIUM, FASA, was awarded the Carmine M. Valente Distinguished Service Award given by the American Institute of Ultrasound in Medicine (AIUM). The AIUM's Board of Governors established the Carmine M. Valente Distinguished Service Award to memorialize and recognize an AIUM member whose long-standing contributions in the furtherance of the AIUM's mission reflect Dr Valente's focus on collaboration. This award is given annually by the AIUM staff. AIUM has membership of over 9,000, mostly MDs with about 50 PhDs.

Dr. Kremkau received his BS in electrical engineering from Cornell University in 1963 and subsequently received his MS and PhD degrees in electrical engineering from the University of Rochester. He served as an officer in the U.S. Navy from 1963-1967. During his master's studies in electrical engineering at Rochester, Dr. Kremkau initiated his work in the medical applications of ultrasound. He began his academic career at Wake Forest School of Medicine, as Assistant Professor of Internal Medicine. After serving as Associate Professor of Diagnostic Radiology at Yale University, he returned to Wake Forest as Professor and Director of the Center for Medical Ultrasound. Dr. Kremkau continues to serve Wake Forest School of Medicine as an ultrasound educator in the Center for Experiential and Applied Learning (CEAL) continuing to help us drive the vision and direction of ultrasound education.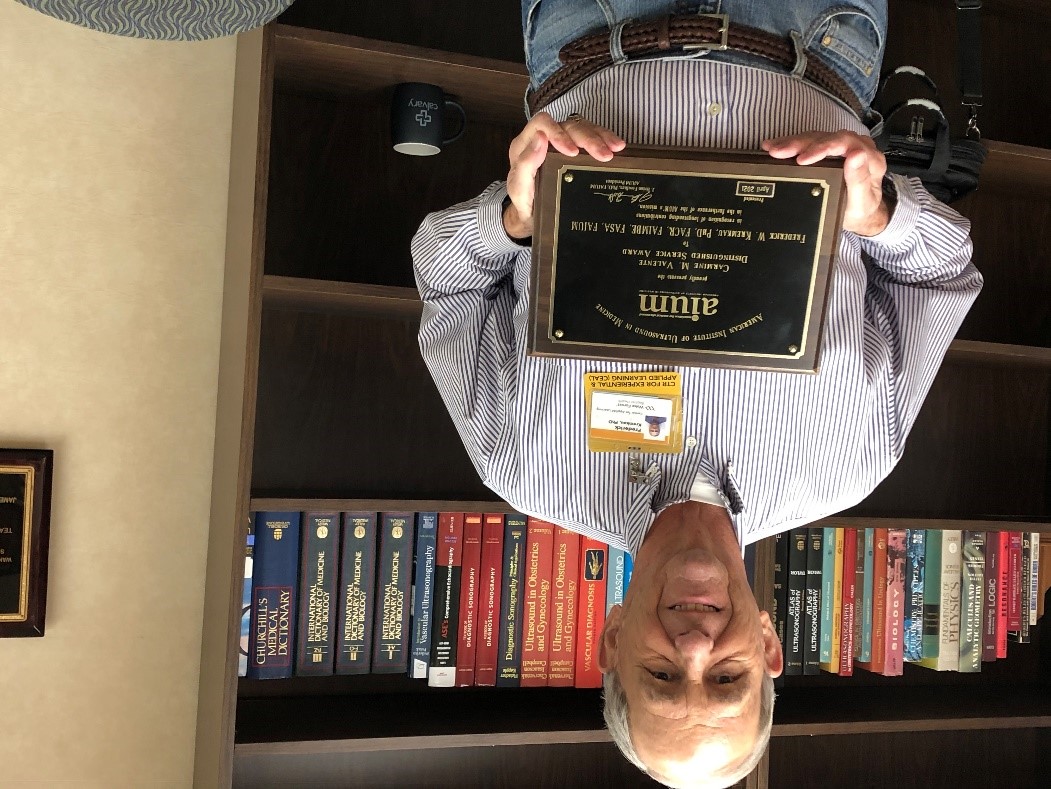 Dr. Kremkau is the author of 36 book chapters, 161 journal articles, and several books, including Sonography: Principles and Instruments, the first textbook in the field to reach its 10th edition. Dr. Kremkau was recipient of the AIUM's Presidential Recognition Award in 1981, the Joseph H. Holmes Basic Science Pioneer Award in 1994 and the William J. Fry Award in 2003. He has served as associate editor of the Journal of Ultrasound in Medicine and as secretary, vice president and president of the AIUM, chaired 12 committees of the AIUM, and served on the Executive Committee for 11 years and on the Board of Governors for 19 years.

We congratulate Dr. Kremkau on this great honor!