Disaster Medicine Physicians from Ukraine Learn and Share Best Practices
On October 19, a delegation of emergency medicine physicians from Ukraine visited Atrium Health Wake Forest Baptist Medical Center. They spent the day learning and sharing best practices in trauma medicine and building professional relationships.
---
Dr. Andrew Nunn receives national acclaim for innovative Surgical Critical Care education

Congratulations to Dr. Andrew Nunn, the 2021 winner of the Surgical Critical Care Program Directors' Society (SCCPDS) Innovation in Education award. Calling upon the support and resources of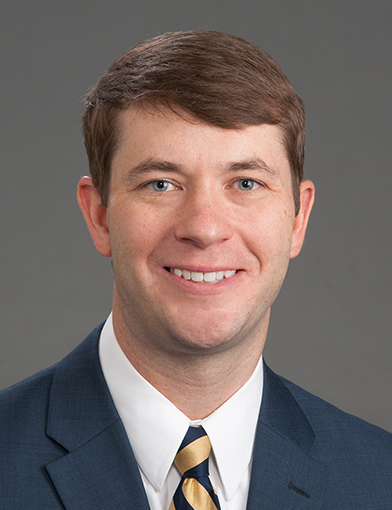 the Wake Forest Center for Experiential and Applied Learning (CEAL) and industry professionals, Andrew Nunn, MD, FACS, Assistant Professor, Department of Surgery led the creation of the Trauma Exposures and Techniques, or "TET" curriculum, in 2017. The curriculum was conceived to close skills gaps and weave evidence-based instruction into the training of Acute Care Surgery (ACS) fellows. Combining cadaveric procedure labs, live ultrasound scanning, and standardized patient exams, the monthly lab sessions build the trainees' confidence and proficiency in their skill performance. The lab has become a highlight for current and prospective ACS fellows. In recognition of his vision and effort in the creation of the TET lab, Nunn will accept the Innovation in Education award at the annual meeting of the SCCPDS later this year.
---
Dr. Fred Kremkau Receives the AIUM Distinguished Service Award
In April, 2021, Frederick W. Kremkau, PhD, FACR, FAIMBE, FAIUM, FASA, was awarded the Carmine M. Valente Distinguished Service Award given by the American Institute of Ultrasound in Medicine (AIUM). -Read More
---
Troyanne McMillan Becomes First at Wake Forest to Receive CHSOS Certification.
Congratulations to Troyanne McMillan, RN, for becoming the first person at Wake Forest School of Medicine to achieve Certified Healthcare Simulation Operations Specialist (CHSOS) as designated by the Society for Simulation in Healthcare.

As a Simulationist for the Center for Experiential & Applied Learning (CEAL), Ms. McMillan supports the academic and clinical enterprises by operating a variety of simulation technologies ranging from anatomic models and task trainers to full-body patient simulators. She proctors Fundamentals of Laparoscopic Surgery (FLS) exams for the Surgical Academy and is an instrumental simulationist for the American Heart Failure Advanced Life Support (AHFALS) course. As a simulation educator, Ms. McMillan is focused on cross-functional labor and delivery simulation activities. She is a facilitator for the American College of Obstetricians and Gynecologists (ACOG) Emergencies in Clinical Obstetrics (ECO) course, and is co-author to many abstracts on the subject presented at National meetings.

Ms. McMillan is a registered nurse and has worked in a number of nursing capacities including ICU, ophthalmology, surgical, and hospice care.
---
UNCC Engineering Professors Helping Doctors During COVID-19
Spectrum News - January 2021
---
Wake Forest Baptist Center for Experiential and Applied Learning (CEAL) Receives Two International Accreditations
Wake Forest School of Medicine's Center for Experiential and Applied Learning (CEAL), part of Wake Forest Baptist Health, received full accreditation for our institutional simulation center from the Society for Simulation in Healthcare (SSH) with recognition in the areas of teaching and learning. CEAL also received accreditation from the American College of Surgeons (ACS) as a comprehensive accredited education institute (AEI) - Read More
---
Wake Forest School of Medicine's Rolling Bones at East Forsyth
Journal Now - November 2019
---
Frederick Kremkau, PhD has published the 10th edition of the textbook "Sonography: Principles and Instruments.
Kremkau is widely recognized for his contributions to medical ultrasound training and education and leads both industry-specific and student and professional continuing medical educational programs worldwide.