The White Coat Ceremony held a distinct air of excitement this year for the class of 2022. The event took place on Friday, June 25, 2021, at the WinMock at Kinderton in Bermuda Run, North Carolina. Perhaps it was because it finally brought an opportunity to the entire class to be together celebrating with family, or perhaps it was because of the deep sense of comradery that spawned during the year of Covid. Whatever the reason, the students, faculty, staff, and families of those who successfully completed their first year of PA school were elated to be part of this momentous occasion.
Dr. Ober addressed the crowd and performed his standard but none-the-less extraordinary speech about the meaning of the "White Coat." At the conclusion of Dr. Ober's emotional Keynote Address, a chorus of student voices began reciting the PA Honor Code, led by Professor Cathy Shull, PA-C. The students were then escorted over to sign the White Coat Honor Book before each getting their turn to walk across the stage to receive their white coat.
There were three awards and scholarships presented at the ceremony, celebrating individuals who exemplified a variety of merits throughout the preclinical year.
The Mike Walker Excellence Scholarship was awarded to Sarah Waddle, in recognition of outstanding academic performance, and compassion and excellence in caring for patients.
The Ercell A. and Linda W. Tate Scholarship was awarded to Tiara Good-Greene in recognition of dedication to PA diversity, and outstanding resilience in pursuit of excellence toward becoming a PA.
Madison Redwine was awarded the prestigious Katherine Anderson Award, in recognition of outstanding effort toward personal and professional development.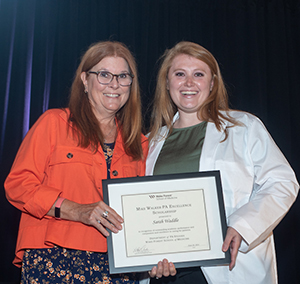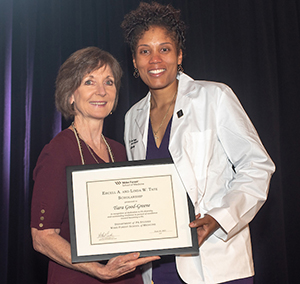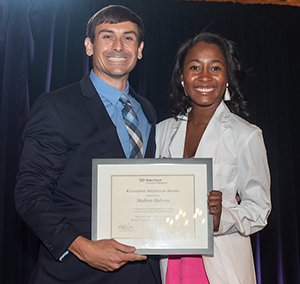 (From left to right: Sarah Waddle, Tiara Good-Greene and Madison Redwine)
At the conclusion of the ceremony, faculty and staff waved black and gold pompoms while the students, donning their new coats, processed out to meet up with friends and family members. This class of inspired students headed off to their first rotations at the beginning of July with an inspirational quote by Maya Angelou found at the bottom of the program echoing in their hearts and minds, "If you find it in your heart to care for somebody else, you will have succeeded."