The Biomedical Engineering Department and Center for Artificial Intelligence Research at Wake Forest University School of Medicine will offer several summer research opportunities in 2024 to undergraduate and master's students. The program is funded by an NSF Research Experience for Undergraduates (REU) award: Imaging and Mechanics-based Projects on Accidental Cases of Trauma (IMPACT), an NIH R25 award: Culturally Augmented Learning in Biomedical Informatics Research (CALIBIR), and other sources. A broad array of biomedical engineering and informatics projects are offered. Students selected for this program will receive a stipend and on-campus housing. The research internship program will be offered between May 27 to August 2, 2024.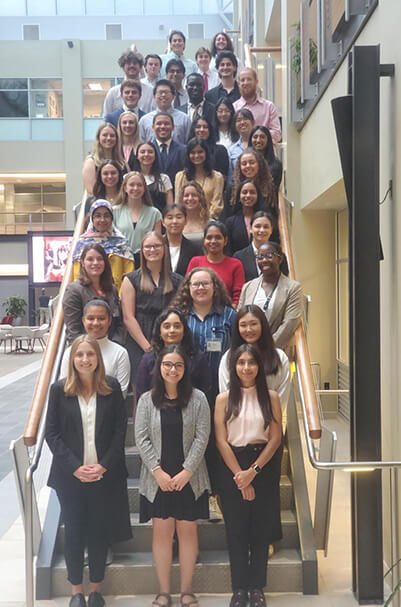 Research Project Highlights
Exciting projects are offered on topics including:
Injury prediction model development.
Finite element modeling applied to trauma.
Military, sports and spaceflight safety.
Osteoporosis prevention.
Diagnostics and therapies for cancer patients.
Biomechanical injury mechanisms.
Biomedical informatics.
Medical device testing and prototyping.
Imaging and artificial intelligence.
Academic Learning Health Care Systems.
Development and use of machine learning based algorithms.
View our 2024 Summer Brochure (PDF).
Learn more about the 40+ research projects offered and view our program's research project description list (PDF).
How to Apply
The Wake Forest Biomedical Engineering and Informatics summer program admits up to 50 students each summer who meet the following eligibility requirements:
By the start of the program (May 27, 2024):

Must be 18 years or older.
Completed at least 2 semesters of undergraduate education.

U.S. citizens, U.S. nationals, U.S. permanent residents, and international students who currently attend a U.S. academic institution under a J-1 or F-1 visa are eligible.

Note: There are a limited number of spots for international students due to grant eligibility.

Undergraduate and master's students currently enrolled at an academic institution.

Wake Forest University, local colleges (WSSU, Salem College, etc.) and community college students are eligible to apply.

Cumulative GPA of 3.0 or higher (on 4.0 scale).
Underrepresented students from colleges with limited research opportunities in science, technology, engineering and mathematics are highly encouraged to apply.
Application Process
Submit an application online, including:
1-pg personal statement.
Resume/CV.
Academic transcript(s).
One academic/professional reference required.

References are encouraged to submit an optional letter of recommendation.
Application deadline: January 26, 2024.
Informational Sessions
Learn more about the Virginia Tech - Wake Forest University School of Biomedical Engineering and Sciences graduate program at these Virtual Sessions, allowing you to ask questions live. These sessions are tailored to students interested in applying to our graduate program, but they include overviews of the biomedical engineering program, faculty, and research of relevance to the REU as well.
On-campus "shared apartment-style" housing is offered and funded by the Biomedical Engineering and Informatics Summer Research Program. Additional housing information will be provided once all applicants have been selected.
Move-in day: Monday, May 27, 2024
Move-out day: Friday, August 2, 2024
Are letters of recommendation required?
A letter of recommendation is optional but highly encouraged. One academic reference is required and should be submitted via our online application. Please provide the following: Reference's name, title, email address, phone number and relationship to you. No personal references accepted. Once provided their information in your online application, your reference will automatically receive an email request to complete a reference form, where they will have the option to submit a letter of recommendation on your behalf.
Are academic transcripts required?
Academic transcripts are required. Transcripts can be official or unofficial, and submitted via our application site.
What is the minimum GPA for acceptance?
Recommended minimum GPA is 3.0 on a 4.0 scale.
When will I be notified of acceptance?
Decisions start mid-February 2024 on a rolling basis until positions are filled. Students will be notified of their acceptance before the end of March 2024.
What are the dates of the program?
The dates for the program will be between May 27 and August 2, 2024.
Are there any age restrictions?
Yes. Applicants must be 18 years of age on or before the first day of the summer program and have completed at least two semesters of undergraduate education by the start of the summer research program.
What are the program requirements?
Orientation
10 weeks of research
Professional development seminars/training/workshops
Oral presentation (PowerPoint symposium)
What are the program objectives?
To introduce students to the field of biomedical engineering and informatics and broaden their knowledge
To educate students about the societal implications of their research
To cultivate mentoring relationships between the interns and the graduate student and faculty mentors
To provide research experiences that will promote independent problem-solving skills
Will I do collaborative or individual work?
There will be opportunities for both collaborative and individual work.
Do I need prior experience in the project research field?
No prior experience is required but encouraged (consult project descriptions).
May I also take summer classes?
Unfortunately, as per our program policy, interns attending our program are highly discouraged from taking courses during the internship program so they may solely focus on their research experience here at Wake Forest. This can affect your application if you are registered for summer classes.
If I've already interned at Wake's BME program, may I apply again?
Yes, you may apply even if you've previously been through the program. However, preference for most positions is reserved for students who have not interned with us in prior summers.
If I cannot stay for the entire duration of the program, may I still apply?
Technically yes, but we receive hundreds of applications each year. First preference is given to students who can participate for the full 10-week program. We prefer for our students to commit to the entire internship, but please indicate days you'd be unavailable on the application and reasons for any absence. Students are required to participate in the presentation symposium on August 1, 2024.
Do I need to bring a car?
We recommend bringing a vehicle if you are able. Otherwise, we offer multiple shuttle services from campus housing to the research labs throughout Winston-Salem. Past students have found having a car or carpooling advantageous.
I am bringing a car. Do I need to purchase a parking permit?
No. Parking permits will be provided.
Are there any observed holidays during the summer?
Yes, Juneteenth (6/19) and July 4 (U.S. Independence Day) are observed holidays.
What type of housing is provided?
Shared apartment-style housing will be provided to non-local students.
Are travel expenses covered?
Travel expenses to and from the program are not covered. During the program, accepted interns will receive meal and travel allowance to use throughout the 10-weeks.
How much will I be paid?
You will be paid $5,500 (pre-tax) for the summer internship.
What should I wear?
In this internship, students will interact on a regular basis with other professionals within Wake Forest, including faculty, clinicians and staff. Thus, we need to meet the mandate of neat, clean and appropriate attire. Interns should dress in business casual attire while on-site at any Wake Forest location, and on any work-related video calls. For those working in research laboratories must follow employee health guidelines and wear closed toe shoes and long pants.
How many students typically apply?
More than 600 students typically apply each year.
What is your COVID-19 vaccine policy?
COVID-19 vaccines are no longer mandatory for employees, students or interns.
Proof of other immunizations are required once accepted into the program (see list below):
Measles, Mumps, Rubella (MMR)
Varicella (Chicken Pox)
The Piedmont Triad International Airport (GSO) in Greensboro, often called PTI for short, the closest airport to the Wake Forest Biomedical Engineering Department located at Innovation Quarter in downtown Winston-Salem, is about a 30-minute drive.
Charlotte Douglas International Airport (CLT) is about a 90-minute drive to Innovation Quarter in downtown Winston-Salem.
Raleigh-Durham Airport (RDU) is about a two-hour drive to Innovation Quarter.