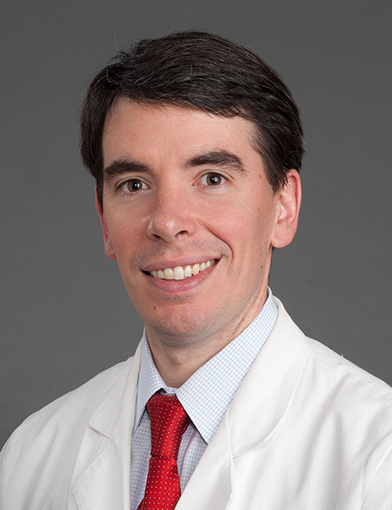 Roy E. Strowd III, MD, MEd, MS, FAAN, is Interim Vice Dean for Undergraduate Medical Education at the Wake Forest University School of Medicine, leading all aspects of the school's MD program.
Dr. Strowd is a board-certified neurologist specializing in neuro-oncology, serving as an Associate Professor of Neurology and the Internal Medicine Section on Hematology & Oncology.
A passionate educator and dedicated education research scholar, Dr. Strowd's mission is to inspire each student to find and pursue their passion. His current work focuses on microlearning, leadership and professional identity formation, and the career development of clinical educators. He has co-directed the Health Professions Education Institute, leading faculty development in education scholarship for clinician educators, and directed the Transition to Residency (TTR) course and Medicine and Patients in Society (MAPS) course, providing character and leader identity instruction to medical students. His teaching awards include the SGEA Innovation in Education Award in 2019 and the inaugural AAMC M. Brownell Anderson Award in 2020. His leadership roles include the inaugural editor of Neurology: Education, chair of the e-Learning subcommittee of the American Academy of Neurology, and Continuing Professional Development chair and chair-elect for the AAMC's Southern Group on Educational Affairs.
As a clinical researcher, Dr. Strowd's work is advancing the field of neuro-oncology through novel therapeutic drug development in glioma and neurological complications of chemotherapy. He has published over 130 peer-reviewed articles, is editor of Neuro-Oncology for the Clinical Neurologist, and has served as national principal investigator for multi-site studies through the Adult Brain Tumor Consortium and ECOG-ACRIN Cancer Research Groups.
Prior to his role as Interim Vice Dean, Dr. Strowd served as Assistant Dean of Scholarship and Discovery at the Wake Forest University School of Medicine and Vice Chair for Health System Integration and Outreach in the Department of Neurology at Atrium Health Wake Forest Baptist. He has served on the Boards of Trustees for the North Carolina Medical Society Foundation and Board of Directors of the Accreditation Council for Continuing Medical Education
Dr. Strowd received his bachelor's degree in Religious Studies from Duke University and his medical degree from the Wake Forest University School of Medicine. He completed his residency at Wake Forest and his Neuro-Oncology and Education Research Fellowships at the Johns Hopkins University School of Medicine. He also earned a Master of Education in Health Professions from Johns Hopkins School of Education and a Master of Science from the Wake Forest University Graduate School of Arts & Sciences.