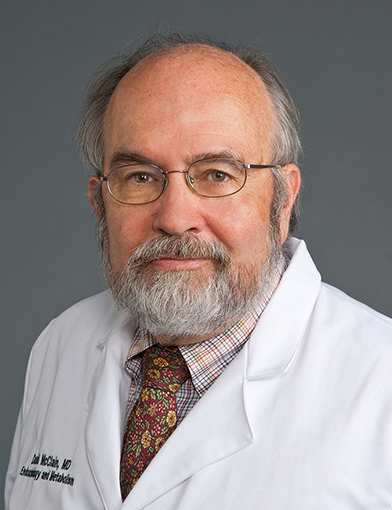 Don McClain MD, PhD serves as Johnston Professor of Diabetes Research in the Department of Internal Medicine. He is the Principal Investigator of the Wake Forest University School of Medicine Clinical and Translational Science Award (CTSA); Senior Associate Dean for Translational Research; founding Director of the Wake Forest Center on Diabetes, Obesity, and Metabolism; Director of the NIH-funded North Carolina Diabetes Research Center (in partnership with Duke, UNC-Chapel Hill, and NCA&T), and; Physician Investigator at the Salisbury VA Medical Center. In these roles, he supports much of the infrastructure that supports clinical and translational research at Wake Forest, coordinates diabetes research programs, and carries out his own clinical and research activities.

He has been continuously federally funded since 1985 for research on type 2 diabetes mellitus that has spanned the domains of molecular biology, animal models, first-in-human studies, and investigator-initiated clinical trials based on that work. His current research focuses on the role of dietary iron in the pathogenesis and treatment of diabetes.

Dr. McClain joined Wake Forest in 2015. Prior to that, he graduated summa cum laude from Haverford College and received MD and PhD degrees from the Rockefeller University/Cornell Medical College, where his PhD mentor was Nobel Prize laureate Gerald Edelman. He trained in Medicine and Endocrinology at Stanford and the University of California at San Diego, respectively. He has served on the faculties of The Rockefeller University, UCSD, University of Alabama at Birmingham, and the University of Utah, where he directed the Division of Endocrinology and the Utah CTSA.

He has served as Chair of grant review panels for the NIH, VA, and American Diabetes Association, and served as an Associate Editor of the journal Endocrinology. He is an elected member of the American Society for Clinical Investigation and the Association of American Physicians.