The DEAC Clinic will be reopening for in-person patient visits at the Highland Avenue Primary Care Clinic on Monday nights from 5:30 pm - 9 pm. We will be screening all patients for COVID-19 symptoms on arrival and following all social distancing protocols.
We will continue to provide telehealth appointments on a limited basis to serve those who are unable to come to the clinic in person. Current DEAC patients interested in a telehealth visit may call 336-716-3322.
---
The DEAC Clinic is a student-run and physician-staffed free clinic and a lifesaver for patients who have no insurance and are ineligible for Medicaid. At the same time, the DEAC Clinic gives Wake Forest University School of Medicine students valuable clinical experience and provides a teaching opportunity for faculty.
Upcoming Event

YOU'RE INVITED: A Virtual Night in the Quarter, A DEAC Clinic Fundraiser - Friday, March 4, 2022. Featuring a virtual auction of items donated by local businesses.
Due to rising cases of COVID-19 in the region, the DEAC Clinic event, A Night in the Quarter will be held virtually on March 4, 2022.
Student-Driven Program
A small group of medical students conceived the notion of a student-run free clinic at the school of medicine in 2006. The goals were to:
Fill a health care gap in the local community
Provide hands-on learning in a clinical setting
Foster a culture that values providing health care to underserved populations
In 2008, DEAC held its first clinic. In 2009, it held its first fundraising gala, and in 2012 began the first of its Specialty Nights.
Our Mission
Address the long-term, primary care health needs of our local, underserved communities.
Create a service-oriented, learning experience for students to hone their clinical skills.
Our Patients
DEAC is a free clinic for those who cannot afford health insurance and do not qualify for government assistance. All patients are financially screened and must have a household income of less than 200% of the federal poverty line. In 2019, that income equaled $52,400 or less for a family of four.
Our Services
The DEAC Clinic goes beyond most other student-run clinics by providing long-term continuity of care including:
Routine office visits
Specialty clinics


Cardiology
Pulmonology
Gynecology
Dermatology
Rheumatology
Psychiatry

Limited free lab work
Limited free medications dispensed
Referrals for social services
Mental health screening
Community wellness and prevention
Smoking cessation counseling program with peer support
Chronic disease education and medication management
Spanish interpretation services
Mobile screening with outreach to existing community resources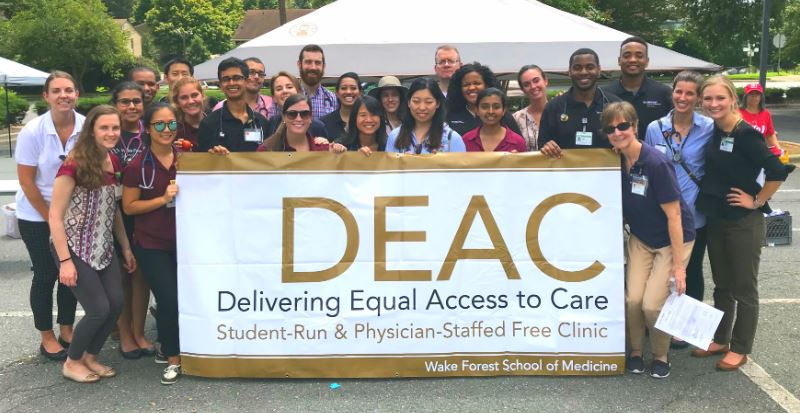 A Year of Firsts
In July 2017, the DEAC Clinic became the first student-run clinic to ever receive accreditation from the North Carolina Association of Free and Charitable Clinics (NCAFCC). This accreditation shows that DEAC Clinic is in compliance with the same high standards NCAFCC sets for any clinic. Requirements range from physical clinic environmental safety to risk management to quality improvement and standards of care.
The clinic also published its first research study: "Foot Exams in a Student-Run Clinic: How to Change Weekly Provider Behavior When the Provider Changes Every Week" was published in the Journal of Student-Run Clinics. The study was conducted with the goal of improving foot exams for diabetic patients. DEAC Clinic also was awarded a Community Health Grant from the Office of Rural Health. The grant money will go toward continuing fresh produce and nicotine replacement offerings and to purchase iPads for the clinic to switch to an electronic medical records system.