B. Cameron Webb, MD '13, JD, and Patrick Ober, MD, House Staff '79, remember the casual conversation about what would become an integral part of the Wake Forest School of Medicine—the DEAC Clinic.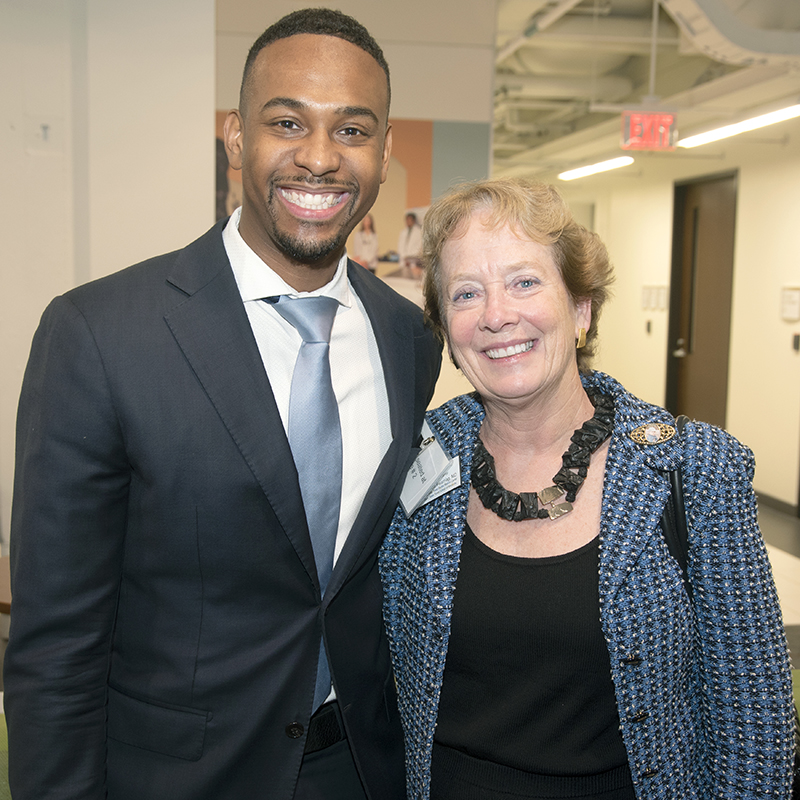 Webb, the student, and Ober, the teacher and associate dean of education, walked out together as class ended on a Friday afternoon.
"We were walking down the hall in the Hanes Building, and he asked, 'Dr. Ober, why doesn't Wake Forest have a student-led medical clinic like some other medical schools have?'" Ober recalls. "I shrugged my shoulders and told him, 'Probably because no student ever came forward and wanted to do it. But if you want to take it on, I'll support you.'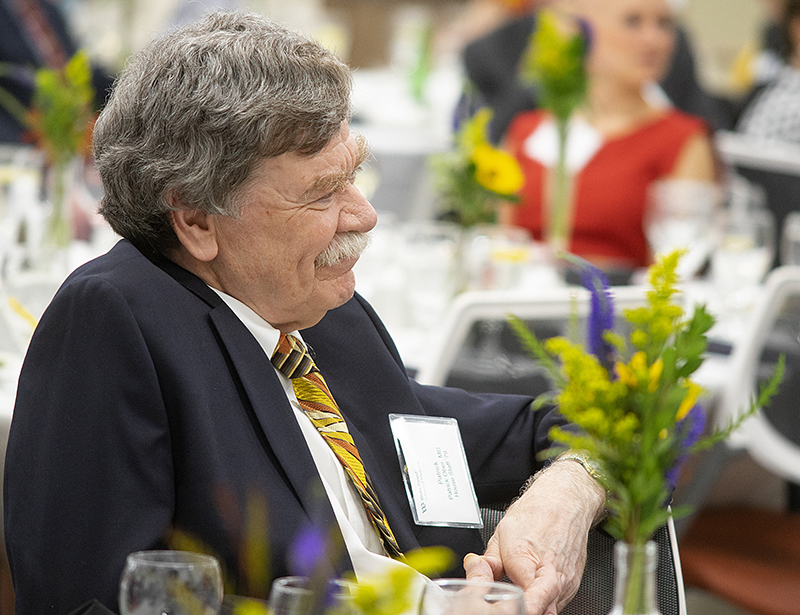 "I thought there was a good chance I'd never hear about it again," said Ober.
To the contrary, Webb and a group of medical students followed through on their vision for creating a free, student- run clinic that serves community members who have little or no insurance. This past October, the Delivering Equal Access to Care (DEAC) Clinic celebrated its 10th year.
Today, the clinic provides exams, bloodwork, medication and education on healthy lifestyle choices, along with specialty clinics in areas such as cardiology, pulmonology and dermatology. Last year, 486 student volunteers contributed more than 6,200 hours of service.
DEAC Clinic leaders also celebrated a move into a new home. After operating out of the Community Care Clinic in Winston-Salem for a decade, the DEAC Clinic moved into space in the Bowman Gray Center for Medical Education in the Innovation Quarter downtown.
A Chance to Serve
Webb says he was among a group of students that in spring of 2007 was looking for a service opportunity for the class. Students had organized an annual health fair, but they wanted something that would be more than an event and would provide a health care home for people in need.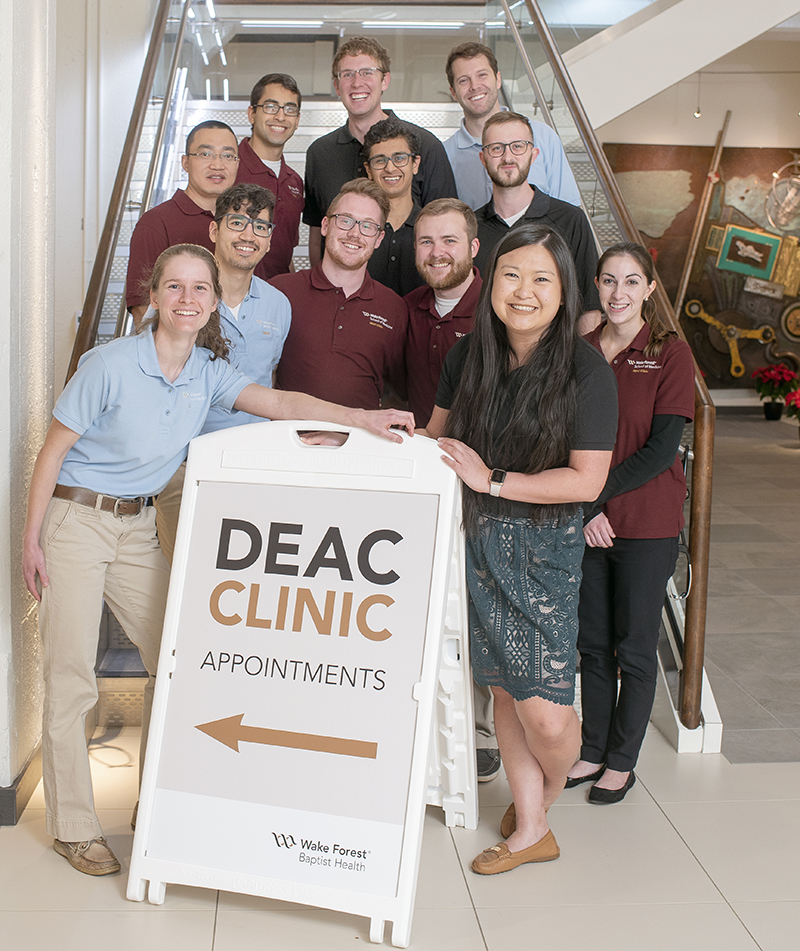 "Dr. Ober's response was sort of 'We'll see,'" says Webb, who works as director of health policy and health equity at the University of Virginia School of Medicine. "I think he and the other faculty knew that students come up with ideas all the time, and there was no reason to get too involved until we proved we were serious about it."
The organizing students found overwhelming support for a clinic from their fellow students. They focused on providing access to care, while also addressing social justice and health disparities. They made it a priority to include students from throughout the school, conducted a community needs assessment and decided to wear t-shirts instead of white coats in the clinic to create a more relaxed atmosphere.
"By the time we came back to the faculty, we had come up with this big concept of what the clinic should be," Webb says.
Waves of Leadership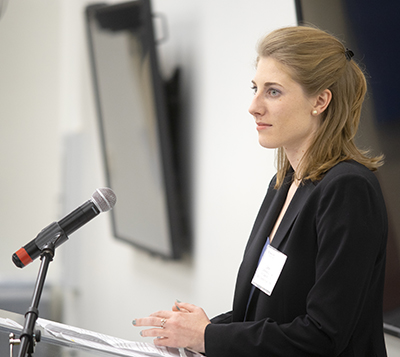 Year after year, the DEAC Clinic attracted new groups of students to lead the charge. Students and faculty realized it could not succeed if dominated by a single leader.
"We created this notion that each class had a responsibility to carry this through," Webb says. "There was space created for each class to run it."
Ober calls it a "continuity of spirit and cooperation."
"Each year, we have students who come here who are amazingly altruistic and want to participate in the clinic," says Ober, who has remained a DEAC Clinic faculty adviser and is now medical director of the school's PA Program. "The leadership gets passed down from one set of students to the next. Seeing that happen and the effort they put into it really makes you feel good about what we do as a medical school."
Sophie Claudel, of the MD Class of 2020, is among the latest set of clinic leaders. She says the DEAC Clinic was a factor in her choosing to attend medical school at Wake Forest following her involvement with a free clinic as an undergraduate at Davidson College. At the DEAC Clinic, she's worked as a Spanish language interpreter, outcomes director and operations co-director before becoming executive co-director.
"There is a lot of teaching that happens in the clinic, more than in a hospital," Claudel says. "For the students, there's much less pressure to perform, and it's more focused on collaboration and learning."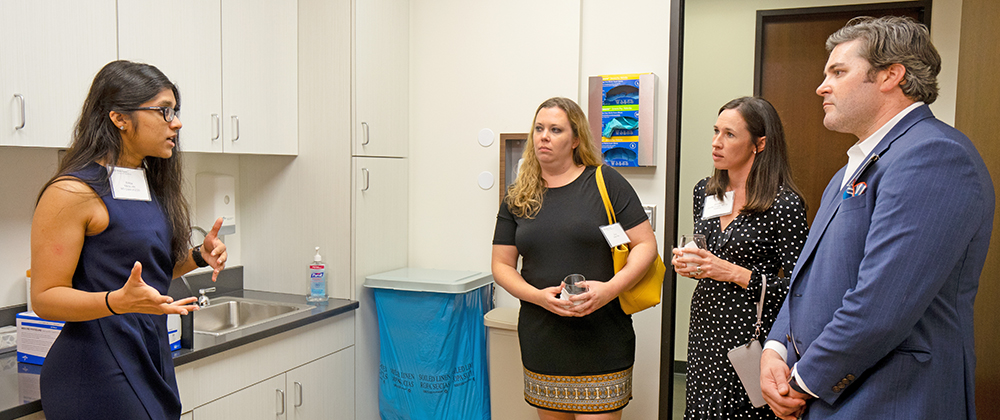 A New Home
Claudel says the DEAC Clinic leaders are still getting settled into their new location, which includes 20 exam rooms, and building their patient base. She expects the clinic will resume offering specialty care nights, cooking classes, carts with fresh produce, smoking-cessation classes and mobile clinics that help refer people to the DEAC Clinic for care. The DEAC Clinic also will incorporate electronic medical records and is conducting a transportation survey to identify any challenges patients may face in coming to the new site.
"The move opens us up to being more like an independent clinic," Claudel says. "It would be wonderful to go to two nights a week at some point."
The DEAC Clinic includes a wider range of students than ever. Pharmacy students from Campbell and Wingate universities now help, opportunities exist for CRNAs and nurses to join, and numerous PA students, like Catherine Cadmus, are involved.
"It is such a great learning experience for us," says Cadmus, PA Class of 2019 and DEAC Clinic PA director. "It helps us practice our history-taking and physical exam skills, but the invaluable piece is the patient interaction, which PA students don't get a lot of during the first year of school.
"Volunteering at the DEAC Clinic is what kept me excited about being a PA while I spent hours studying and listening to lectures day in and day out. It helped keep me grounded and reminded me what I was working so hard for– the patients."
'Something for Everybody'
The DEAC Clinic has become a known commodity beyond the School of Medicine.
"Every year, we have students who tell us they have heard about the clinic and are interested in coming here because of it," Ober says. "It has become a real magnet for drawing the cream of the crop when it comes to medical students.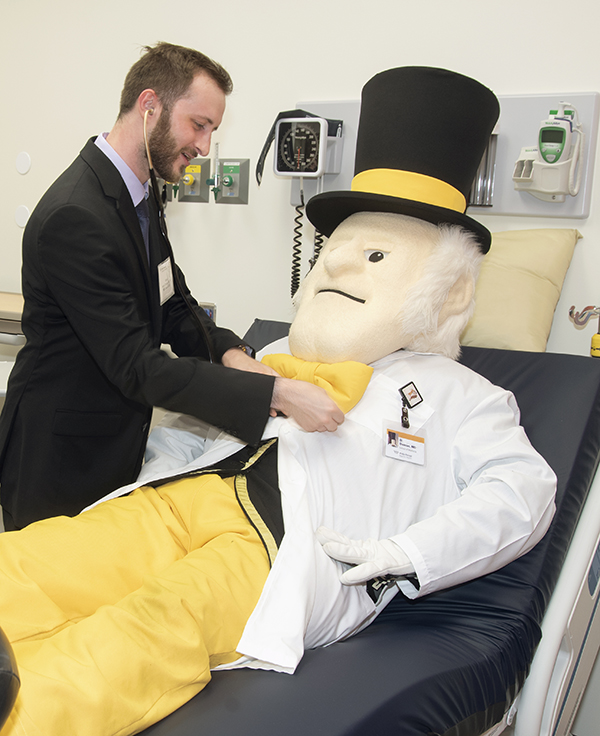 That was not part of the plan originally, but it has worked out that way."
Webb says he feels proud of his role in helping start the DEAC Clinic and that when he talks with other students who have been involved over the years, they all express the same sentiment.
"It did something for everybody," he says, noting how students learn from seeing real patients, patients receive care they wouldn't otherwise have access to, and faculty and students have a way to serve their community. He wants to make sure the DEAC Clinic continues to fulfill its commitment to social justice and access to care.
"Access means more than just insurance coverage," Webb says. "If we don't provide a location where the community can access care and where they feel comfortable, we may not be living up to our name."
Over time, the DEAC Clinic has become a defining part of medical training at Wake Forest.
"When it first started, you wondered whether it might sunset and whether the students might lose interest and want to do something else, but that never happened," Ober says. "It's become permanent.
"I can't imagine this place without it."