In 2007, the WFIRM Summer Scholar program became nationally advertised and has been run continuously ever since. Over the past 11 years, a total of 189 undergraduates, 98 male and 91 females, participated in the formal, competitively reviewed WFIRM Summer Scholars program. The interns were studying in institutions across the country. Interns' majors included biology, bio-technology, biomedical engineering, bioinformatics, pre-med, chemistry, biochemistry, psychology, computer science and mathematics.
Chart 1: Percentages of WFIRM Summer Scholars from NC versus non-NC/national recruits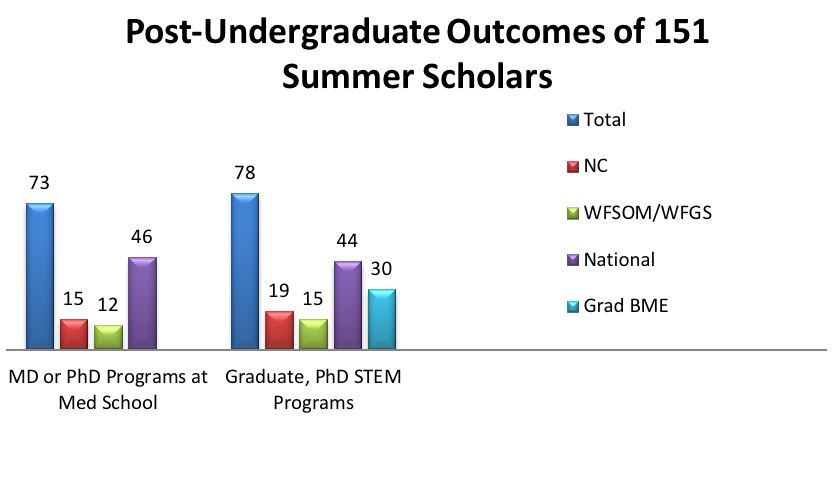 Of these, 149 (79%) reported completion of their undergraduate degree, with 128 (68%) of those who have completed either currently enrolled or graduated from Masters, PhD and MD programs in engineering, medicine, or related fields. Of those 40 (21%) who continue to complete their undergraduate programs, nearly all (34/85%) cite intentions to pursue post-graduate degrees as well as the WFIRM Summer Scholars experience as motivating factor providing clarification of interests and integral support to successfully pursue successful matriculation into post-graduate degree programs. Chart 2 below depicts the distribution of former alumni attending post-graduate education in NC, at WFU/WFSOM and other institutions in the US and abroad.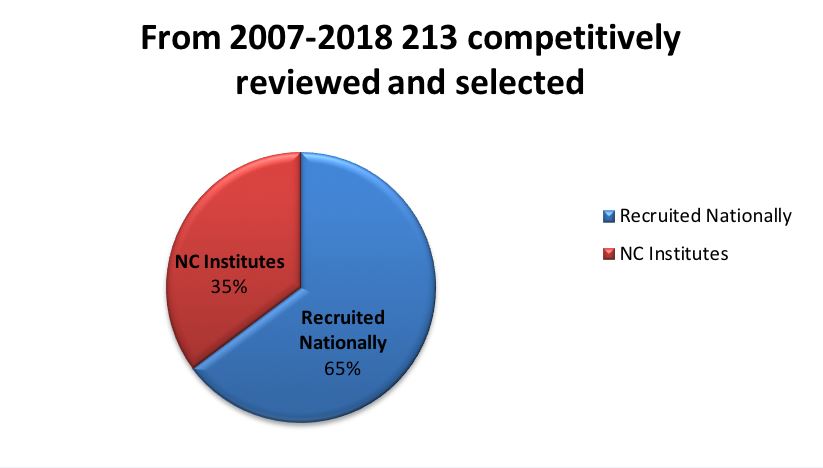 Chart 2: Post-Undergraduate Outcomes: Breakdown of former alumni pursuing post-graduate education.
120 (64%) recruited nationally
69 (36%) from institutes in NC
128 (68%) currently attending or completed graduate PhD and/or MD programs in engineering, medicine or related fields
65 (51%) attending MD or PhD programs at Med School
63 (49%) attending Graduate, PhD STEM programs
35% publication rate
>60% ongoing collaborative relationships
Summer Scholars Spotlight
Margaret vanSchaayk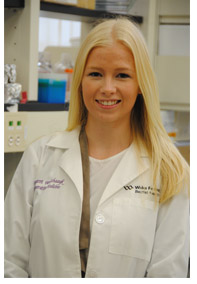 A 2017 Summer Scholar participant, was chosen as an applicant for the 22nd Annual Posters on the Hill competition in Washington, D.C. This popular event gives students the opportunity to showcase their research for congressional members, meet their representatives, and learn about advocacy for undergraduate research. vanSchyaak's poster was titled "Effects of Bioactive Molecules on Skeletal Muscle Development in 3D Bioprinted Muscle Constructs."

2017 Summer Scholars Sue Zhang and Emily Long presented at the Biomedical Engineering Society 2017 Annual meeting held in Phoenix, Arizona October 11-14th, 2017.