The WFIRM Summer Scholars Program in Regenerative Medicine 2021 program is a 10 week program (June 1, 2021 to August 6, 2021) focused on multidisciplinary regenerative medicine research. With an ongoing commitment to supporting and engaging our next generation of scientists, technicians, engineers, clinicians, etc., who will be required to continue to both advance, develop and deliver new RM therapies and treatments, we look toward a successful 2021 program.
Through its Summer Scholars Program, the Wake Forest Institute for Regenerative Medicine (WFIRM) offers undergraduate students an opportunity to engage in exciting, multidisciplinary research firsthand at the interface of engineering and biology in challenging areas of tissue engineering and regenerative medicine (TERM). Summer scholars will receive a $5,000 stipend for their participation in the 10-week program.
Much of today's K-16 curriculum is taught to students through textual materials. Although many of these materials are standards-based, a textual approach often leaves out the "how and why" of science. There is considerable room and need outside the traditional classroom-based environment to interest students in the wonders and "real world" applications of science, technology, engineering and mathematics (STEM).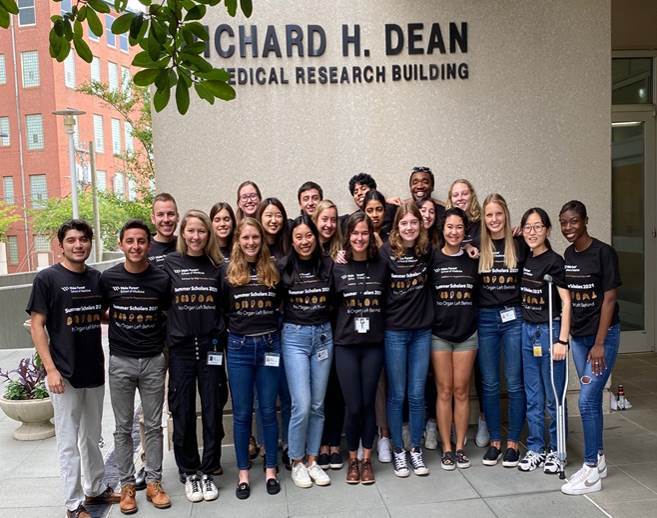 Caption: 2019 - WFIRM Summer Scholars
---
Concomitantly, a significant challenge is the training of engineers and scientists in the field of regenerative medicine, which requires a multidisciplinary approach. We believe that by providing undergraduate students with opportunities to engage in a highly interdisciplinary, undergraduate research program under the supervision of world-renowned regenerative medicine experts, as well as providing them with connections to continued, advanced education and career pathways, we can inspire and better prepare our next generation of talent needed to solve our most difficult problems and continue to advance the field to result in successful translation for patients.
During the 10-week program, students accepted into the program conduct an individually tailored research project under the supervision of WFIRM faculty and staff. Projects are focused in several areas including biomaterials, cell and molecular biology, physiology, biomedical engineering, controlled release systems, biochemistry, cell and gene therapy and tissue engineering. Undergraduate students accepted into the program will carry out research under the supervision of prominent biomedical scientists, write a research summary, conduct an oral presentation, and have the opportunity to see their work published.