Summer Program Canceled: After carefully considering all options, the escalation of COVID-19 worldwide has led to the decision to cancel WFIRM's annual Summer Scholar Program. However, students selected for the 2020 program have been offered the opportunity to instead join during the summer 2021. All of the 17 selected scholars have expressed strong interest and commitment to joining during summer 2021. Learn more about these inspiring and committed students via their profiles below! Here's to an exceptional 2021 program.
Through its Summer Scholars Program, the Wake Forest Institute for Regenerative Medicine (WFIRM) offers undergraduate students an opportunity to engage in exciting, multidisciplinary research firsthand at the interface of engineering and biology in challenging areas of tissue engineering and regenerative medicine (TERM). Summer scholars will receive a $5,000 stipend for their participation in the 10-week program.
Much of today's K-16 curriculum is taught to students through textual materials. Although many of these materials are standards-based, a textual approach often leaves out the "how and why" of science. There is considerable room and need outside the traditional classroom-based environment to interest students in the wonders and "real world" applications of science, technology, engineering and mathematics (STEM).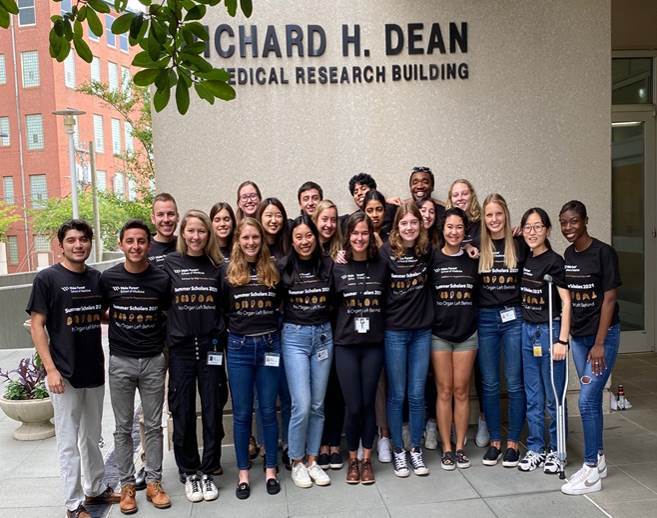 Caption: 2019 - WFIRM Summer Scholars
---
Concomitantly, a significant challenge is the training of engineers and scientists in the field of regenerative medicine, which requires a multidisciplinary approach. We believe that by providing undergraduate students with opportunities to engage in a highly interdisciplinary, undergraduate research program under the supervision of world-renowned regenerative medicine experts, as well as providing them with connections to continued, advanced education and career pathways, we can inspire and better prepare our next generation of talent needed to solve our most difficult problems and continue to advance the field to result in successful translation for patients.
During the 10-week program, students accepted into the program conduct an individually tailored research project under the supervision of WFIRM faculty and staff. Projects are focused in several areas including biomaterials, cell and molecular biology, physiology, biomedical engineering, controlled release systems, biochemistry, cell and gene therapy and tissue engineering. Undergraduate students accepted into the program will carry out research under the supervision of prominent biomedical scientists, write a research summary, conduct an oral presentation, and have the opportunity to see their work published.
Jacqueline Dizon
Molecular and Cellular Biology
University of Connecticut

Ananya Eeraveni
Human Biology and Society
University of California, Los Angeles

Malcom Frazier
Mechanical Engineering Technology
Elizabeth City State University

Ellie Gabriel
Biomedical Engineering
Yale University

Nitin Gharpure
Public Health
University of Alabama at Birmingham

Juley Harper
Biological Sciences
Clemson University

Mollie Harrison
Chemical Engineering
University of Missouri - Columbia

Olivia Jochl
Chemistry and Economics
Harvard College

Brianna Lorenz
Biomedical Sciences
Marquette University



Lauren Monroe
Biomedical Engineering with Biomaterials concentration
North Carolina State University

Sarah Pennebaker
Biochemistry
Georgia Institute of Technology

Meaghan Quinn
Biomedical Engineering
University of North Carolina at
Chapel Hill

Elisabeth Reese
Biochemistry and Sociology
DePauw University

Kelly Speckl
Chemical and Biological Eng.
University of Colorado at Boulder

Exel Valle-Estrada
Biology and Health Sciences with Chemistry minor
Guilford College

Sarah Wachtman
Biology and Philosophy
Florida State University

Wen Tin Zheng
Biological Engineering
Massachusetts Institute of Technology
The Piedmont Triad International Airport (GSO) in Greensboro, often called PTI for short, the closest airport to the Wake Forest Institute for Regenerative Medicine (WFIRM) is about a 30-minute drive.

Charlotte Douglas International Airport (CLT) is about a 90-minute drive to WFIRM.

Raleigh-Durham Airport (RDU) is about a 2-hour drive to WFIRM.

There are shuttles to and from GSO, CLT and RDU to Wake Forest in addition to Ride Share services.