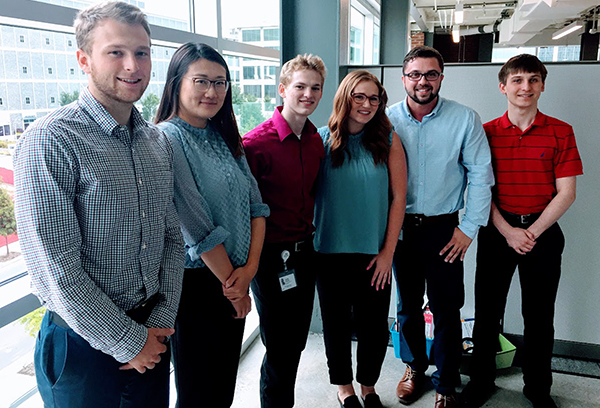 L to R: Kelton Williams, Xinhui Cai, Hunter Hampton, Meredith Williams, Cory Clark, and Robert Langefeld
Six interns were invited to participate in the flagship Biomedical Informatics internship. Each intern was paired with a faculty member and assigned a meaningful project to own. During the 10 weeks of the internship, each intern exceeded expectations across the board.
The internship culminated in a morning of presentations, with the interns' project themes dividing into three topic areas.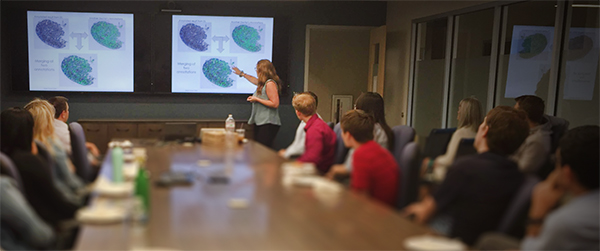 Meredith Jones won an award for the highest-rated talk of her section: Classifying ETL Data Quality Issues. Using a set of notes representing data quality issues found in data pulls from the EHRs, Meredith and her team sought to classify the different issues found and to describe queries to evaluate findings in EHR-extracted datasets. She has plans to apply for Wake Forest School of Medicine's biomedical engineering graduate program in the fall.
---
In Their Own Words
Some comments from our interns:
"I really enjoyed building a program on my own from start to finish. This has not been something I have had many experiences within the school, as nothing we wrote had real-world applications."
"My internship increased my confidence in my ability to adapt and code. My goals of working in Health Informatics have only been strengthened. I am open to a range of positions in the field. I would say that my desire to code has been increased."
"The Wake Forest Baptist Health environment is superb and promotes learning and professionalism. I feel honored to have been able to intern here over the summer."
"I learned more over this summer than I had in three years of undergrad, which is exactly what I needed going into my senior year."
---
Internship Opportunities
Planning for next summer's WFBMI Internship has begun. Please contact Brian Ostasiewski with questions and interest.