Most applications open on August 1st for the next academic year, but you should review the application open and close dates in the table below. Applications should be fully completed and submitted by the program deadlines listed below. Supplemental material will only be processed if submitted within the first 5 business days after the application deadline. Late applications are not accepted unless special permission is granted by the graduate program director or admissions chair.

Applications will not enter the review process until all material has been received and verified. As supplemental application material is received, your application's status will updated. The status updates, in the form of a checklist, can be accessed through the Application Portal at any time.

Applicants may apply to multiple programs by submitting a complete and separate online application, fee, and supplemental material including recommendations. All personal data, academic information, and test report data will populate in the new application.
Early submission is also strongly encouraged to be given full consideration for financial aid.
Submitting an Application: Step by Step
We aim to make the application process as simple as possible. Before starting your application, please review the schedule for application open and close dates and make note of the term that you wish to start your program.
Step 1: Review Application Deadlines and Admission Process
Review and make note of the application open and close dates PDF document. All supplemental application material must be received within 5 business days of the application close date.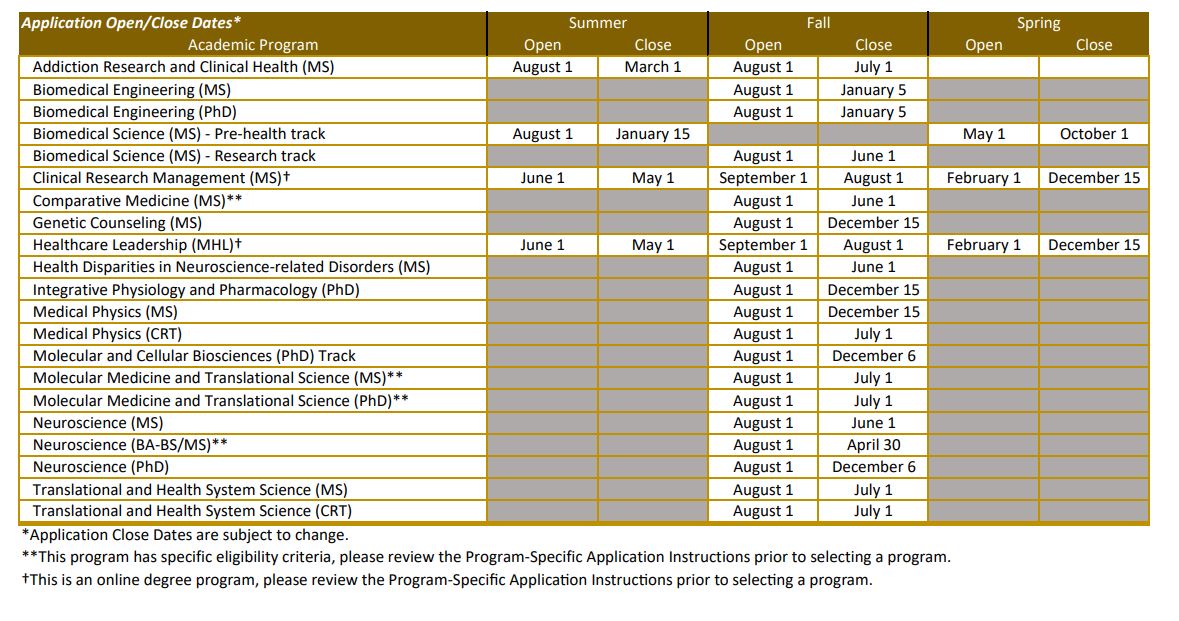 Applications that remain incomplete 5 business days after the close day are not reviewed for admission.
Once you've noted the close date for your program of interest, please note the remainder of our timeline for admissions:
Some graduate programs invite selected applicants to interview with the program. Invitations are sent out via email as soon as possible, with confirmations typically required through the application portal. Invitations will be extended no later than 2 weeks prior to the interview date.

Programs that host group interviews typically use the timing that is shown below. Other programs invite applicants to one-on-one interviews on a rolling basis.

Early November
Biomedical Science – Pre-health Track – MS (spring term)

Late January
Molecular and Cellular Bioscience – PhD
Neuroscience – PhD

Late February
Integrative Physiology and Pharmacology – PhD
Biomedical Engineering – PhD and MS
Biomedical Science – Pre-health Track – MS (summer term)
Genetic Counseling – MS

March – Early April
Offer Letters include several critical details of which you should be mindful:
Deadline for response to the offer of admission
Financial details (tuition scholarship, stipend award, etc) of your offer
The academic term into which you have been accepted
In general, we align to the Council of Graduate Schools deadline of April 15th for offers to PhD programs for fall admission, but you should always review the offer letter for the response date specified in your letter.
You will receive specific information on the next steps for enrollment via your Application Portal. For you convenience, our
next steps for enrollment
page offers a summary of the tasks required to enroll at Wake Forest. For your planning purposes, please note that Orientation day, which is also the deadline for completion of all pre-orientation day tasks, is typically held on the following schedule:
Summer term – Late May
Fall term – Late August
Spring term – Early January
Step 2: Review and Collect Required Materials for Your Selected Program's Application
Each graduate program defines the specific requirements for its application to be considered complete. All application materials must be submitted through your Application Portal to be considered. A list of Standard Application Elements is shown below. Once you have reviewed the list, please review the Program-Specific Application Instructions, which can be found below.
Personal Statement – The program may have specific requests within the application and you are advised to honor what is requested. In general, it's important for us to understand what is motivating you to come and join us at Wake Forest. The statement may include:


Information on any area of special interest within the selected program
Previous experience while working or volunteering in a related field
Career plans as perceived at present
If you are experiencing difficulty uploading a video file on your application, please contact bggrad@wakehealth.edu for alternative solutions.

Transcript(s) from all schools from which a degree was granted – Unofficial transcripts may be used for application review
Letters of Recommendation – Each program determines the number of letters required
Test Reports (e.g., GRE/MCAT) – If required, unofficial reports may be used for application review

For programs that do not require test scores, you may select "I am requesting a waiver" on the Test Reports page. Waiver requests are automatically approved for programs that do not require the submission of a test score.

Resume/Curriculum Vitae
Research Statement – If required, this statement should address:


Your role in the research
A description of your project
Any outcomes, including presentations or papers resulting from the research

Application fee ($100) or fee waiver code (qualified programs listed below in FAQs)