Player Athleticism Increases Head Impact Exposure in Youth Football
Speed, agility and strength are definitely assets on the football field. But when it comes to hits to the head, those talents may actually increase exposure for the young athletes who account for about 70 percent of this country's football players.
A study of youth league football players by researchers at Wake Forest School of Medicine, part of Wake Forest Baptist Health, found that higher vertical jumping ability and faster times in speed and agility drills were generally associated with higher head impact exposure, especially in games as compared to practices.
Read the full news release.
Researchers Suggest Ways to Reduce Head Impacts in Youth Football
The high head impact and concussion rates in football are of increasing concern, especially for younger players.
Recent research has shown that limiting contact in football practice can reduce the number of head impacts. But what is the correct formula to lessen exposure while still developing the skills necessary to safely play the game?
Read the full news release.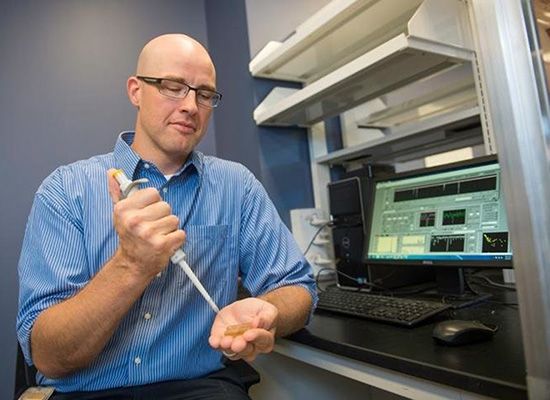 Adam Hall, assistant professor of biomedical engineering at Wake Forest School of Medicine, injects microliters of fluid into a flow cell holding a nanopore device that has demonstrated the ability to detect molecular biomarkers of disease.
Read the news release.