The following students are recipients of the National Institute of Health Ruth L. Kirschstein National Research Service Award for Predoctoral Fellowships. The Fellowships provide up to five years of support for research training. These students are pursuing a Ph.D. or combined MD/Ph.D. degree.
Katelyn Greene [F31AG069414]
National Institute Aging/National Institute of Health (NIH)
Project Period: 8/20/2020-7/31/2023
Project Title: Developing an Automated Image Analysis and Finite Element Modeling Platform to Assess the Effects of Supplemental Protein and Weight Loss on Bone Health in Obese Older Adults
Austin Moore [F30 AG063444]
National Institute Aging/NIH
Project Period: 4/01/2019-3/31/2025
Project Title: Development and Validation of an Image Based, Computed Trabecular Network Model for Estimating Vertebral Fracture Risk in the Aging Population
Tanner Filben is the recipient of the National Science Foundation (NSF) Graduate Research Fellowship Program award. The NSF provides research training opportunities for graduate students in STEM (Science, Technology, Engineering and Mathematics) fields. The NSF GRFP provides support for research-based masters' and doctoral degrees.
Tanner Filben
National Science Foundation (NSF)
Project Period: 11/01-2020-10/31/2025
Project Title: Graduate Research Fellowship Program
Cancer Research Award
Research Fellow Yang Liu, PhD, in the Biomedical Engineering Department of Wake Forest University School of Medicine has been selected as a recipient of the "Director's Excellence in Cancer Research Award for Trainees." The award, which is presented by Wake Forest Baptist Comprehensive Cancer Center, was announced August 18, 2020.
F31 Award Announcement
Congratulations to 4th-year Biomedical Engineering Ph.D. student Katelyn Greene on her recent F31 award from the National Institute on Aging (NIA). Supported by a team of mentors, Katelyn will be using medical imaging data from an ongoing clinical trial here to study bone health changes among older adults with obesity who are undergoing intentional weight loss. Amazing work Katelyn!
Player Athleticism Increases Head Impact Exposure in Youth Football
Speed, agility and strength are definitely assets on the football field. But when it comes to hits to the head, those talents may actually increase exposure for the young athletes who account for about 70 percent of this country's football players.
A study of youth league football players by researchers at Wake Forest School of Medicine, part of Wake Forest Baptist Health, found that higher vertical jumping ability and faster times in speed and agility drills were generally associated with higher head impact exposure, especially in games as compared to practices.
Read the full news release.
Researchers Suggest Ways to Reduce Head Impacts in Youth Football
The high head impact and concussion rates in football are of increasing concern, especially for younger players.
Recent research has shown that limiting contact in football practice can reduce the number of head impacts. But what is the correct formula to lessen exposure while still developing the skills necessary to safely play the game?
Read the full news release.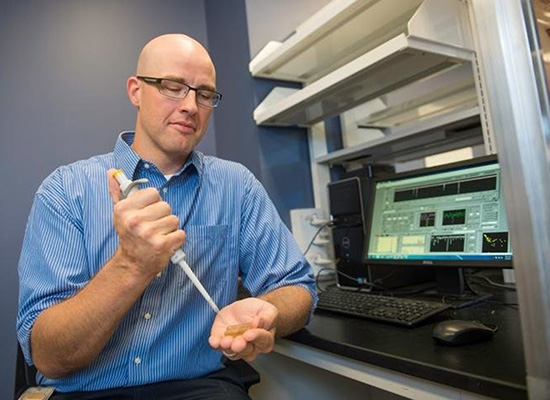 Adam Hall, assistant professor of biomedical engineering at Wake Forest School of Medicine, injects microliters of fluid into a flow cell holding a nanopore device that has demonstrated the ability to detect molecular biomarkers of disease.
Read the news release.