My laboratory is interested in the mechanisms regulating T cell differentiation and functions. Our work focus on IL-17 producing CD4+ T lymphocytes (also known as TH17 cells) which mediate pathogenic immunity involved in autoimmune diseases, and participate in protective immunity against bacterial and fungal infections.

TH17 cells are selected by pharmaceutical industries as the target to develop therapeutic treatments for autoimmune diseases. However, TH17 cells polarized under canonical conditions (IL-6 and TGFβ) are not able to induce autoimmunity unless presence of IL-23, implicating unique pathogenic TH17 populations. For instance, TH17 cells are present in the normal intestine, and are crucial to maintain homeostasis, defense pathogen infections (defensive TH17), and as well Inflammatory Bowel Diseases (IBD) which fall into the class of autoimmune diseases (pathogenic TH17). How pathogenic TH17 cells are regulated and how to identify drugs specifically target TH17-mediated pathology while sparing its physical functions in gut is largely unknown.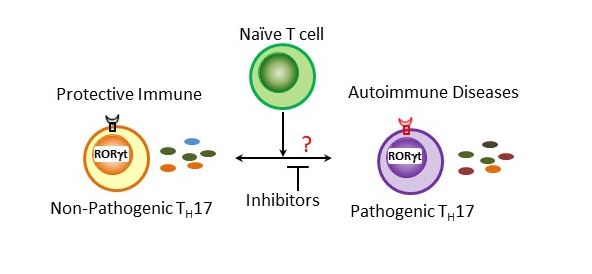 We are currently exploring the features of intestinal TH17 populations under various circumstances: homeostasis, pathogen infection (defensive TH17), autoimmune bowel diseases (pathogenic TH17), with the aim to determine molecular mechanisms specifically regulating the commitment of pathogenic TH17 in vivo and identify novel molecules as specific targets for treating IBD.

Another part of our current research is to develop novel ex vivo and in vivo assays to assess the pathology of mutations identified from IBD patients' genomes. These findings will lead to better understanding of genetic predisposition of autoimmune diseases and establishment of approaches screening for people genetically susceptive to IBD.
Z He, J Zhang, Q Du, J Xu, Y Gwack, Z Sun. "SRC3 is a co-factor for RORgt in Th17 differentiation but not thymocyte development", J Immunol. 2018 Dec 19; pii: ji1801187. doi: 10.4049/jimmunol.1801187. [Epub ahead of print]


Z He, J Zhang, Z Huang, Q Du, N Li, Q Zhang, Y Chen, Z Sun. "Sumoylation of RORgt regulates TH17 differentiation and thymocyte development", Nat Commun. 2018 Nov 19;9(1):4870. doi: 10.1038/s41467-018-07203-z.


S Sen, Z He, S Ghosh, KJ Dery, L Yang, J Zhang, Z Sun. "PRMT1 plays a critical role in Th17 differentiation by regulating reciprocal recruitment of STAT3 and STAT5", J Immunol. 2018. Jul 15;201(2):440-450. doi: 10.4049/jimmunol.1701654


J Zhang, Z He, S Sen, F Wang, Q Zhang, Z Sun. "TCF-1 inhibits IL-17 gene expression to restrain Th17 immunity in a stage-specific manner", J Immunol. 2018 May 15;200(10):3397-3406. doi: 10.4049/jimmunol.1800193.


S Sen, F Wang, J Zhang, Z He, J Ma, Y Gwack, J Xu, Z Sun. "SRC1 promotes Th17 differentiation by overriding Foxp3 suppression to stimulate RORγt activity in a PKC-θ-dependent manner", Proc Natl Acad Sci U S A. 2018 Jan 16;115(3):E458-E467. doi: 10.1073/pnas.1717789115.


Z He, J Ma, R Wang, J Zhang, Z Huang, F Wang, S Sen, EV Rothenberg and Z Sun. "A two-amino-acid substitution in the transcription factor RORγt disrupts its function in TH17 differentiation but not in thymocyte development", Nat. Immunol, 2017 Oct;18(10):1128-1138. doi: 10.1038/ni.3832. Epub 2017 Aug 28.


Z He, F Wang, J Zhang, S Sen, Q Pang, S Luo, Y Gwack and Z Sun. "Regulation of Th17 differentiation by IKKα-dependent and -independent phosphorylation of RORgt", J Immunol. 2017 Aug 1;199(3):955-964. doi: 10.4049/jimmunol.1700457.


S Li, H Hu, Z He, D Liang, R Sun, K Lan, "Fine-tuning of the Kaposi's Sarcoma-Associated Herpesvirus life cycle in neighboring cells through the RTA-JAG1-Notch pathway", PLoS Pathog. 2016 Oct 19;12(10):e1005900. doi: 10.1371/journal.ppat.1005900.


Z He, F Wang, J Ma, S Sen, J Zhang, Y Gwack, Y Zhou, Z Sun. "Ubiquitination of RORgt at Lysine 446 limits Th17 differentiation by controlling coactivator recruitment", J Immunol. 2016 Aug 15;197(4):1148-58. doi: 10.4049/jimmunol.1600548.


D Liang, H Hu, S Li, J Dong, X Wang, Y Wang, L He, Z He, Y Gao, S Gao, K Lan, "Oncogenic herpesvirus KSHV Hijacks BMP-Smad1-Id signaling to promote tumorigenesis", PLoS Pathog. 2014 Jul 10;10(7):e1004253. doi: 10.1371/journal.ppat.1004253.


X Wang, Z He, T Xia, X Li, D Liang, X Lin, H Wen, K Lan, "Latency-Associated Nuclear Antigen of Kaposi Sarcoma–Associated Herpesvirus promotes angiogenesis through targeting Notch signaling effector Hey1", Cancer Res. 2014 Apr 1;74(7):2026-37. doi: 10.1158/0008-5472.CAN-13-1467


Z He, J Zhao, J Zhang, JU Jung, P Feng. "NF-κB activation coordinated by IKKβ and IKKε enables latent infection of Kaposi's sarcoma-associated herpesvirus", J Virol. 2014 Jan;88(1):444-55. doi: 10.1128/JVI.01716-13.


Y Jin, Z He, D Liang, Q Zhang, H Zhang, Q Deng, ES Robertson, K Lan, "Carboxyl-terminal amino acids 1052 to 1082 of the latency-associated nuclear antigen (LANA) interact with RBP-Jκ and are responsible for LANA-mediated RTA repression", J Virol. 2012 May;86(9):4956-69. doi: 10.1128/JVI.06788-11.


X Dong, Z He, D Durakoglugil, L Arneson, Y Shen, P Feng, "Murine gammaherpesvirus 68 evades host cytokine production via replication transactivator-induced RelA degradation", J Virol. 2012 Feb;86(4):1930-41. doi: 10.1128/JVI.06127-11


D Liang, Y Gao, X Lin, Z He, Q Zhao, Q Deng, K Lan, "A human herpesvirus miRNA attenuates interferon signaling and contributes to maintenance of viral latency by targeting IKKε", Cell Res. 2011 May;21(5):793-806. doi: 10.1038/cr.2011.5


X Lin, D Liang, Z He, Q Deng, ES Robertson, K Lan, "miR-K12-7-5p encoded by Kaposi's sarcoma-associated herpesvirus stabilizes the latent state by targeting viral ORF50/RTA", PLoS One. 2011 Jan 20;6(1):e16224. doi: 10.1371/journal.pone.0016224


Z He, Y Liu, D Liang, Z Wang, ES Robertson, K Lan. "Cellular corepressor TLE2 inhibits replication-and-transcription-activator-mediated transactivation and lytic reactivation of Kaposi's sarcoma-associated herpesvirus", J Virol. 2010 Feb;84(4):2047-62. doi: 10.1128/JVI.01984-09


K Lan, M Murakami, B Bajaj, R Kaul, Z He, R Gan, M Feldman, ES Robertson, "Inhibition of KSHV infected primary effusion lymphomas in NOD/SCID mice by γ-secretase inhibitor", Cancer Biol Ther. 2009 Nov;8(22):2136-43