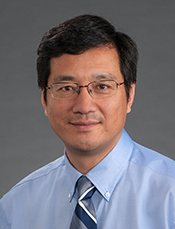 My research interest is aimed at comprehensive understanding of biological mechanisms underlying imaging and treatment outcomes and focuses on development of:
drug delivery system to facilitate brain cancer-targeted molecular imaging diagnosis and imaging-guided drug delivery
novel nanoparticle-immunotherapy system to elicit anticancer immunity
We recently developed a brain cancer-targeted nanoplatform that enables delivery of anti-cancer therapeutic agents or imaging contrast agents to brain tumor parenchyma but not to normal brain. Using this nanoplatform, we have demonstrated sensitive and specific detection of brain cancer with bimodal MRI/optical imaging and MRI-guided delivery of anti-cancer agents to treat glioma. Based on this system, we have further developed a novel theranostic system that allows MRI monitoring of the delivery and release of chemotherapeutic agents to treat glioma. Also, my laboratory has developed a novel nano-immunotherapeutic system that enables antigen presenting cells (APCs)-targeted delivery of immunotherapeutic agents to induce robust anti-cancer immunity against lung cancer.
Current Research Projects
In vivo imaging of the brain tumor microenvironment – We are applying multimodal MRI/optical imaging to interrogate brain tumor microenvironment, in particular, the blood brain barrier (BBB).
Imaging-guided delivery of brain tumor-targeted nano-drugs – We are developing brain tumor-targeted nanohybrid of imaging contrast agents and anti-cancer therapeutic agents in this NIH R01 project.
Novel nanoparticle-immunotherapy system to elicit anticancer immunity – We are exploring a novel nanoparticle-immunotherapy system developed at my lab, aiming to enhance anti-cancer immunity.