The Chen Lab is particularly interested in understanding how chronic exposure to drugs causes persistent functional changes in neurotransmitter receptors and transporters that are manifested in aberrant behavioral responses to drugs.

We use a combination of mutagenesis, viral (AAV and lentivirus), molecular, cellular, biochemical, microscopic, and behavioral approaches to study drug abuse through collaborations with several faculty in our institute.
Highlighted Research Projects
RGS2 and RGS4 proteins differentially modulate dopamine D2 autoreceptor activity, vulnerability to cocaine self-administration and anxiety-like behavior.




The RGS2 protein interactome in response to stimuli (e.g. prolonged dopamine receptor exposure, oxidative stress, and exposure to drugs of abuse)

This project will cross-link RGS2-interacting proteins in live cells in response to different stimuli and use mass spectrometry to identify RGS2 interaction network. This project has a potential to identify novel RGS2-interacting proteins that may be involved in specific disease states.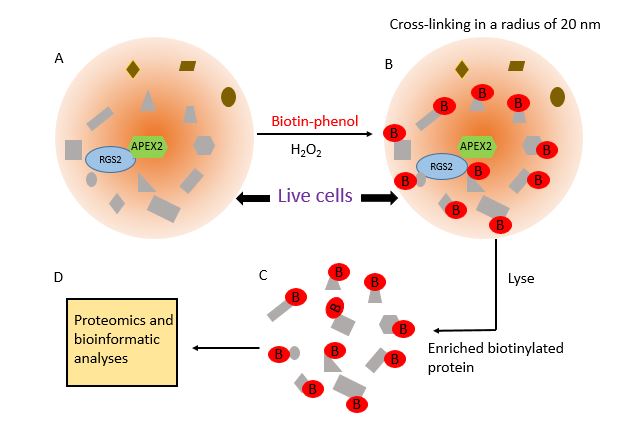 The membrane lipid mechanism by which chronic intermittent ethanol exposure or cocaine self-administration modulates the stability of GPCRs and monoamine transporters and drug intake.

We are interested in understanding a) if and how chronic exposure to drugs of abuse alters lipid species in the membrane; and b) the functional consequence of altered lipid species on membrane stability and function of specific GPCRs and transporters

The role of brain angiotensin system in regulation of dopamine D2 receptors and drug self-administration.
Funding and Support
Our research is supported by:
National Institute on Drug Abuse
Wake Forest School of Medicine Center for the Neurobiology of Addiction Treatment (NIDA-funded P50)
Present Members
Haiguo Sun
Deborah Luessen
Kristen Adams
Sherry Wang
Jessica Moser
Alex Major
Ben Andrews
Past Members
Tyler Hinshaw, Matthew Yeager, Michael Hagstrom, Alison Hoffer, Mary Bridges, Adeline Ding, Richard Ong, Michael Deng, Hayoung Lee, James Miller, Aidan Wiley