The Cardiac Aging Lab at Wake Forest School of Medicine is focused on studying the underpinnings of diastolic dysfunction, or the inability of the heart to fill adequately between beats due to impaired relaxation of the heart muscle. The condition is common in older adults because the heart and vessels normally stiffen with age.
Impairments in diastolic function represent a significant public health concern, particularly given the growing number of older persons in industrialized nations and the increased prevalence of heart failure with preserved ejection, or diastolic heart failure, among those older than 65 years of age.
Currently, there are no proven pharmacological therapies to delay or reverse age-related diastolic dysfunction, independent of medically managing underlying co-morbidities. In some cases, these conditions such as these may be the root cause:
Hypertension
Obesity
Coronary atherosclerosis
Diabetes
Data obtained using these preclinical models may have profound implications for understanding and mitigating diastolic dysfunction in older persons.
Led by Dr. Leanne Groban, a professor in the Cardiothoracic Section of the Department of Anesthesiology at Wake Forest Baptist Medical Center, the lab continues to explore the causes, the implications, and the potential avenues for prevention and treatment of this age-related decline in diastolic function.
Dr. Groban's interest in this area began more than 15 years ago while providing perioperative care and anesthesia for older patients undergoing heart surgery. Dr. Groban continues to take her perioperative echocardiographic skills into the basic science arena to assess diastolic function in mouse, rodent, and nonhuman primate models of aging and heart disease.
Our Research
We are the leading laboratory that showed that the newly identified G-protein coupled estrogen receptor (GPER) is involved in mediating estrogen's cardioprotective actions against pressure overload and aging.
Using standard pharmacologic techniques, we reported that activation of GPER with its agonist G1, or estradiol replacement, preserved diastolic function and attenuated cardiac remodeling in ovariectomized rat models of hypertension and aging. We identified GPER-mediated cardioprotective mechanisms to include antiproliferative effects on cardiac fibroblasts and mast cells, attenuation of cardiac renin angiotensin system (RAS)/chymase, antihypertrophic remodeling of cardiomyocytes, and maintenance of intracellular calcium regulatory proteins. Recent findings from our novel cardiomyocyte-specific GPER knockout (KO) mouse have extended our work to include the cardiac mitochondria and oxidative stress in context with aging and estrogen deficiency.
The lab combines tools of molecular biology and biochemistry with a deep knowledge of cardiac physiology, giving us a distinctive ability to comprehensively analyze cardiac function and structure at multiple levels, ranging from the whole animal, to living isolated cardiomyocytes, to primary cardiac fibroblasts and cardiac myocytes in culture. This integrative approach allows for a powerful framework in which we can discover the mechanisms underlying sex hormone-induced and age-related changes in the heart.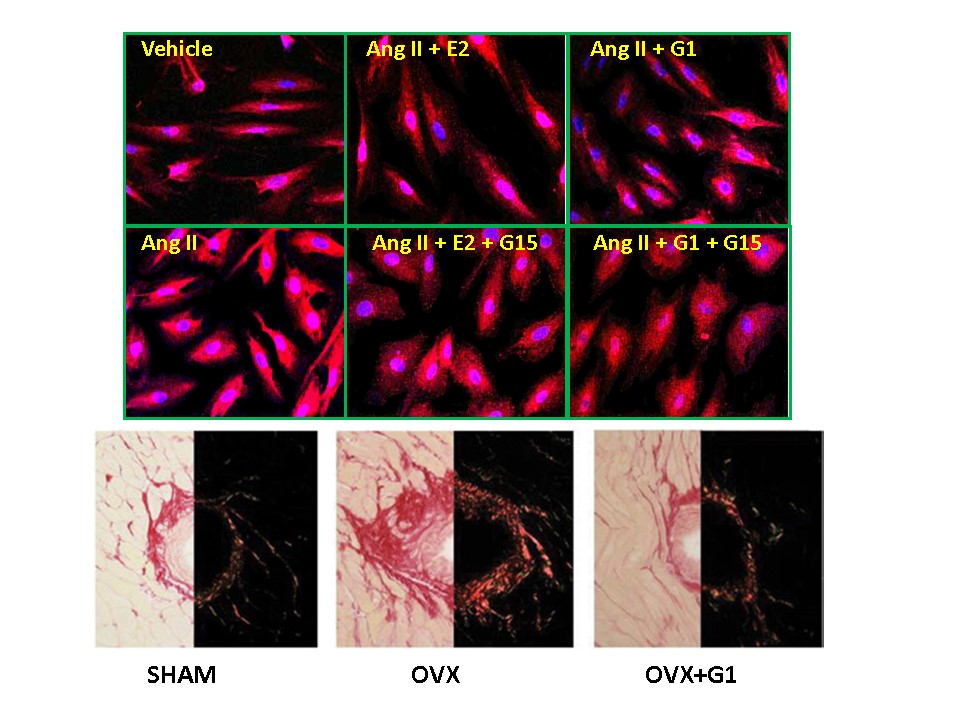 The Cardiac Aging Lab looks forward to furthering their basic research contributions on filling gaps in knowledge on women's heart health.
Research Focus
The incidence of diastolic dysfunction increases in women after menopause. It may lead to heart failure due to impaired ventricular filling secondary to abnormalities in myocardial relaxation, chamber compliance and remodeling. While evidence suggests that estrogen may protect the premenopausal heart from the deleterious effects of hypertension and remodeling, the mechanisms involved are not completely understood.
Research Goal
The overall goal of our research program is to elucidate the biological basis for estrogen (E2)-mediated maintenance of cardiac structure and function during aging and generate relevant and feasible strategies that dictate the pace of left ventricular diastolic dysfunction (LVDD) and left ventricular hypertrophy (LVH) after E2 loss.