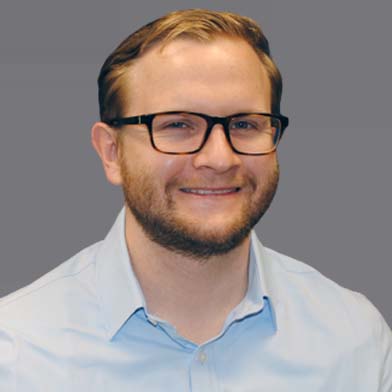 Steven Forsythe, MS, is a PhD candidate in the Department of Cancer Biology, Wake Forest School of Medicine Biomedical Sciences graduate program. He has been selected to participate in the 2022 American Association for Cancer Research (AACR) Early-career Hill Day that will take place virtually March 2-3, 2022.
As a participant in this Hill Day, Steven will be scheduled to attend meetings with legislators and/or their staff to discuss the need for continued and sustained cancer research funding. The AACR Early-career Hill Day is an annual event that brings together a group of AACR associate members to advocate for robust, sustained and predictable funding for cancer research and biomedical science through the NIH and the NCI, on behalf of early-career cancer researchers.
Through various congressional visits during a single day, Steven and his fellow participants stress the importance of investing in the future of cancer research. They provide their own personal perspectives as the investigators whose careers may be most impacted by the support of this essential funding, provide firsthand stories about the impact of cancer research funding on their career, and share how cancer may have personally touched their life or that of a loved one. AACR Early-career Hill Day is an important and exclusive opportunity for AACR Associate members to engage in advocacy at the federal level and educate lawmakers on the progress and promise in cancer research.
Steven is a PhD candidate who works in the lab of Shay Soker, PhD, a faculty member of the Wake Forest Institute for Regenerative Medicine. His primary project includes optimizing patient-derived organoid technologies for therapeutic testing and predicting patient sensitives to multiclass treatments. He has previously worked on projects involving biomaterial development, the EXCELL body-on-a-chip program for toxicity testing and precision medicine-based cancer therapies utilizing organoid culture. Steven is a graduate of the University of Wisconsin and has previously worked at the Mayo Clinic in Rochester, Minnesota.