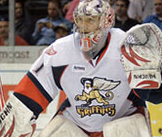 Dedication and focus are second nature to Jordan Pearce, a former professional ice hockey player and medical student at Wake Forest School of Medicine.
As goaltender for the ice hockey team at the University of Notre Dame, Pearce led the Fighting Irish in his junior year to the NCAA championship game against Boston College. From 2009 to 2013, he played in the National Hockey League for the Detroit Red Wings and its affiliate teams.
"Like hockey, medicine is about teamwork and the amount of time and practice you put in," said Pearce. "The harder you work and the more prepared you are, the better you'll perform—whether it's on the ice or caring for patients."
A Star Student and Athlete
Pearce was born and raised in Anchorage, Alaska, where he grew up fishing, hunting and playing hockey. At a young age, he played street hockey with his older brother and neighborhood friends. "I was the youngest, but they let me play," recalled Pearce. "I was always stuck in the net, because none of the older kids wanted to play there."
This early experience as a goalie stayed with Pearce, who was recruited at age 15 to play for the U.S. National Team Developmental Program, a youth training program in Michigan for the nation's top hockey players under age 17. Pearce also attended a junior hockey program in Nebraska and then received a scholarship to the University of Notre Dame.
"Education was always a high priority in my family," said Pearce, who was especially interested in science and anatomy in high school. "Homework and studies came first before hockey or spending time with friends."
In 2005, Pearce took his strong work ethic to the University of Notre Dame, where he double majored in anthropology and pre-med and was on the Dean's List, all while being goaltender for the Fighting Irish, the university's ice hockey team. During his junior year, the team had major victories, including winning the Central Collegiate Hockey Association (CCHA) championship game. He also led the Fighting Irish to the NCAA championship game against Boston College.
Pearce was awarded several honors in 2008 and 2009, including two-time Academic All-American. He was also recognized as Notre Dame Hockey's Most Valuable Player, Notre Dame Student-Athlete of the Year and CCHA Goaltender of the Year.
Once in a Lifetime Opportunity
When he wasn't studying or playing hockey at Notre Dame, Pearce volunteered at the local emergency room and shadowed physicians. This was a turning point for Pearce, where he saw firsthand how his interest in science could translate to being a doctor.
He applied to medical school and was accepted, but his plans were put temporarily on hold when Pearce received what he calls "a once in a lifetime opportunity" to play professional hockey. "It was a tough decision, but I knew medicine would be there as my future path when the time was right," he said.
In 2009, Pearce signed a two-year contract with the Detroit Red Wings. He alternated playing goaltender for the Red Wings and its minor league affiliates—the Grand Rapid Griffins of the American Hockey League and the Toledo Walleye of the East Coast Hockey League. In 2011, Pearce signed a two-year extension contract with the Red Wings. He was a strong defender at the goal, with a solid record of wins, goals-against average and high save percentages.
During his fourth year on the ice, Pearce decided it was time to pursue his dream of becoming a doctor. He had his own family now and was ready to settle down and focus on his career.
"I enjoyed hockey, but knew I couldn't play forever," he said. "It didn't drive me as much as medicine. I knew being a physician was my purpose and what I wanted to do for the rest of my life."
Pearce reapplied to medical school and accepted an offer to Wake Forest. "I'd traveled to the Carolinas for hockey games, so I knew Wake Forest Baptist had a top-notch School of Medicine and that Winston-Salem would be a great place to raise our family," he said. "Everything just came together."
Life as a Medical Student
Pearce seamlessly transitioned from professional goalie to medical student.
"Like hockey, medicine requires that you always perform at the highest level," said Pearce. "You have to develop your individual skills while also working together as a team—this is especially important as medicine is becoming more interdisciplinary."
Never one to sacrifice one passion for the other, Pearce still finds time for hockey in his busy schedule. He volunteered as a goaltender coach, helping local youth at the Triad Hockey Alliance.
"Having a family puts it all in perspective," remarked Pearce, who said his wife Melissa and young son provide support and a much-needed distraction at times. "I treat medical school like a job, work hard and put in the time and effort every day. I'm training for what I like to call the 'ultimate game'—being the best doctor I can be."