The Internal Medicine program at Atrium Health Carolinas Medical Center provides students with exceptional, comprehensive clinical training. With our mix of autonomy, diverse patient pathophysiology, one-on-one teaching, and collegial atmosphere, we provide an ideal environment for students to thrive.
In the program, students will:
Gain a solid foundation of knowledge and clinical skill grounded in general internal medicine, coupled with access to all subspecialty fields.
Learn how to provide compassionate care to underserved populations.
Feel empowered to lead the future of healthcare through their active participation in quality improvement, patient safety and value-based care initiatives.
In this program, students will experience both inpatient and ambulatory training.
Inpatient training is done exclusively at Carolinas Medical Center's (CMC) 874-bed main facility.

Carolinas Medical Center is the flagship hospital of Atrium Health, one of the largest not-for-profit healthcare systems in the United States.
Our hospital features state-of-the-art Medical Intensive Care and Cardiac Critical Care Units.
CMC is a Level I trauma center, with more than 120,000 ED visits last year.
CMC offers outstanding ancillary services and the highest levels of patient safety and quality which have resulted in our designation as a "Magnet Organization."
We utilize a fully integrated electronic medical record, including computerized physician order entry and voice recognition technology for daily note writing.
Courses Offered
Y4
Pulmonary Consults - Charlotte
4MED32
General Internal Medicine AI - Charlotte
4AIM115
Infectious Diseases - Charlotte
4MED27
Gastroenterology CMC
4MED25
Cardiology Carolinas Medical Center
4MED22
Gastroenterology - Motility, Nutrition, and Psychology Clinics
4MED35
Rheumatology - Charlotte
4MED34
Endocrinology - Carolinas Medical Center
4MED24
Hematology/Oncology - Charlotte
4MED26
Metrolina Nephrology - Charlotte
4MED29
Bariatric Medicine
4OBE02
Medicine ICU
4ICU11
Student Testimonials
"I liked seeing a variety of specialties. I also really enjoyed the independence of getting to choose patients and being responsible for collecting their data. I felt like a real doctor on this clerkship!"
"The best overall experiences were getting hands on time with the patients, having the opportunity to observe/perform procedures. The best educational experience was working through a diagnosis and plan of treatment with the resident/UL/attending for new patients."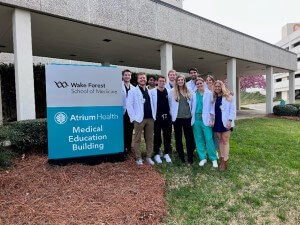 "My favorite experiences were with patients and feeling as though I was impactful to their care. The best learning was when attendings took the time to give meaningful feedback that changed the way I approached things."
"The best educational experiences were when the attendings or residents took time out of their day to give mini lectures on topics that pertained to our patients. This really solidified the disease process that the patients were experiencing and helped me to understand more about the treatment options available to these patients."
"This rotation was a great foundation for the rest of the year. The physicians and residents that I worked with were wonderful teachers and doctors. I enjoyed getting to know my patients and having the opportunity to work with many different people."