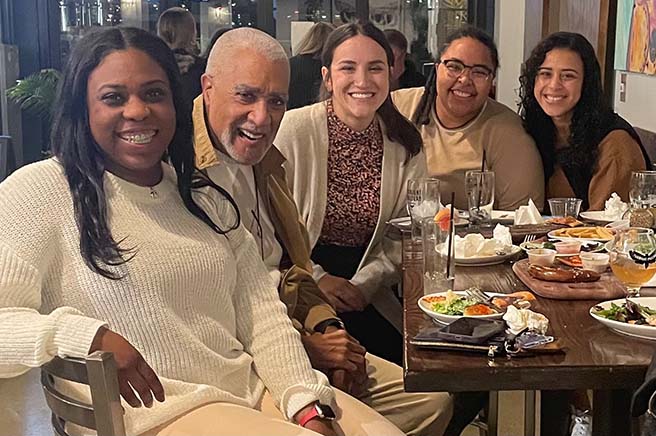 The Underrepresented Minorities in Medicine (URiM) program has been designed to encourage URiM medical students to apply for our competitive general surgery residency. We are committed to creating and sustaining a residency that mirrors the patient population that we serve.
Curriculum Overview
Rotations include several surgery services (Emergency General Surgery, General Surgery, GI Oncology/Colorectal, Minimally Invasive Surgery, HepatoPancreatoBiliary, Soft tissue Oncology, Vascular, Transplant, Plastics, Pediatrics) and an ICU rotation in the Surgical Trauma Intensive Care--CMC is the regions only level-1 trauma center. Rotation assignments will be made by the Surgery Clerkship Director and tailored to the students interests and availability of services. The goal is to allow only 1-2 students per service to maintain our excellent student/faculty ratio.
Program Fees and Stipends
A stipend of $2000 will be given to each selected student. This is to offset the costs for travel and housing. Information regarding housing options is provided, but actual housing arrangements will be the responsibility of the student.
During the rotation, each student will be invited to all department meetings (M&M, Grand Rounds, Resident Education Sessions, Multiprofessional conferences).
Students will be assigned a mentor, and will also have frequent access and exposure to with Dr. David Jacobs, Department of Surgery Vice Chair for Diversity Equity and Inclusion.
Students will be connected with other URiM vising students in other specialties (EM, IM, Peds).
Depending on the pandemic status, there will be opportunities for both social and community service activities with the Department of Surgery residents, faculty, URiM visiting students, and faculty outside of Surgery with known leadership involvement in URiM and DEI.
Students will have the opportunity to take trauma night call (not mandatory). There will be opportunities to experience the diverse population of patients our institution serves.
Application and Important Dates

Applications open March 1st, 2023
Students will be selected on a rolling basis with input from the Department's Diversity Equity and Inclusion Committee
The rotation will be October 2nd to October 27th 2023
We are hoping to cohort all URiM students in the same block for the best experience. However, exceptions for outside those dates may be made.
First round of acceptances will begin May 1st, 2023
Applicant Requirements
US citizen or permanent resident
Successful completion of all 3rd-year clerkships and good standing at their medical school
Successful completion of USMLE Step 1