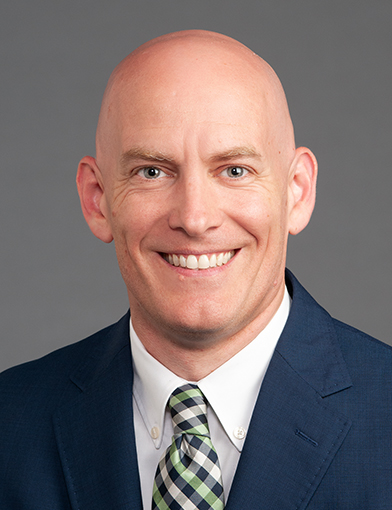 Eric S. Kirkendall, MD, MBI, is the Chief Medical Information Officer and Chief Information Officer of Atrium Health Wake Forest Baptist, and of Academic Health for Advocate Health.
In these roles, Dr. Kirkendall supports the mission of both the clinical health system, Advocate Health, and the research and academic enterprise in the Wake Forest University School of Medicine. He is also the deputy director of the Wake Forest Center for Healthcare Innovation, where he utilizes informatics tools and technologies to accomplish the center's mission of rapidly translating innovation and discoveries into our growing clinical enterprise, promoting increased care quality, safety, and cost-effectiveness for all.

Dr. Kirkendall's research focuses on using health information technology to maximize patient safety and quality in clinical care delivery, provider efficiency, data management, novel application/software development, and emerging technologies. He specializes in the areas of applied clinical decision support and digital health innovation. Dr. Kirkendall is an independent researcher who has obtained a continuous stream of funding from various federal and private sources and is deeply committed to team science and collaboration at all levels.

Prior to arriving at Wake Forest in 2018, Dr. Kirkendall was the former Associate Chief Medical Information Officer at Cincinnati Children's Hospital, overseeing the design, implementation, and optimization of the electronic health record and other associated technologies. He has held many roles in operations, research, education, innovation, and administration.

Dr. Kirkendall received his bachelor's degree in biology from the University of Toledo and his medical degree from the University of Cincinnati. He completed his residency in pediatrics at the University of Cincinnati and Cincinnati Children's Hospital Medical Center. He then completed his Master of Biomedical Informatics at Oregon Health & Science University in Portland, Oregon.