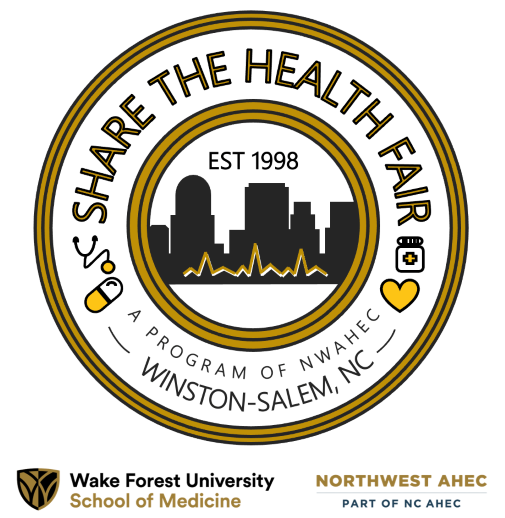 Share the Health Fair is an annual, one-day free health fair organized by students to offer health screenings, educational services, and community resources for individuals and families within the community who may be otherwise unable to be seen by a healthcare provider.
Our Purpose
Since its inception in 1998, the mission of the Share the Health Fair has been to provide basic medical screenings and information on healthcare and healthy living for all members of the Winston-Salem community, especially those who may not otherwise have adequate access to these services. It is an entirely student-organized effort, providing a unique opportunity for Wake Forest University School of Medicine students to learn about community health and promote wellbeing within the community that has welcomed us as we pursue medical education.
Share the Health Fair exists to help meet these health discrepancies by minimizing barriers to care, improving social determinants of health, increasing awareness of preventative measures to avoid common chronic diseases, connecting fair participants to options for year-round healthcare, and empowering fair participants with the tools necessary to take their health into their own hands.
Our Patients
Share the Health Fair is a free health screening fair open to all members of the local community, especially for those who do not have health insurance or access to health care. To help us better staff the fair, we encourage registering to attend the fair, but we take all patients as they walk in on the day of the event. Request a
free Share the Health Fair appointment.
Our Services
Share the Health Fair offers the following health screenings that are open to everyone:
Core health screenings: weight, body mass index (BMI), and blood pressure
Influenza and COVID-19 vaccinations
Blood glucose testing
Blood cholesterol testing
Glaucoma and vision screenings
Sexually transmitted infection testing
Lung function testing (spirometry)
Bone density
Strength and Balance testing
Dental screenings
Dermatological screenings
Mental health screenings (available with private rooms specifically set aside to maximize participant privacy and comfort)
Most test and screening results will be immediately provided to the participants as well as educational materials to help participants understand what results mean and why they may be significant. All participants will also be provided with an opportunity to discuss any abnormal findings or other health concerns with one of the volunteer Wake Forest Baptist Medical Center physicians on-site or through telehealth.

For those who require follow-up care, referrals will be provided to either the Downtown Health Plaza or other free, local community organizations and clinics that provide the needed services on a regular basis.

There will also be representatives on-site to provide consultations regarding health insurance and financial or legal resources with HealthCare Access and Legal Aid of North Carolina, as well as information regarding daily finances and budgeting, living wills, and advance healthcare directives.

All participants will receive a goody bag with essential items of daily living.