For any organization, ensuring a diverse and inclusive environment that reflects the wider world is less of a destination than an ongoing effort and overarching goal. For the Wake Forest School of Medicine, it means continually making sure that the school's students and faculty reflect the populations in their community and the larger society. Over time, school leaders have worked hard to create a more diverse and inclusive environment.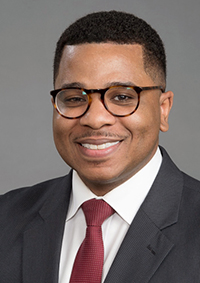 Third-year MD student Patrick Carriere, PhD, says he recognizes the school's progress and its commitment to do even more. Once he was admitted, Carriere says he discovered that diversity and inclusion were more than mere words at the school. Yet, as a Black man, he still had some concerns about the makeup of classes at the school.
"It was a unique situation for me, and the first few months were tough, adjusting," he recalls. What he came to appreciate early on were the established organizations within the school, such as the National Medical Association (NMA), that allowed him to explore different parts of his own culture, reach out to different communities within Winston-Salem and find mentors who look like him.
"The NMA was a big anchor for me in my first year," Carriere says of the group whose aim is to lift up students of color in medicine.
He recognizes there's work to be done, and it won't all be easy, but he feels that the school is committed. Carriere, who serves as a student representative on Wake Forest Baptist Health's racial equity task force, says he finds that, for many students of color, lack of representation in a school's faculty or in a medical specialty affects their decisions.
"What I would like to see is a plan to recruit more faculty of color and, when here, efforts so they feel welcome and able to empower students like me so I can aspire to be what I see," he says. "To be a part of the effort to change that representation at our School of Medicine is truly an honor."
Being the Best
The School of Medicine is known historically for attracting and supporting underrepresented students. According to Brenda Latham-Sadler, MD '82, House Staff '85, associate dean for student inclusion and diversity, the school's first post-baccalaureate pipeline program began in 1987. Since then, efforts have only expanded and now include multiple programs focused on high schoolers.
One such partnership is with the Northwest Area Health Education Center (AHEC). The school and AHEC collaborate on summer camps across a 17-county area in North Carolina designed for rural and lower-income teens. There's also a summer Health Care Explorers Program that the school hosts in partnership with the Winston Lake YMCA.
Creating more ways to acclimate students of all backgrounds requires school leaders to examine the curriculum and the culture.
"Wake Forest cannot be the best we can be if we don't have diversity," says Latham-Sadler, who explains that students bring more than just their admissions test scores when they enter one of the school's programs. "Bringing in people with different perspectives, talents and abilities than you may already have only makes you better."
In addition to examining admissions criteria and the curriculum, efforts are also focused on learning environments and the pipeline, especially for first-generation college and medical students. "They may feel they don't fit in, and we work really hard to make everyone feel like there's a place here for them," Latham-Sadler says.
Under the direction of C. Randall Clinch, DO, MS '04, associate dean for MD program academic affairs and professor of family and community medicine, a new justice thread has been developed for the curriculum and new Common Ground sessions have been added that address social issues and other diversity topics of interest to students.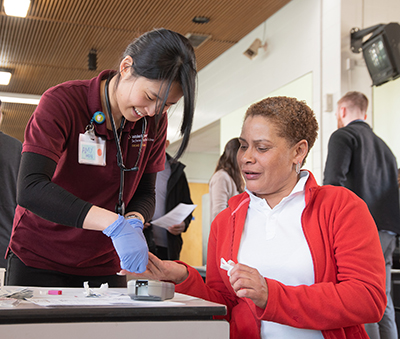 Clinch finds a diverse student body presents educators and other students with different perspectives, challenging everyone to think in new ways and ultimately strengthening the educational experience for all.
"Sharing these different perspectives is critical," Clinch says. "To become good physicians, students have to be able to interact with a broad range of patients."
Another way the school strives to instill this skill in students is via the DEAC (Delivering Equal Access to Care) Clinic. The student-run, physician-staffed clinic provides care for medically underserved populations around Winston-Salem. Started in 2008, the DEAC Clinic became the first student-run clinic to ever receive accreditation from the North Carolina Association of Free and Charitable Clinics (NCAFCC) in July 2017. With this accreditation, the DEAC Clinic complies with the same high standards the NCAFCC sets for any clinic.
DEAC is a lifesaving option for people without insurance who are not eligible for Medicaid. But it also provides students with a valuable means of engaging with the community, widening their patient care skills and further developing their compassion and empathy.
Students also can gain experience by participating in a mobile clinic. Created via a partnership between Wake Forest Baptist Health and the School Health Alliance of Forsyth County, the mobile clinic brings care directly to underserved neighborhoods and schools throughout the county.
The DEAC and mobile clinics offer students from all of the school's programs that important opportunity whether they are in the MD, PA, Academic Nursing or Graduate School programs.
Creating a Welcoming Climate
Over the last two years, the school has worked diligently to increase diversity. Part of this effort has focused on offering new affinity groups for students. Currently, there are more than 15 student organizations, including ones for women, the LGBTQ community, various religious and ethnic communities and more.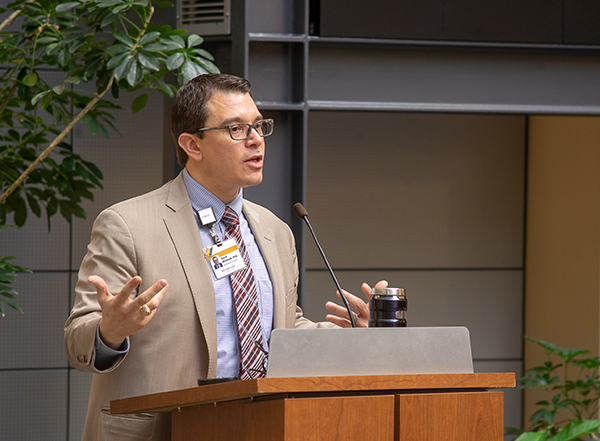 An Active Bystander program has been put in place to teach students how to speak up when they witness an instance of incivility and to do so in a way that doesn't upset the academic hierarchy.
"Students may be afraid to interrupt a faculty member, but sometimes students are in the best position to recognize bias," says David McIntosh, PhD, vice president and chief inclusion and diversity officer for Wake Forest Baptist. He says that encouraging students to be active bystanders is a major part of the school's efforts to create a better climate for learning.
"Psychology literature talks about bystander apathy, and we assume we would jump in to interrupt an instance of incivility, but decades of research suggest we wouldn't," he explains. "But we also know that when we train people on strategies, they're able to then jump in."
The strategy encourages students to become active bystanders by following WAKE, which stands for: Work with who you are, Ask questions, Key people, and Employ distraction techniques.
Wake Forest Baptist's Office of Diversity and Inclusion has a multipronged approach to foster a climate at the school where everyone feels included, valued and respected. McIntosh acknowledges that this focus covers students and faculty.
"We train students by demonstrating how we treat patients, and if we have bad habits or unintentional biases, we're unintentionally training students with those biases," he says.
Other efforts include developing affinity groups based on various identities and experiences. "These allow space for people to come together for mentorship, kinship and educating the rest of the enterprise on issues each group deals with," McIntosh says.
Recruiting and Retaining Diverse Students
"Medicine is not just a science, but an art, too, that involves communication, kindness, problem-solving and relating to people to find common ground to get them to where they need to be," says Daryl Rosenbaum, MD '97, associate dean of medical school admissions and student financial services.
To achieve this, the school strives to broaden its applicant pool. In the short term, that means adjusting the admissions process to ensure the school is accepting bright, compassionate students who will succeed while keeping the pool as wide and inclusive as possible.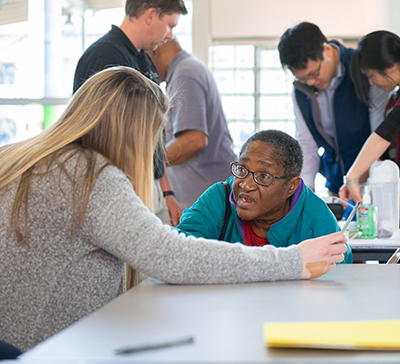 "We do this by adjusting the qualities we look for in a well-rounded applicant," Rosenbaum says. It also means assistance like a webinar on how to succeed in the new world of video interviewing. This is specifically targeted at those who may need additional coaching or resources to navigate the new video interview process being conducted this year in response to COVID-19.
The school also has launched a Diversity/Second-Look Weekend to broaden the applicant pool for its residency programs. The event allows residents from underrepresented minority groups to have a second visit to the school to determine if it is the right program for their residency experience.
The school's commitment is to support these well-qualified applicants from underrepresented backgrounds—and all students—while recognizing that diversity comes in all shapes, colors and experiences. It means creating a better pipeline to encourage kids as early as elementary school. Finally, it requires alumni to go out in the community and be active participants in promoting the school and its diversity and inclusion efforts.
"As a school, we want to take great care of our community and have them trust us," says Rosenbaum. "With a greater variety of students, the community can see themselves in us."
While acknowledging that appropriately addressing diversity will take continuing effort, Carriere says he is impressed with the time that Julie Ann Freischlag, MD, FACS, FRCSEd(Hon), DFSVS, chief executive officer of Wake Forest Baptist Health, dean of the School of Medicine and chief academic officer, Atrium Health Enterprise, devotes to listening and learning about the issue.
"It shows how much work and dedication this will take," Carriere says. "This takes a top-down effort, and our School of Medicine is definitely headed in the right direction."