Atrium Health Wake Forest Baptist has been designated as the exclusive medical partner in a new mixed-use redevelopment project in East Winston-Salem called Metropolitan Village.
Atrium Health Wake Forest Baptist is working with United Metropolitan Missionary Baptist Church and Liberty Atlantic Development Partners to program 8,000 square feet of community wellness space. In addition to space for health and wellness coaching and nurse navigators to work directly with residents on their goals and needs, the Maya Angelou Center for Health Equity will relocate its headquarters to the space.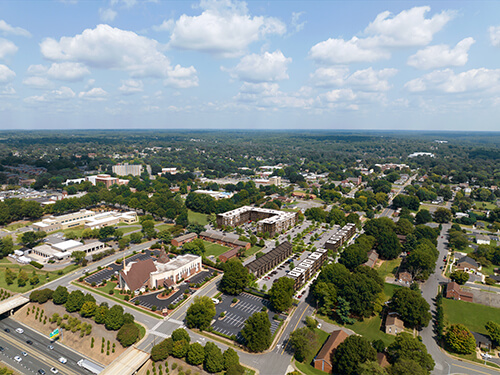 The project is an "equitable redevelopment" effort that was first announced by the church in March 2022 and includes numerous initiatives to help improve the lives of its residents. The $65 million mixed-use, mixed-income effort sits east of U.S. Highway 52 adjacent to the church and will include 324 residential units.
"Every community matters," said Julie Ann Freischlag, MD, FACS, FRCSEd(Hon), DFSVS, MAMSE, chief academic officer for Advocate Health, chief executive officer for Atrium Health Wake Forest Baptist and executive vice president for health affairs for Wake Forest University. "Every community deserves access to the highest quality health care. Through research, health education and training, health promotion and literacy, and social justice programs, Metropolitan Village will become a place where we all work to reduce health disparities and improve the quality of life. We are honored to have been entrusted with this unique opportunity."