Use anchor tags below to jump down the page:
---
Latham-Sadler to Lead in New Role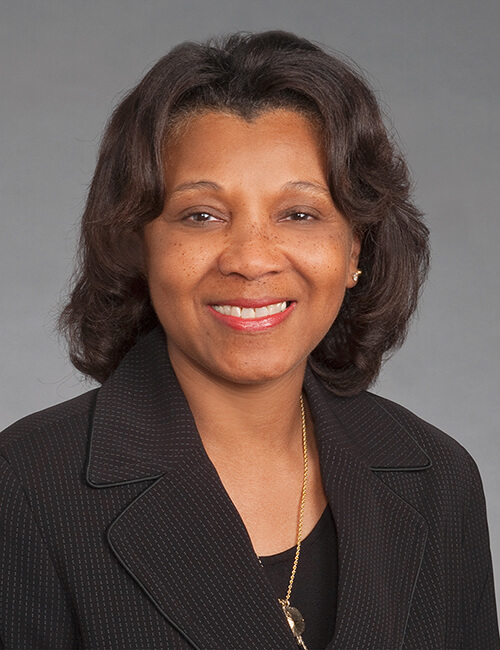 Brenda Latham-Sadler, MD '82, House Staff '85, has assumed a new role as senior associate dean for justice, equity, diversity and inclusion for the academic enterprise encompassing Wake Forest University School of Medicine and Atrium Health. She is associate professor of family and community medicine and formerly served as associate dean for student inclusion.
In her new role, Latham-Sadler is responsible for developing and implementing strategic innovations to create and enhance a culture of equity, diversity and inclusion, a climate of belonging, and to work toward eradicating structural racism, gender bias and all forms of discrimination across the collective academic enterprise. Her work will involve programs for faculty, trainees and staff.
Latham-Sadler has been on faculty in the Department of Family and Community Medicine since 1990 and is deeply focused on development of the next generation of medical educators and health care delivery that is culturally appropriate. For 12 years, she led the No.1-rated third-year Family Medicine Clerkship, as determined by Association of American Medical Colleges (AAMC) surveys, and she has one-on-one teaching experience with hundreds of medical students and resident physicians, as well as a number of junior faculty. As an adviser to underrepresented and disadvantaged high school and college students, Latham-Sadler has guided hundreds of young people to success in pursuing a career in medicine. She also has served as faculty adviser for several Wake Forest University School of Medicine student organizations.
She has served in leadership roles with the AAMC, National Association of Medical Minority Educators and the North Carolina Medical Society. Latham-Sadler is involved in community service throughout the state and has served on the Board of Directors of the Appalachian State University Foundation, Winston-Salem Urban League, United Way of Forsyth County, Youth Opportunities, the North Carolina Black Repertory Theater Company and the AAMC's Medical School Advisory Committee to the National Board of Medical Examiners, Committee on Student Diversity Affairs and Group on Inclusion and Diversity and as president of the Wake Forest University School of Medicine's Medical Alumni Association.
---
MD
MD Early Decision: Apply by Aug. 1
Now in its fifth year, the early decision option at Wake Forest University School of Medicine is designed for MD Program applicants who are highly committed to pursuing a Wake Forest medical degree. Candidates must commit to enrolling in medical school at Wake Forest if they are accepted.
Applicants benefit from applying among a smaller pool of candidates during early admission, and the school benefits by accepting top-quality students who are truly committed to the school. Early admission applicants are promised an early notification in case they need to pursue alternate plans.
"I would advise anyone who is passionate about coming here and whose numbers are close to our typical class profile, assuming they do well on the interview, that early decision is a great option for them," says Daryl Rosenbaum, MD '97, House Staff '01, associate dean for medical school admissions and student financial services.
Application deadline for early decision is Aug. 1. Learn more.
10 MD Students Honored with Peacock-Plonk Awards
The 2021 Peacock-Plonk Award for Outstanding Student Clinician recognized 10 recipients from the MD Class of 2022. The award is given to recipients with the highest clerkship grade of Honors in their third-year immersion curriculum clerkship rotations.
The Peacock-Plonk Award was established in 2017 in honor of James E. Peacock Jr., MD, professor of infectious diseases, and George W. Plonk Jr., MD '73, associate professor of vascular surgery, who were known as "doctor's doctors" and widely revered for their clinical expertise, diagnostic acumen, bedside manner and humility.
The awards were presented at the June 2021 meeting of the Faculty Executive Council:
Anthony Anzalone Eric "Ricky" Barash
Katherine Grace Beuerlein
Morgan Carnes
Deborah Cull
Richard "Andy" Hesse Vanessa Lukas
Laurie Stanek
Karl Wold
Zechariah "Zach" Harris
Connecting with New MD Graduates in Community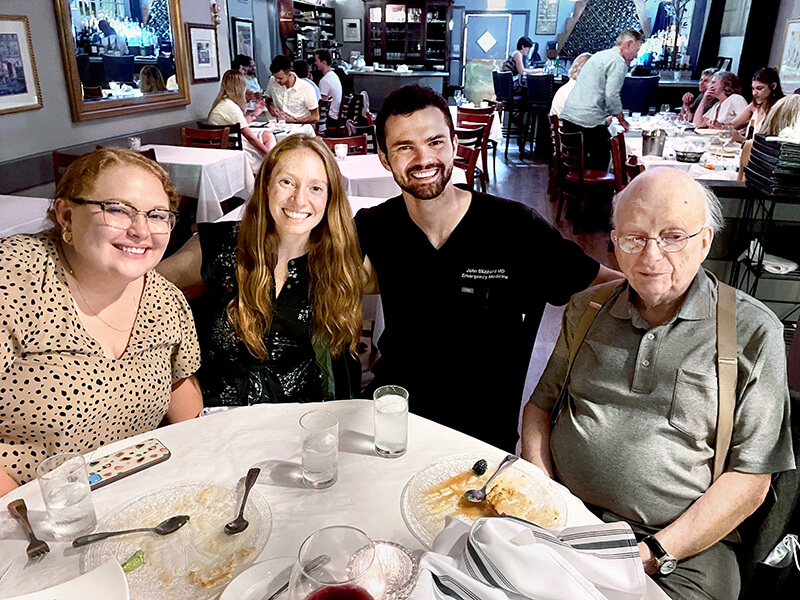 In Remembrance: Robert L. Gibson, MD
Robert L. Gibson, MD, former associate professor of anesthesiology with the Wake Forest University School of Medicine, died Jan. 17, 2021, from natural causes at age 94.
Gibson joined the school's faculty in 1971. He received numerous awards for teaching excellence and twice had the annual yearbook dedicated in his name. He gave international presentations in his field, and his bibliography included dozens of scientific articles and the published book, "I Care Intensively." He also served as medical director of the intensive care unit at Wake Forest Baptist from 1972 to 1981.
He and his wife, Peggy Williamson, were married for 61 years until her death in 2012. Survivors include four children, Cathy Schwartz, MD '80, House Staff '84; the Rev. Dr. Thomas Gibson, who is an alumnus of Wake Forest Baptist's Pastoral Care Program; Tricia Johnston; and Gay Slough; and numerous grandchildren and great-grandchildren.
Edgar S. Marks, MD '45, Greensboro, N.C., celebrated his 100th birthday on Oct. 29, 2021. Marks is one of the first graduates of Wake Forest University School of Medicine. He visited the new Bowman Gray Center for Medical Education in August 2016 and reflected on the "amazing" changes in medical education. View at School.WakeHealth.edu/Features/Education/AlumnusReflects.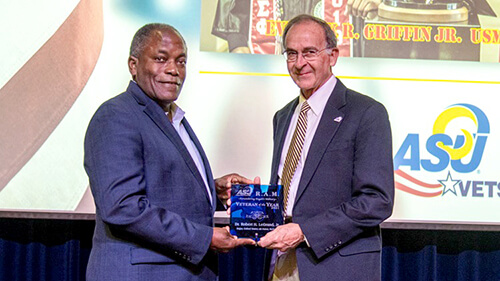 Robert Hampton LeGrand Jr., MD '68, San Angelo, Texas, a retired U.S. Air Force major, was named Angelo State University's 2021 Remembering Angelo's Military (R.A.M.) Veteran of the Year during the university's annual Veterans Day Luncheon in November 2021. LeGrand moved to San Angelo in 1976 as the city's first permanent neurosurgeon. He served as an Air Force flight surgeon from 1970 to 1972, including a year of duty in Vietnam, where he received two Distinguished Flying Crosses, three Air Medals and a Bronze Star. "Dr. Robert LeGrand epitomizes service before self — to the nation and to our veterans at Angelo State University," Susan Williams, ASU director of military and veteran affairs, said in a press release. The R.A.M. Veteran of the Year program is sponsored by ASU's Veterans Educational and Transitional Services (VETS) Center.
Robert V. Ford Jr., MD '70, Winston-Salem, N.C., has received the Goodwill Industries of Northwest North Carolina's Heritage Award, which recognizes individuals who have made significant, long-lasting contributions to the success of Goodwill and its mission. This prestigious award is the highest honor that Goodwill gives to those who support their agency, and it's only been given to five people in Goodwill's 95-year history. Ford was honored for his passionate support, advocacy and leadership.
Steven H. Buck, MD '73, Buffalo, N.Y., recently retired from Buffalo Medical Group as an ENT specialist. He is past president of the New York State Society of Otolaryngology and for many years served on the board of the society. Buck was governor of the Buffalo Society of the American Academy for Otolaryngology for 18 years.
Robert E. Wailes, MD '81, Carlsbad, Calif., was installed as president of the California Medical Association at the association's annual House of Delegates meeting. In his address to the delegates, Wailes — a Southern California pain specialist and board-certified anesthesiologist — recognized the great challenges and great accomplishments the profession of medicine faced over the past year. "Working together, our state became an example for others to follow on our pandemic response and vaccine efforts," said Wailes. "In the past year, CMA revised its mission statement to include health equity and justice as core to our mission. That part of the mission statement is more than just words on a page. It is a value proposition that we should all take seriously and work toward. Under my presidency, ensuring health equity will be a priority for me and CMA as we move toward changes in both public policy arena and in the house of medicine to make that a reality." Wailes served as president-elect over the last year and has served as chair of the CMA Board of Trustees for three years and as vice chair for three years. He has also served as president of the San Diego County Medical Society and represents the American Academy of Pain Medicine at the American Medical Association. Wailes is the founder, co-owner and medical director of Pacific Pain Medicine Group in Oceanside and Encinitas, has been providing pain medicine services in Southern California for more than 30 years and has lived with his family in Carlsbad since starting his practice in 1984.
Brenda A. Latham-Sadler, MD '82, Lewisville, N.C., senior associate dean for justice, equity, diversity and inclusion for Atrium Health's academic enterprise, and clinical associate professor of family and community medicine at Wake Forest University School of Medicine, received the 2021 Winston- Salem Legacy Award for Medicine from the Legacy Foundation for Women. The award was announced at the 2021 Legacy Awards, which were held virtually Nov. 7. Each year, the foundation recognizes women of color who are both leading and leaving a legacy for the next generation of girls of color. The mission of the Legacy Foundation for Women is to inspire and invest in the lives of women and girls of color through scholarships and education, awards recognition, mentor programs, health development and humanitarian efforts.
Craig M. Greven, MD '83, Winston-Salem, N.C., chair and professor of ophthalmology, has been recognized by Newsweek as among the best doctors in his field. Greven was ranked No. 59 in Newsweek's America's Best Eye Doctors 2021 – Ophthalmologists, which ranked the top 150 in the country. For the rankings, more than 10,000 ophthalmologists, optometrists, clinic managers and other health care professionals were asked to recommend the best eye doctors in the country. Results were also analyzed based on the quality of care provided, continuity of care and the quality of the technology used in their practices.
F. Edward Pollock Jr., MD '83, PhD, Winston-Salem, N.C., and David Carl Pollock, MD '92, Lewisville, N.C., in addition to their current roles at Atrium Health Wake Forest Baptist, will be providing Orthopaedic care monthly at Alleghany Memorial Hospital in Sparta, N.C., along with Jonathan Reich Snyder, MD '04, Elkin, N.C. The Pollock brothers have a combined 54 years of experience in offering expert orthopedic care and hip and knee replacements.
Jennie A. McLaurin, MD '85, MPH, MA, Ferndale, Wash., has published a book titled "Designed to Heal: What the body shows us about healing wounds, repairing relationships and restoring community." It examines the stages of the body's wound healing mechanisms and offers them as a metaphor for how we might heal our social and interpersonal wounds in the wider body of family and community. There is an integration of faith from a Christian perspective but an openness to any spiritual understanding. The book is available from booksellers and on Amazon, and it is published by Tyndale Publishing.
Hans L. Crumpler, MD '96, Lakeside, Calif., was the commencement speaker for his high school alma mater in June 2021.
Daniel E. Rusyniak, MD '96, Zionsville, Ind., has been named secretary of the Indiana Family and Social Services Administration (FSSA) and is the FSSA's chief medical officer. Prior to his role at FSSA, Rusyniak was the medical director at the Indiana Poison Control Center and the division chief of medical toxicology. He previously held several positions at Indiana University School of Medicine including vice-chair of faculty affairs in the Department of Emergency Management.
Patricia L. Turner, MD '96, MBA, Washington, D.C., has been named the next executive director of the American College of Surgeons (ACS). Turner began her new role on Jan. 1, 2022. As director of the ACS Division of Member Services from 2011 to 2021, Turner pioneered transformative changes that serve the diverse and evolving needs of surgeons in the U.S. and internationally. Turner will be charged with continuing and increasing the college's impact on surgical innovation, quality, education and research. Before joining the ACS executive leadership team, Turner spent eight years in academic practice on the faculty of the University of Maryland School of Medicine, Baltimore, where she was the surgery residency program director and medical director of the surgical acute care unit. Turner is currently on the faculty in the Department of Surgery at the University of Chicago Medicine. She chairs the ACS delegation to the American Medical Association (AMA) House of Delegates and is past chair of the AMA Council on Medical Education, past chair of the Surgical Section of the National Medical Association and past president of the Society of Black Academic Surgeons. She also serves on the Atrium Health Wake Forest Baptist Board of Directors. The ACS has more than 84,000 members and is the largest organization of surgeons in the world.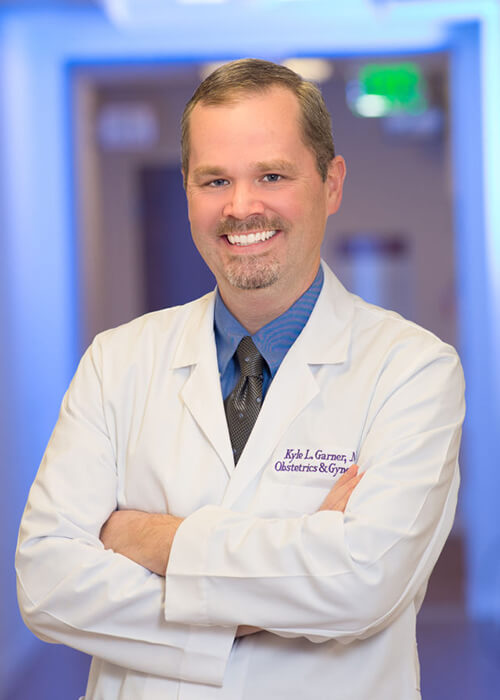 Kyle L. Garner, MD '97, Sarasota, Fla., has been named associate chief medical officer for Sarasota Memorial's Venice campus. Garner will have day-to-day administrative responsibility for the hospital's quality of care, medical education and the departments that support those functions. Garner will serve as the liaison between SMH Venice's medical staff and campus president Sharon Roush's administrative team. Board-certified in obstetrics, gynecology and family medicine, Garner joined SMH's medical staff in 2006 and was named chief of staff in 2017-18. He has served as SMH's chief of obstetrics and gynecology and was named SMH's Physician of the Year in 2013 for his leadership contributions and work to reduce the rate of C-sections and promote practices that encourage women to have as natural a childbirth experience as possible in the hospital setting. He also is a member of the faculty of Florida State University's College of Medicine.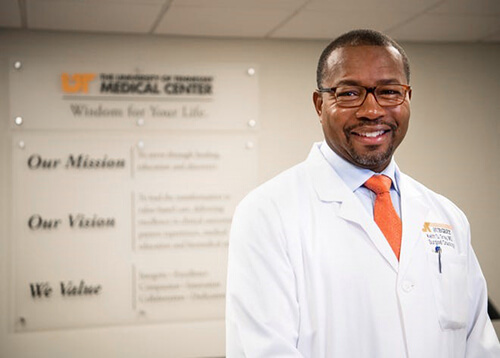 Keith Demond Gray, MD '98, Knoxville, Tenn., has been named one of Knox.biz's 2021 Health Care Heroes. Gray has been serving the Knox County and East Tennessee region for more than 14 years. As chief medical officer of the University of Tennessee Medical Center, Gray works to serve his community through healing, education and discovery. For Gray, that means improving the health of patients and giving them the knowledge and health literacy necessary to make informed decisions. During the pandemic, Gray provided updates on hospital numbers, answered questions through calls with the faith leaders and provided vaccines for several community clinics. Gray said doing so aligned with the medical center's health equity strategy to provide quality health care access to its entire community. "At that time, we were reading about disparities across the country about people who wanted access to the vaccine," Gray said. "We realized that a couple of those barriers were trust and access. We also realized not everybody can, should or will come to the UT campus to get their vaccine. So, we met both of those head on and took the vaccine to the community, to the populations that were most vulnerable."
Perrin W. Jones, MD '99, Greenville, N.C, has been elected and sworn in to serve on the University of North Carolina at Chapel Hill Board of Trustees. The 13-member board is responsible for promoting the university's development in its service to the state, aiding the institution in performing at a high level and advising both the UNC System Board of Governors and Carolina's chancellor in the management and development of the university.
Nancy Denizard-Thompson, MD '02, Kernersville, N.C., associate professor of general internal medicine, was voted by the Wake Forest University School of Medicine's MD Class of 2021 to receive the faculty Leonard Tow Humanism in Medicine Award. The award is presented by the Arnold P. Gold Foundation and is selected by students in the graduating medical school class to express gratitude to a faculty member who has been most impactful on their understanding of humanism in medicine. Denizard-Thompson oversees the health equity curriculum and ensures that each student is trained to care compassionately and properly for underserved populations. Students commented that "Dr. Denizard-Thomspon is clearly dedicated to training physicians who are socially conscious and care for the whole patient," and that her health equity curriculum "really gave me an appreciation of the underserved population." Award recipients demonstrate both clinical excellence and outstanding compassion in the delivery of care and show respect for patients, their families and health care colleagues. They demonstrate attitudes and behaviors that are sensitive to the values, autonomy, cultural and ethnic backgrounds of others.
Tanaka J. Dune, MD '09, Werrington Downs, Australia, participated in the HGTV House Hunters International episode titled, "Just What the Doctor Ordered in Melbourne." Dune moved from New York City to be closer to family in Australia.
Elijah "Trey" Robinson III, MD '14, Atlanta, Ga., an emergency medicine physician at Grady Memorial Hospital, taped a session using TikTok to combat misinformation about the COVID-19 vaccine: www.facebook.com/54001842/videos/1052626688808972
Brittany Lynn Lambertus, MD '15, Pawling, N.Y., is proud to announce the birth of her and Kieran's daughter, Layla Annette Wanduragala, on Aug. 17, 2021.
Shannon Cummins Walker, MD '15, Nashville, Tenn., is completing a one-year transfusion medicine/blood bank fellowship at Vanderbilt University Medical Center, after completing her pediatric hematology/oncology fellowship. During the pandemic, she worked on the ACTT2 trial (which looked at the use of remdesivir/baricitinib in hospitalized COVID patients) and authored the work that was published in the New England Journal of Medicine. She has been very involved with the phase 3 adult COVID vaccine studies for Moderna (also an author on that paper published in NEJM) and the phase 3 Johnson & Johnson vaccine studies. She also has worked with the Centers for Disease Control as a hematology expert for the vaccine safety division and has been involved as they investigate the clotting syndrome associated with the J&J vaccine and was an author on a Journal of the American Medical Association (JAMA) paper describing that syndrome. Walker also wrote a summary piece for JAMA about COVID vaccines available in the U.S. and internationally. Walker has developed and validated a risk-prediction model published in Pediatrics that identifies high-risk pediatric patients who are hospitalized and at risk for developing blood clots. She's currently running a randomized trial that takes all the children admitted to Vanderbilt Children's Hospital and runs them through the model. She also has written a book chapter on novel pediatric transfusion strategies and a case report about a pediatric sickle cell patient with COVID who improved following an exchange transfusion.
Lauren Elizabeth Kratky, MD '21, Branford, Conn., received the 2021 United States Public Health Service (USPHS) Excellence in Public Health Award. The award program is an opportunity for the USPHS to recognize medical students who have positively impacted public health in their communities. Kratky served the patients of the Atrium Health Wake Forest Baptist DEAC Clinic as executive clinic director, clinic operations co-director and the founder of the gynecology specialty clinic. She also started a telehealth clinic and a food insecurity project during the COVID-19 pandemic to ensure continuity of care and support for her patients. During her time in medical school, Kratky volunteered more than 200 hours at the DEAC Clinic, as well as volunteering as a manager at the annual School of Medicine's Share the Health Fair during her first two years of medical school. Kratky also put her Spanish language skills to work during her time volunteering at the AmeriCares Free Clinic and the Community Care Clinic, where she helped Spanish-speaking patients.
Christopher Rodman, MD '21, Chicago, Ill., was voted by the MD Class of 2021 to receive the student Leonard Tow Humanism in Medicine Award. The award is presented by the Arnold P. Gold Foundation and is selected by students in the graduating medical school class as a vote of confidence in one of their peers.
Stanley N. Tennant, MD '78
President
Thomas B. West, MD '81
President-elect
Johnnie Ford Jr., MD '83
Secretary
Lucy Younger Ledbetter, MD '87, MBA
Immediate Past President
Charles D. Harr, MD '83, MBA
Philanthropy Chair
Brenda A. Latham-Sadler, MD '82
Engagement Chair
Melanie Adams, MD '89
Todd M. Augustus, MD '08
John Alexander Black, MD '81
T. Arthur Edgerton, MD '81
Michael T. Flanagan, MD '93
Lindsay Carter Gray, MD '99
Kathryn Ashton Grice, MD '85
Elizabeth McCurdy Hueman, MD '02
A. Kakra Hughes, MD '97, PhD
Janel Darcy Hunter, MD '10
Brittany L. Lambertus, MD '15
Kenneth F. Mattucci, MD '64
C. Douglas Maynard, MD '59
Wyman T. McGuirt, MD '96
R. Paul Rieker Jr., MD '97, MBA
James D. Sink, MD '75
Scott L. Vogler, MD '98
Louis B. Weinstein, MD '72
Rohan Chandana Wijewickrama, MD '05
MD Student Representatives
Jeffrey C. Powell, MD Class of 2022
Meron Fessehaye, MD Class of 2023
Katherine Rae Salisbury, MD Class of 2024
Madison Hanley Read, MD Class of 2025
Ex-Officio Members
Julie A. Freischlag, MD, FACS, FRCSEd(Hon), DFSVS
Lisa M. Marshall
Beth A. Alexander
Teri C. Lemons, MAEd
Remembering those who have recently passed, through Dec. 20, 2021.
Alvin Jerome Kahn, MD '46
New York, N.Y., April 13, 2021
Joseph K. Isley Jr., MD '48
Fort Myers, Fla., June 24, 2021
William Benjamin Herring, MD '53
Browns Summit, N.C., Oct. 17, 2021
Hooper D. Johnson, MD '53
Myrtle Beach, S.C., Aug. 26, 2021
Robert O. Crawford Jr., MD '54
Burlington, N.C., Dec. 9, 2021
Axel W. Hoke, MD '56, MPH
Novato, Calif., June 21, 2021
Paul Daniel Webster III, MD '56
Lancaster, S.C., Aug. 13, 2021
Mary Lide Morris, MD '57
Durham, N.C., Dec. 3, 2021
C. J. Stanley Beckman, MD '60
Fremont, Mich., Dec. 19, 2021
Gloria F. Graham, MD '61
Pine Knoll Shores, N.C., Sept. 30, 2021
Joel E. Futral, MD '64
Cornville, Ariz., Sept. 28, 2021
James Franklin Graham Jr., MD '65
Myrtle Beach, S.C., Oct. 7, 2021
Jimmy Ray Marshall, MD '66
Miami, Fla., May 2, 2021
Robert W. Meldrum, MD '67
Bloomsburg, Pa., Aug. 22, 2021
Virgil Marvin Messer, MD '67
Waynesville, N.C., Oct. 13, 2021
Donald G. Leonard, MD '70
Little Rock, Ark., June 13, 2018
James R. W. Leonard, MD '71
Orange, Calif., Sept. 26, 2021
Diane L. Huffman, MD '76
Burlington, N.C., Dec. 6, 2021
Brian M. Connolly, MD '83
Palm City, Fla., Nov. 11, 2021
Julia Wilkerson Burns, MD '87
Chapel Hill, N.C., Nov. 16, 2021
Scott D. Humble, MD '98
Clarksburg, W.Va., July 6, 2021
---
PA
DeTroye Honored for Lifetime Achievement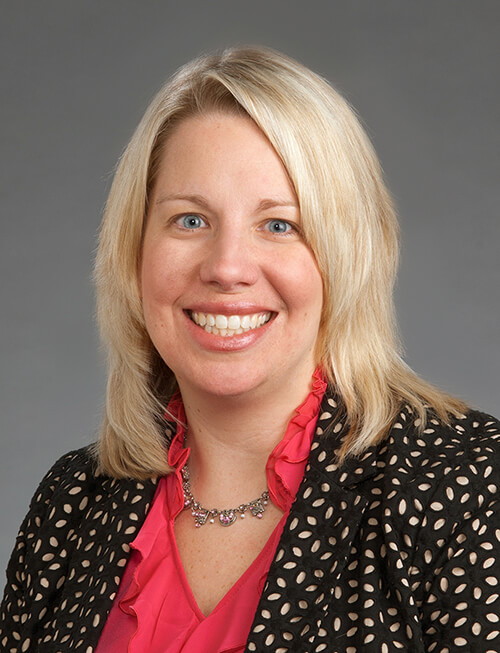 Alisha T. DeTroye, MMS, PA-C '04, DFAAPA, received the 2021 Lifetime Achievement Award from the Association of Physician Assistants in Oncology (APAO).
DeTroye has spent most of her PA career in medical oncology at Atrium Health Wake Forest Baptist. Although she has practiced with a variety of oncology patients in the inpatient and outpatient settings, her passion has always been working with neuro-oncology patients in the ambulatory setting.
DeTroye was senior author on "Clinical Experience Using Osimertinib in Patients with Recurrent Malignant Gliomas Containing EGFR Alterations," which explored a novel treatment strategy and was published in the Journal of Cancer Science and Clinical Therapeutics in April 2021. In addition to her local oncology success, she has been active with the APAO's CME, advocacy and education committees, and has been involved at conferences as moderator, coordinator, presenter and panelist since 2017.
In addition to her clinical work, DeTroye is adjunct assistant professor with the Department of PA Studies and serves as director of advanced practice-PAs at Atrium Health Wake Forest Baptist, providing co-leadership to the overall workforce of approximately 1,000 providers. Active in general PA leadership and advocacy at the local, state and national levels, she is immediate past president of the North Carolina Academy of PAs.
PA Class of 2022 Graduate Projects Symposium
Second-year PA students present research, started more than a year ago, to faculty, students, alumni and friends on February 28.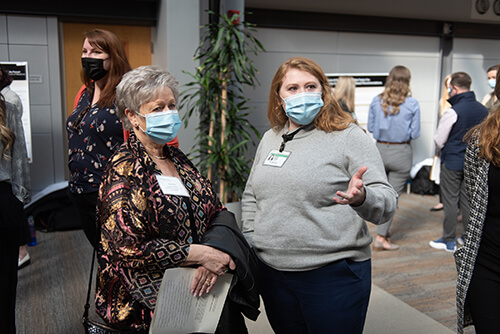 Students Receive National Health Service Corps Scholarships
Six Wake Forest University School of Medicine PA students from the Class of 2023 and one from the Class of 2022 have been awarded National Health Service Corps (NHSC) scholarships for the 2021-2022 academic year. The prestigious and highly competitive program awards full-tuition scholarships to MD and PA students.
The NHSC builds healthy communities by supporting qualified health care providers dedicated to working in areas of the U.S. with limited access to care. Strengthening and growing our primary care workforce — through the National Health Service Corps (NHSC) — began in 1972. NHSC alumni include 63,000 primary care medical, dental and mental and behavioral health providers.
The PA student recipients are:
Terry Chukwuneke, PA1
Lauren Lubejko, PA1
Jasmine Ragland, PA1
Rachel Roberts, PA1
Courtney Martin, PA1
Logan Shearon, PA1
Hayley Kessler, PA1
Annie Campbell, PA2