Admissions representatives from all Wake Forest School of Medicine programs seem to agree on one thing: Alumni are their best ambassadors, scholarship funders and mentors.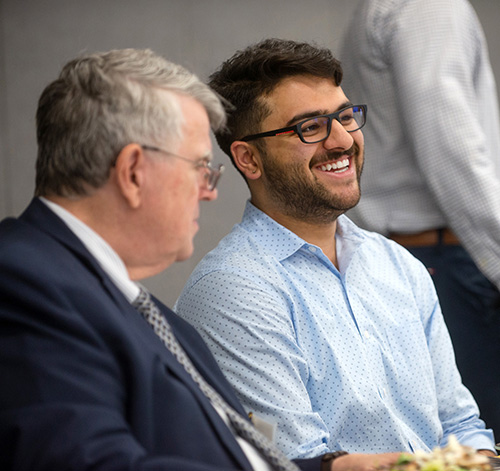 Those roles are even more important in a recruiting climate that is more competitive than ever.
"A lot of our faculty talk about how hard it would be to come back to school," says Ian Smith, PA-C '11, assistant professor and director of PA admissions. "It is so much more competitive now than it was just a few years ago."
The same is true for the MD and Nurse Anesthesia programs and the Graduate School's programs in Biomedical Sciences. Knowing their program's admissions processes can help alumni play a constructive role in helping attract the most qualified candidates.
What Are They Looking For?
Across all programs, standing out in the admissions process requires that applicants demonstrate what Daryl Rosenbaum, MD '97, associate dean for medical school admissions and student financial services, describes as a willingness to "get their hands dirty" with real-world experience.
"Numbers get you in the door, but can you tell me that story of your struggles and your experiences and what makes you unique?" he says. "Can you describe how you've learned teamwork, leadership, service to humanity—all of it tied together into one big story of who you are and where you want to be?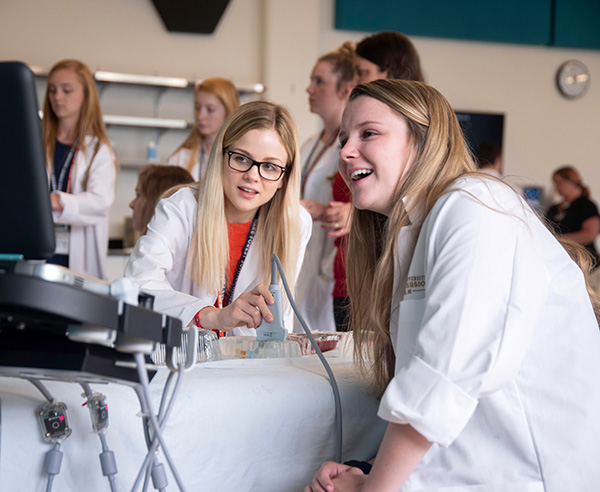 "Show me, don't tell me. Anyone can say they like to help people or they like to serve. If you give me real examples, that's going to be a lot more meaningful and more interesting."
Last year, 10,703 candidates applied to the MD program. Of those, 504 were granted interviews, 326 were accepted and 145 ultimately matriculated. Rosenbaum expects those numbers to remain basically the same this year. With only about 500 interview spots available, courtesy interviews are becoming increasingly difficult to accommodate.
For those applicants who are not invited for an interview, Rosenbaum suggests they ask a trusted mentor to review their application materials. They may see room for improvement in academics, in gaining hands-on experience through patient care and/or research, or in serving and understanding others. Then, after gaining further experience in these areas, when it comes time to submit another application, make sure to focus on the secondary application.
"The questions in the secondary application are a critical part of how we determine who, among thousands of qualified applicants, we want to meet and get to know in more detail," Rosenbaum says.
He also recommends having others read your responses to make sure that, as readers, they understand the message you are trying to get across in this "elevator pitch on paper."
Diversity and Leadership
The school's programs also are more diverse than ever. Diversity has greatly improved in the school's Biomedical Sciences programs in recent years. In 2019, 24% of incoming students throughout the graduate school were from diverse groups. That was up approximately 14% from 2012.
Strong undergraduate experience remains a leading factor in graduate school admissions. But Dwayne Godwin, PhD, dean of the Graduate School of Arts and Sciences, says pipeline summer programs, which encourage young researchers to spend time in the school's labs, and the biomedical sciences master's programs, which attract students who are often on a pre-professional, clinical track, have helped produce a more diverse group of applicants.
The PA and Nurse Anesthesia programs also emphasize leadership potential.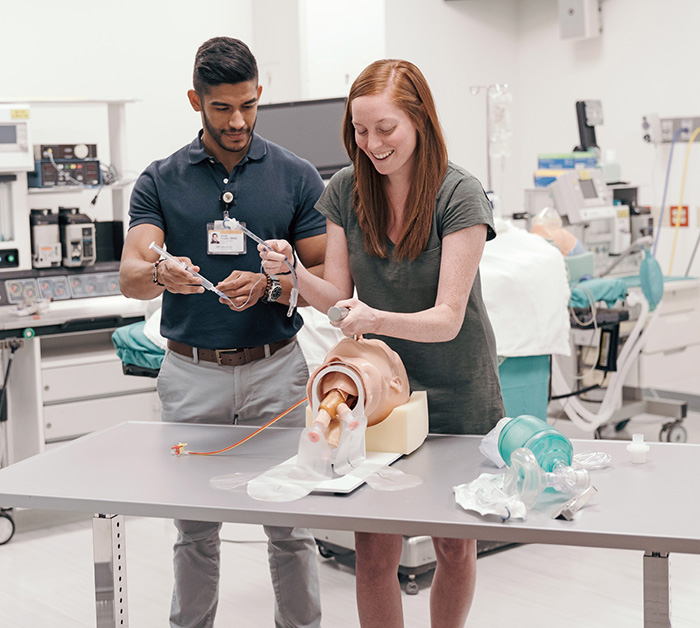 "We want to know what their leadership experience has been, what their experience has been working with underserved populations, what kind of adversity or difficulty they've faced in life, how have they dealt with that and how they think about diversity," says Gail Curtis, MPAS, PA-C '81, associate professor and chair of PA Studies.
Michael Rieker, DNP, CRNA, FAAN, director of the Nurse Anesthesia program, says, "If great energy, ambition and leadership are part of an applicant's fabric to start with, we've got so many opportunities here for them. If we can get them in the door, we know they're going to take those opportunities and run with them."
An adjunct to the Nurse Anesthesia admissions process includes H3A, a series of seminars for those who are considering the program, those who are applying and those who have been accepted.
"It's called H3A because it hits on three parameters—the head, heart and hands," Rieker says. "The head represents your academic acumen, the heart represents the traits like perseverance and leadership which make you a good candidate, and the hands represent your clinical skills."
How Can Alumni Help?
Although alumni are not generally expected to take part in formal admissions interviews, admissions leaders say alumni are perfectly positioned to serve as mentors and ambassadors for their programs.
"If they have a son or daughter, or a friend of the family, or someone they work with who might make a great PA, let them shadow you and see what it means to be a PA day-to-day," says Smith. "The applicant can speak to that experience when they're here and in their personal statement in their supplemental application."
Says Rosenbaum, "Shadowing is a gateway for the applicant to decide if they really want to embark on this journey in medicine, but it's not until you've gotten some hands-on experience that you truly know if medicine is something you're going to want to do for the next 30 or 40 years."
Alumni also can come back to campus to learn more.
"If someone's interested and they want to come and sit in on a class or a lab, we always have the door open for folks to do that," Rieker says.
Likewise, PA alumni are invited to attend an open house with prospective students to get a sense of the admissions process, and alumni from any program can always visit the school website (school.wakehealth.edu) to learn admissions details for each program. In the case of the Graduate School, there are new program offerings as well.
"Our Addiction Research and Clinical Health program is designed with working professionals in mind to meet a national need for addiction counselors," Godwin says. "This year, we're launching online master's programs in Healthcare Leadership and Clinical Research Management that will cater to working professionals and alumni, both within and beyond our health system."