Not everyone graduates from college fully prepared for the rigors of medical school. For those who want to enhance their skills and their chances of pursuing medicine, Wake Forest's Biomedical Science Pre-health Pathway master's program can help.
"Medical school is highly competitive. You may be a B or even an A student, but that might not get you into medical school," says Brenda Latham-Sadler, MD '82, House Staff '85, a former director of Wake Forest's Pre-health Pathway pipeline program who continues to teach in it. "Doing a medical school preparatory program following an undergraduate degree is one way to show that you can do the work that's required in medical school."
Latham-Sadler, associate professor of family and community medicine and associate dean of student diversity and inclusion, says the program helps students prepare academically, gain a year of experience before entering the Wake Forest School of Medicine or another medical school, or change careers. The program was initially designed to assist students from groups that have historically been underrepresented, which in turn led to higher levels of diversity in the School of Medicine.
"It's not just ethnic or racial diversity," Latham-Sadler says. "There are poor kids from rural areas who may not have received the best education. There are students who come out of a school system that didn't adequately prepare them because of a lack of resources. There are also career changers. This program can help anyone who wants to make sure they are the best medical student they can be."
From Basic Science to Master's Degree
Velma Watts, PhD, associate professor emerita of medical education, started Wake Forest's postbaccalaureate training program in 1987 when she was director of the school's Office of Minority Affairs and assistant dean for student affairs. It first focused on basic science classes, all taught on the university's Reynolda campus.
Today, the program is administered by Wake Forest's Biomedical Graduate Programs office. By offering a master's degree, it allows graduates to secure a science-related career should they choose not to attend medical school. In addition, the program has broadened its focus and also prepares students to seek admission into physician assistant (PA) or other degree programs, not just medical school admission.
"Students in the Pre-health Pathway have the opportunity to strengthen their study skills, become more familiar with the language of medical science and bond with other students who also express interest in a career in medicine," says Marcia Wofford, MD, associate dean for student affairs. "Being prepared for the first day of medical school helps build confidence and enthusiasm which contributes to their success."
According to Latham-Sadler, the curriculum focuses on courses that prepare students for medical school.
"Some pipeline programs place students in medical school classes with medical students," Latham-Sadler says. "We do not do that. These are graduate classes set up just for students with a clinical pathway in mind."
The Pre-health Pathway master's degree can be completed in 12, 18 or 24 months, depending on the student's choice. Most students in the program go on to successfully enter medical school, either at the Wake Forest School of Medicine or other reputable schools.
According to Bernard Roper, PhD, admissions chair for the Pre-health Pathway, 295 students have completed the current program or its predecessor since 1987. Since it became a master's program in 2014, 100 students have completed the program, 31 of those graduates have matriculated to the School of Medicine's MD Program and one matriculated to the PA Program.
Producing Amazing Leaders
"When we screen applicants, along with evaluating students' potential for success in graduate school, we look for those with socioeconomic challenges, educational disadvantages and those who may be first-generation college students, because we know many of those students have not had the guidance and mentoring to place them in the best position for success," Latham-Sadler says.
Strong candidates for the program are also often among those who need the most financial assistance to advance their education, and she stressed the need for scholarship support for students in the Pre-health Pathway. Such support can create benefits for all.
"There is a lot of evidence that having diversity in the classroom creates a better learning environment for everybody," she says. "Diversity cuts across more than just race and ethnicity, it includes geographic origins, socioeconomic status and diversity of thought. Diversity in the classroom also helps decrease potential biases about patients from populations to whom medical students may not have had exposure. I think it makes all of our students better prepared to take care of patients."
She also has seen how the program produces "amazing leaders." One example she cites: B. Cameron Webb, MD '13, JD, who as a Wake Forest medical student helped found the free, student-run Delivering Equal Access to Care (DEAC) Clinic. Today, he is assistant professor of medicine and public health science and the director of health policy and equity at the University of Virginia School of Medicine. He also serves as a senior policy adviser for COVID-19 equity on President Joe Biden's White House COVID-19 Response Team.
"The program was an incredible springboard into medical school for me," Webb says. "It enhanced my foundation of knowledge in the sciences, increased my confidence that I could succeed in medical school coursework and provided me with a family of individuals who would be with me every step along the way. It was truly one of the most critical experiences in my professional path, and I'm really grateful I had the opportunity to participate."
Latham-Sadler says Webb is just one of many such alumni.
"We have a number of graduates who are out in the world representing us well who would not have been accepted into our medical school had they not done our pipeline program," she says. It has given opportunity to people who would not have had it otherwise, but it also has helped us fulfill our mission of educating excellent medical professionals."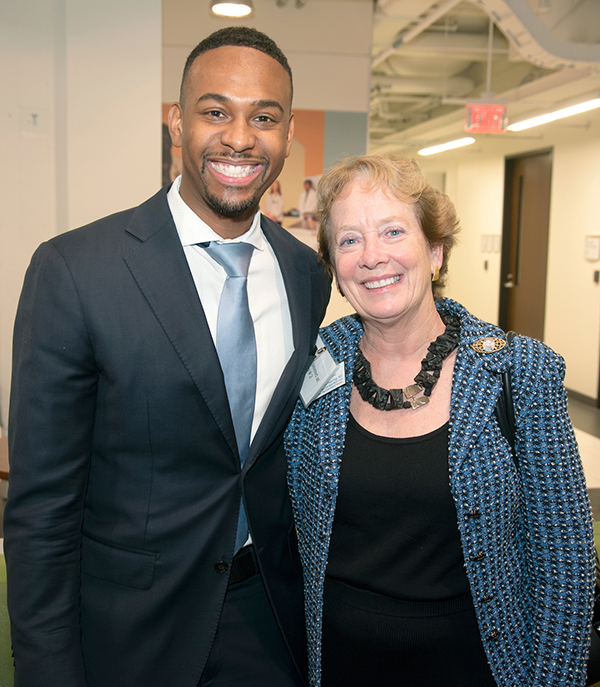 B. Cameron Webb, MD '13, JD (left), with Dean Julie Ann Freischlag, MD, during a DEAC Clinic celebration in 2018, is among many alumni who have benefitted from the postbaccalaureate/pre-health program.