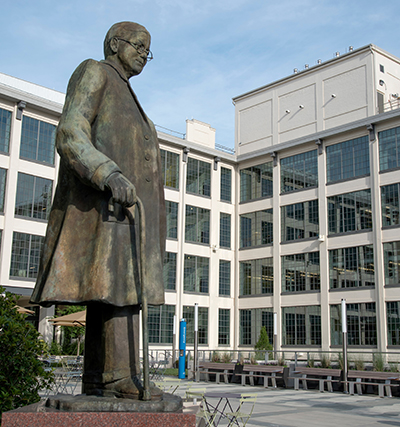 There were 145 MD applicants who earned admission and accepted a spot in the Wake Forest School of Medicine's Class of 2025. They emerged from more than 11,000 applicants – the most ever – for a coveted spot in one of America's most selective and well-regarded medical schools.
Soon, more highly qualified students will be able to join that selective group in the Wake Forest medical family. A second School of Medicine campus planned in Charlotte will make Wake Forest, through its combination with Atrium Health, one school with two campuses.
The first step involving students came in March, when four third-year MD students from Wake Forest began their clerkship rotations in anesthesiology, internal medicine, neurology, ob-gyn, pediatrics and psychiatry at Atrium Health Carolinas Medical Center. Eleven more students began rotations there in early May.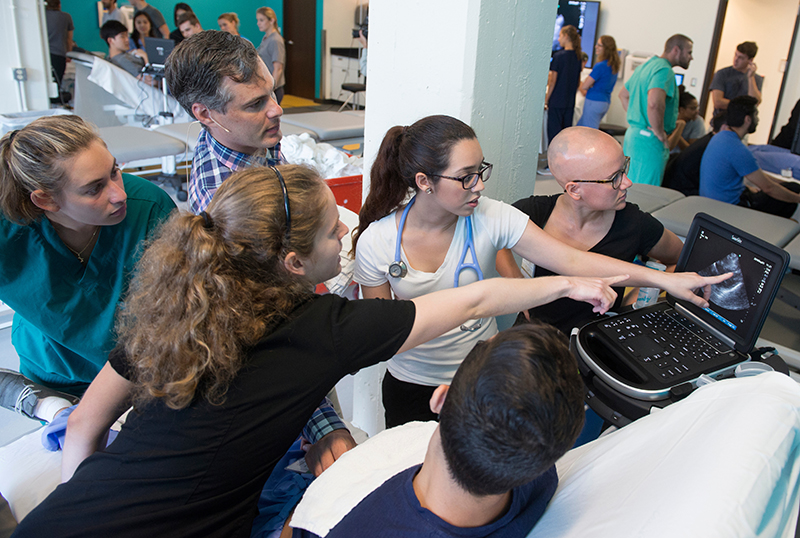 "This is such an important step forward," says Julie Ann Freischlag, MD, FACS, FRCSEd(Hon), DFSVS, dean of the medical school, chief executive officer of Wake Forest Baptist Health and chief academic officer for Atrium Health. "It allows us to expand educational offerings, train more physicians and medical professionals, and improve access to care for our communities, while also continuing to grow our programs at our School of Medicine in Winston-Salem."
The two campuses will build on the school's educational and research distinction and on Atrium enterprise's clinical and academic excellence. The school is expected to include one of the most diverse groups of learners in the country and help address the shortage of doctors working in inner-city, suburban and rural areas of North Carolina.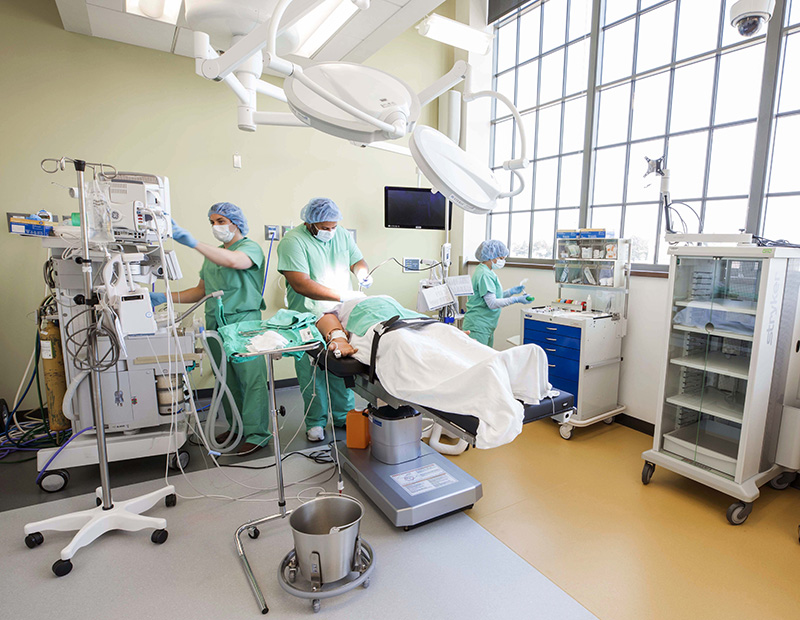 Combined, the school and Atrium will educate nearly 3,200 total learners across more than 100 specialized programs each year. Eventually, the school expects to grow to 100 MD students per class (400 total) on the Charlotte campus and is set to become the largest educator of physicians and other medical professionals in North Carolina, supplying more Wake Forest-trained providers to the community and the world.
University leaders describe the school's second campus as a catalyst for innovation, economic development and social impact. One study estimates the school, through both campuses and anticipated spin-off activities in health care, will create an additional $5.2 billion in economic impact and nearly 43,000 jobs over the next 20 years.
MD students at the two campuses will share a common curriculum and benefit from the breadth and depth of clinical experiences provided with two locations. A second campus is expected to accelerate the adoption of advanced technology, for instance, connecting students in both Winston-Salem and Charlotte through video classes and incorporating aspects of virtual and augmented reality into the curriculum. Wake Forest will train more medical students in new and better ways to serve a world yearning for innovation and the highest-quality care.
"We are planting new trees of life that will provide welcomed shade for generations to come," says Eugene A. Woods, MBA, MHA, FACHE, president and chief executive officer of Atrium Health.
Schools with Multiple Campuses
Wake Forest is far from alone in offering a second medical school campus. According to the Association of American Medical Colleges (AAMC), there were 51 U.S. medical schools that reported information from regional campuses for 2019-20, an increase from 45 medical schools doing so in 2011-12. Excluded were affiliated clinical sites at a distance from the main campus where a student might take one or two clerkships.
The AAMC also says that 14 medical schools in 2019-20 reported plans to add a branch campus. Since a high of 20 in 2010-11, the number of medical schools reporting such plans has averaged about 13 a year.
One relevant example is the University of Arizona College of Medicine. In 2015, the University of Arizona entered a 30-year academic affiliation agreement with nonprofit Banner Health to create Banner – University Medicine. Its health sciences academic programs include medical college campuses in Tucson and Phoenix along with colleges of nursing, pharmacy and public health.
Among other medical schools with more than one campus:
At the Indiana University School of Medicine, first- and second-year MD students attend classes at the main campus in Indianapolis, in a rural MD track based in Terre Haute or at one of seven regional campuses throughout the state.
The University of Kansas School of Medicine has a main campus in Kansas City with four-year campuses in Wichita and Salina.
Michigan State University's College of Human Medicine offers a pre-clinical campus in East Lansing, a pre-clinical and clinical campus in Grand Rapids, and a branch campus in Flint.
The Medical College of Wisconsin has campuses in Milwaukee, Green Bay and Wausau.
'Where Excellence is Learned'
Visually, Wake Forest's Charlotte campus is being designed to create an impact. It will be located on a 20-acre site in midtown Charlotte, at a newly engineered intersection of Baxter and South McDowell streets, just off I-277. Construction is expected to begin in early 2022.
"Everyone who sees it will know that this is where excellence lives and where excellence is learned," Woods says.
Says Freischlag, "With the latest technology, whether students are learning in Winston-Salem or on this new, second campus, their immersive experience will be second to none. In addition to having the opportunity to learn from some of the finest minds in academia and take part in life-changing research, our students and residents will have easy access to the renowned experts practicing at our combined world-class service lines across multiple specialties."
The campus will be less than three-quarters of a mile from Atrium Health Carolinas Medical Center, which is undergoing extensive renovations to give students access to the most modern, state-of-the-art facilities and technology in all of their learning environments, just as they have at the Bowman Gray Center for Medical Education in Winston-Salem.
Paired with the main campus in Winston-Salem, the second campus will create a new, preeminent regional corridor for health technology and innovation, focused on improving health by bringing new medicines and treatments to patients in half the time and advancing economic equity. According to Woods, Fortune 100 companies have expressed initial interest in the corridor, excited by the prospect of having medical students, clinicians and scientists working in a connected environment.
Wake Forest's Presence in Charlotte
The second campus also will help consolidate Wake Forest University's presence in the Queen City. The university began offering nationally ranked MBA, executive education and certificate programs in Charlotte in the mid-1990s and recently announced plans for a new School of Professional Studies in Charlotte. The second campus will serve as a collaborative home for both medical and professional studies schools.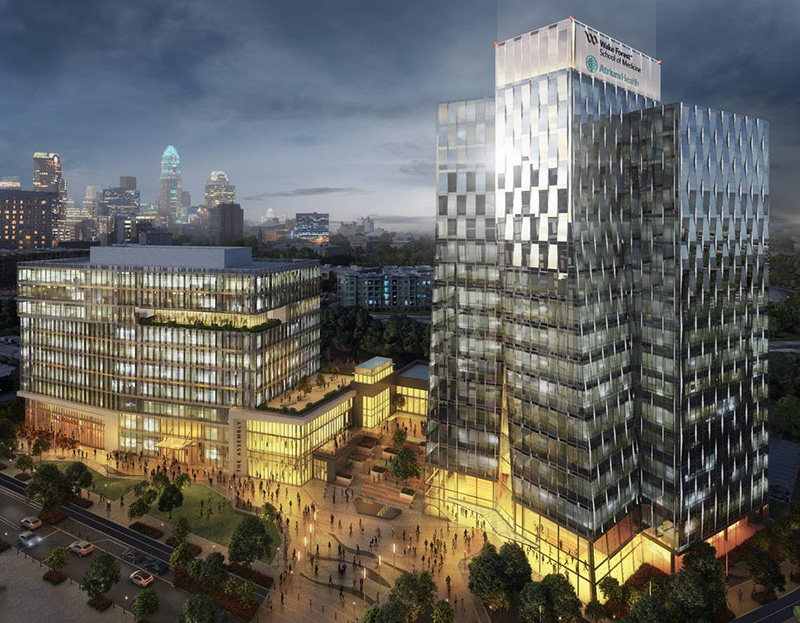 According to Freischlag, collaboration has been a key aspect of the project from the start.
"Gene, Dr. Nathan Hatch (who retired as Wake Forest president in June) and I have been great partners in this with a wonderful vision of education for not only medical students but all health care providers as well as professional students," she says. "That amazing vision has been one of the keys for helping this go forward."
Karen Gunderson, PA-C '08, believes a Charlotte campus will tap into Atrium's and Charlotte's wealth of resources, including highly trained medical professionals and entrepreneurs.
"For alumni like me, it offers a closer opportunity to engage with Wake Forest in person, which I am excited about," she says. "The Winston-Salem campus, though, will always be at the heart of my Wake Forest education and experience. I am thrilled to see how the Winston-Salem campus is going to be incorporated into the Charlotte campus experience through both virtual and in-person events, and with rotations across campuses for students from both locations."
She says she is "beyond excited" about the Atrium-Wake Forest partnership.
"I expect to see a multiplier effect on the impact to care, research, education, health equity and Charlotte's local economy," says Gunderson, whose work in the Charlotte area includes running her own health consulting firm and a combination of patient advocacy, research and mentoring.
"As an alumna and a Mecklenburg County resident, I will be especially delighted to see the energy that comes with students, recent graduates, research and world-class care that comes from an academic learning health system."
Elena Meadows, CRNA '09, DNP '20, worked at Wake Forest Baptist Medical Center from 2002 to 2016 and joined Atrium Health in 2019. Meadows is a past chair of the Wake Forest School of Medicine Nurse Anesthesia Alumni Board.
"I feel there are rich opportunities to combine resources and optimize the best aspects of both health care systems," says Meadows, who is a clinical faculty member with the Carolinas Medical Center/UNC Charlotte Nurse Anesthesia Program and works at Atrium's Carolinas Medical Center and Mercy locations. "We also will be able to offer the highest level of care and services to a wide range of patient populations.
"We will have the ability to create a multidisciplinary community of learners under the auspices of Wake Forest's stellar academic reputation. It will allow us to instill the values of professionalism, advocacy and patient-centered care to the next generation of learners in a diverse, urban environment."
Accreditation approval has been received for the next phase of plans for the instructional site in Charlotte. The initial class of 48 first-year medical students (MD program) in Charlotte is anticipated to begin their education in 2024.